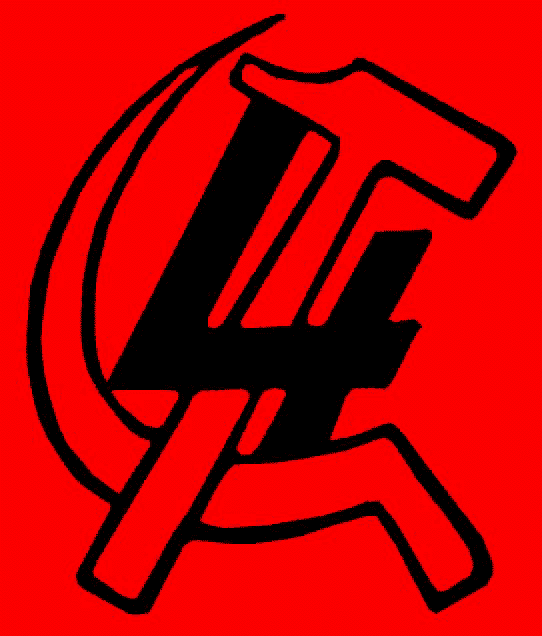 .

November 2001

Hundreds Protest CUNY's Racist Purge
of Immigrant Students
(Photo: Sue Kellogg)
Some 300 students, faculty, unionists, leftists and opponents of war on Afghanistan
protested against purge of immigrant students by the City University of New York,
Hunter College, November 28.
Some 300 demonstrators came out to Hunter College in Manhattan on Wednesday evening, November 28, to protest the racist tuition hike targeting undocumented immigrant students at the City University of New York (CUNY). The rally also denounced the sinister "Student Data Collection System" pushed by the federal Immigration and Naturalization Service (INS). Both measures are part of the domestic front of the "global war" launched by Washington. This important demonstration against the "war purge" was an important step in a class struggle against that war whose targets include working people, minorities and immigrants "at home." Demonstrators chanted, "Is the Registrar's Office a Branch of the INS?" and "Full Citizenship Rights for All Immigrants!"
While the U.S. terror bombs Afghanistan, the Federal Bureau of Investigation (FBI) drags in thousands of Arab men for "voluntary" questioning and right-wing witchhunters draw up blacklists of "unpatriotic professors." CUNY authorities are collaborating in the "war effort" by attacking their own students, kicking thousands, perhaps tens of thousands, of immigrant students out of school. Their cynical device is to impose a huge increase in tuition to an amount ($6,800 a year) that virtually none of the overwhelmingly poor and working-class students of this "public" university can pay.
The protest, initiated by the Internationalist Group, was a united front bringing together dozens of student groups, immigrant rights organizations, trade-unionists, socialist groups and others in a common action in defense of immigrant students. Both at Hunter College and La Guardia Community College, a dozen clubs and the student governments endorsed the demonstration. Another focus of organizing was Bronx Community College, singled out by the New York Times as a hotbed of opposition to the war on Afghanistan, where the Revolutionary Reconstruction Club organized a contingent.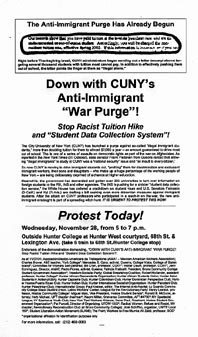 Professor Bill Crain of City College led off the speakers, saying: "It should be considered a basic human right to get a higher education. Undocumented immigrants come here believing that if they work hard and they sacrifice they can develop their minds and have a chance for a better future. They are taking that away, in the most vicious and cruel way. We have to stand up against this." A Chinese student, Wu, gave an impassioned plea, saying "Because of Afghanistan, this is a backlash that we are not in any way related to. I speak for all of us here – Asian, African, Americans, Caucasians, Hispanics," saying "This is an injustice that we cannot let go."

Paula of the Hunter Colombian Club said, "Our parents clean the houses, they cut the grass, they wash the cars, they do all these jobs that others won't do. These jobs are not well-paid; it's not enough to pay for going to school, food, and other basic necessities. I know a lot of people who would have to leave school because of this." Daniel Tasripin of the Student Liberation Action Movement added, "The message that is being sent to immigrants, whether documented or undocumented, is that America loves your labor, the Calvin Klein clothes that you make and the strawberries that you pick – they love the labor, but they don't love the laborers. No matter whether you came here documented, undocumented, on a slave ship, or however, we cannot trust that rights will be given to us; we have to fight for them."

Significantly, in addition to drawing students from at least eight campuses of the CUNY system, there were numbers of immigrant workers present from union and solidarity groups that endorsed and actively helped build the demonstration. José Schiffino of UNITE Local 169, an organizer for the unionization drive of greengrocers, sent a message that was read to demonstrators saying, "There is war being waged right now by our government. I am not talking about the 'war against terrorism,' I am talking about the war that this government is waging right here amongst us: war against the working poor, war against immigrants…. They want to raise tuitions to drive you out. They want to give your names over to the government and they want to track you as if you were criminals."

Cleo Silvers spoke on behalf of Workers to Free Mumia Abu-Jamal, the former Black Panther imprisoned on Pennsylvania's death row for the last two decades. She noted that the eloquent radical journalist, who faces execution in this climate of reactionary hysteria, has courageously denounced the war on Afghanistan and the ripping away of civil liberties in the U.S. Silvers recalled the time when there was no tuition in CUNY. "African-American working students fought for that, and we demanded it. We had open admissions – we fought for that…. We're going to help you get it again! Working people intend to unite with students."

Jan Norden of the Internationalist Group noted that the "tuition hike" aimed at driving out so-called undocumented immigrant students "is the same kind of purge that the Nazis did in Germany when they had a numerus clausus to limit the number of Jews, and then they expelled them all from the universities." He stressed that CUNY's "war purge" is inseparable from the war, in which it is necessary to fight to "defeat U.S. imperialism and to defend Afghanistan and Iraq." Norden called for building a revolutionary workers party which can mobilize the social force – the racially integrated working class, black, Latin, Asian, white and immigrants – which alone has the power to "defeat these warmongers, by overthrowing their rule and carrying out international socialist revolution."

The demonstrators were vociferous in their determination not to let this atrocity pass. "INS, FBI, CIA get out! ¡Migra fuera!" and "Down with the 'war purge'!" they chanted loudly. The rally ended with a chorus of "Asian, Latin, black and white – Workers of the world, unite!" and a vow to stop the witchhunters and racist purgers in their tracks.

To order copies of the Internationalist Group pamphlet Defend Immigrant Students, Stop CUNY's "War Purge"! click here.
---

To contact the Internationalist Group and the League for the Fourth International, send e-mail to: internationalistgroup@msn.com