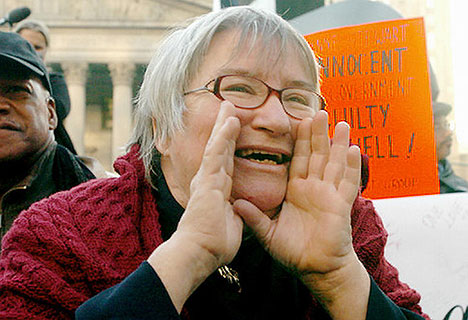 Lynne Stewart speaking at rally on day of her sentencing, 16 October 2006.

For decades, Lynne Stewart defended the downtrodden and oppressed, the victims of a government that tortures and murders with abandon and has locked up a higher proportion of its population than any other on the face of the earth. Lynne was jailed in 2009 for defending her client and refusing to let the government silence him. Already battling breast cancer when she was imprisoned, after being forced to wait 18 months for scheduled surgery she discovered that the cancer had returned. It is now diagnosed as Stage 4, having metastasized to her lymph nodes and lungs. Lynne must not die in prison – we demand she be freed now!
Some 16,000 people have signed a petition calling on prison authorities to order Lynne's immediate release in the care of her family, so that she can receive urgent medical treatment at Sloan Kettering Hospital. One month ago, the warden at Carswell federal prison in Texas signed off on a "compassionate release" for Lynne. The clock is ticking and those papers are still sitting on a desk in Washington, D.C.
Join in National Call-In for Release of Lynne Stewart, May 30

Lynne, her companion Ralph Poynter and her supporters are calling for a mass call-in day on May 30 to request Lynne's release. We urge readers to call the following three telephone numbers to make this appeal:
Attorney General Eric Holder: 1-202-514-2001
White House President Barack Obama: 1-202-456-1414
Bureau of Prisons Director Charles Samuels: 1-202-307-3250
As the petition calling for Lynne's release notes:
"The sinister meaning of the relentless persecution of Lynne Stewart is unmistakably clear. Given her age and precarious health, the ten-year sentence she is serving is a virtual death sentence....
"In her current setting, where trips to physicians involve attempting to walk with 10 pounds of shackles on her wrists and ankles, with connecting chains, Lynne Stewart has lacked ready access to physicians and specialists under conditions compatible with medical success.
"It can take weeks to see a medical provider in prison conditions. It can take weeks to report physical changes and learn the results of treatment; and when held in the hospital, Lynne has been shackled wrist and ankle to the bed….
"We cry out against the bureaucratic murder of Lynne Stewart."

Sign the petition here.

Far from having committed any "crime," Lynne Stewart is a hero who has devoted her life to upholding the rights that the government tramples on. A crusading radical civil rights attorney, her imprisonment and the government vendetta against her stem from her fearless defense of a jailed client in the post-9/11 climate of repression symbolized by the U.S.A. PATRIOT Act. Her conviction was part of the sharp move of U.S. society in the direction of a police state. The purpose of her jailing is to intimidate lawyers from vigorously representing defendants in the imperialist "war on terror."
In 2005, Lynne was originally sentenced to 28 months for the "crime" of violating an administrative memo, the "Special Administrative Measures (SAMs)" imposed on her client, the blind Islamic cleric Sheik Abdel Rahman. The conviction itself was an abomination and frontal assault on democratic rights, upholding the government's "right" to hold prisoners it doesn't like incommunicado by administrative fiat, and then to enforce the gag order by jailing their layers for "violating" the ban (see "Lynne Stewart Conviction is Legal Terror," The Internationalist No. 21, Summer 2005).
But that was not enough for a government that under Republicans and Democrats alike has ridden roughshod over the rights supposedly guaranteed in the U.S. Constitution. Freedom of speech and association, bans on cruel and unusual punishment prohibition of unreasonable search – the government has taken aim at all of these. And so in 2010, a panel of federal judges, in a virtually unprecedented action, forced the trial court to impose a ten-year sentence. If the original sentence had not been punitively increased, she would be home by now.
From the outset, the Internationalist Group has stood with Lynne Stewart, in the courtroom and at demonstrations calling to "Free Lynne Stewart" and to defend her translator Mohammed Yousry and paralegal Ahmed Abdel Sattar who were convicted along with her in the frame-up trial. We owe a particular debt to Lynne, for her defense, even while she was facing trial herself, of Miguel Malo, a student who was framed up by college police at Hostos Community College for his defense of the rights of immigrant students .
The so-called "war on terror" whose purpose is to terrorize the people of the world (and the American population) into submission, is a bipartisan enterprise of the imperialist rulers. In fact the mass roundups and deportations of hundreds of thousands of immigrants every year, as well as the continued jailing of black radical journalist Mumia Abu-Jamal, are carried out by Democrats right up to the Obama White House and the so-called "Justice Department." The case of Lynne Stewart proves once again that there is " No Justice in the Capitalist Courts."
We honor Lynne Stewart for her courageous battle to uphold democratic rights. The fight against her frame-up and conviction is part of the struggle to mobilize the class power of the international working class against imperialist war and domestic repression "at home."
Free Lynne now!