September 2006

Statement of the Internationalist Group
to the September 15 Oakland Rally


Mobilize Workers Power to
Free Mumia Abu-Jamal!


Mumia Abu-Jamal (Photo: © Lou Jones)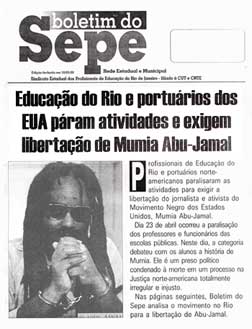 Mumia Abu-Jamal is the foremost class-war prisoner in the United States today. His case is the signal proof that there is no justice for the oppressed in the capitalist courts. As a former spokesman of the Black Panther Party, Mumia was subjected to the government's murderous repression under the infamous COINTELPRO program. He was framed and sentenced to death for his calls for revolution. The threat of execution continues to hang over his head 25 years later because the racist rulers are determined to silence the eloquent "voice of the voiceless."
The Internationalist Group, section of the League for the Fourth International, has fought since its inception for workers action to free Mumia Abu-Jamal. Our comrades of the Liga Quarta-Internacionalista do Brasil in April 1999 initiated the first labor action for Mumia's freedom, a state-wide work stoppage by the teachers of Rio de Janeiro. The Brazilian teachers linked their action to the West Coast port shutdown by the International Longshore and Warehouse Union in the United States for the demand to free Mumia Abu-Jamal. This is a taste of the kind of workers power that will be required to liberate our courageous brother.
Mumia's conviction was no aberration but the normal working of the legal system designed by the slave masters to keep black slaves in the chains of perpetual bondage. We call not for a "new trial" by this bourgeois injustice system which has condemned thousands of innocents to die, while U.S. imperialism lays waste to Afghanistan and Iraq in the latest of its countless wars of conquest and pillage. Rather, we appeal to the working class to mobilize its tremendous class power to free Mumia and defeat the imperialist war abroad and the bosses' war against the poor, minorities, working people and immigrants here.

Bulletin of the Rio de Janeiro state teachers union (SEPE), reports
on April 1999 strike action for Mumia: "Rio Schools and U.S. Dock
Workers Stop Work, Demand Freedom for Mumia Abu-Jamal."
---

To contact the Internationalist Group and the League for the Fourth International, send e-mail to: internationalistgroup@msn.com