June 1999

In Defense of Yugoslavia Against NATO Attack

Mexican Student Strike
Sends Aid to Yugoslav Workers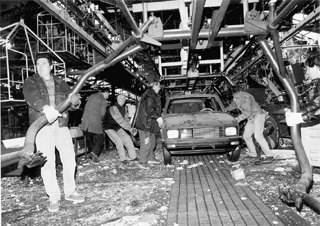 Striking Mexican students sent aid to Yugoslav workers at Zastava auto
factory, here repairing production line after NATO bomb attack. AP
Internationalist Group Letter to COBAS (Italy)
3 June 1999
SLAI Cobas
Milano, Italy
Dear comrades,
On Thursday, June 3, just before midnight, a meeting of the Consejo General de Huelga (Strike General Council) of the students of the National Autonomous University of Mexico (UNAM) voted to send a contribution to the Yugoslav workers being bombed by NATO. The meeting, attended by hundreds, represented the tens of thousands of UNAM students who have been on strike for the past six weeks, occupying their campus 24 hours a day fighting against a vicious "fee" increase that would lead to the exclusion of many poor and working-class students. The motion was introduced by supporters of the Grupo Internacionalista, section of the League for the Fourth International, and had previously been voted by student assemblies of the College of Philosophy and the Faculty of Philosophy and Literature. The text of the motion (translated into English) follows:
"CONSIDERING the crucial importance of international solidarity, and
CONSIDERING that the defeat of the imperialist aggression and defense of Yugoslavia are of vital impor tance for the struggle of the exploited and oppressed worldwide,
The UNAM students on strike
RESOLVE: To donate 1,000 pesos to the workers of the Zastava factory, destroyed by the NATO bombs when it was occupied by the workers themselves, at a cost of tens of lives, and to the workers of Yugoslavia. We are sending this donation and our combative greetings through the 'Sottoscrizione per gli operai di Zastava' initiated by the SLAI Cobas of Alfa Romeo."
The Mexican students would greatly appreciate it if you could convey their greetings to the Yugoslav workers coura geously facing NATO's bombs.
We encourage working people and opponents of imperial ism to join in this initiative and to mobilize the power of the proletariat to defeat the imperialist war through class war.
Internationalist Group/
League for the Fourth International
---
To contact the Grupo Internacionalista and the League for the Fourth International, send e-mail to: internationalistgroup@msn.com