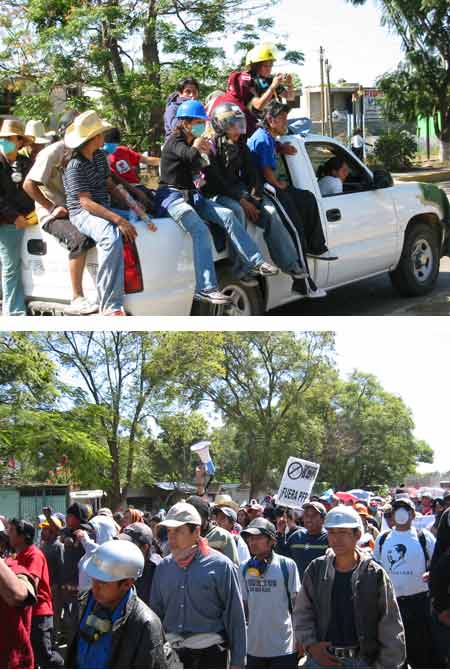 By Abram Negrete
Scenes from the November 25 march before it was attacked by police. (Internationalist photos)

Saturday, November 25, began with the seventh "megamarcha" through the streets of the city of Oaxaca, many thousands of people (50,000?) with obvious mass support from the populace lining the streets and repeatedly applauding the demonstrators. Some activists believed it would have been even bigger were it not for the "disappearance" the previous night (by the cops) of two key leaders of the movement, which discouraged some people from going. There were also roadblocks on the main highways leading into town and buses from the key Valles Centrales region were reportedly shut down, preventing many APPO supporters from joining in.
Among those participating in the march were teachers from Oaxaca city, the Costa Chica and many other areas. Some spoke to each other in Zapotec and other indigenous languages. There was a large contingent of health workers, who at one pointed chanted that if Ulises Ruiz was dying, they would give up the Hippocratic oath [to do everything to aid the sick] and let him die. A large number of community organizations and student groups had banners and signs. The PCM (M-L) had a large contingent with many red flags. Many young people were part of the march, but there were also many grandmothers and grandfathers. The crowd was markedly plebeian in its composition, but there were quite a few professionals and middle-class people as well.
A popular singer, who writes protest songs about the police attacks and other subjects, had a special CD of songs dedicated to Brad Will. A group of five indigenous women teachers from the town of Ocotlán asked me to send their personal greetings to the family of Brad Will, whom they knew. They said he was "always with us in our mobilizations." They were very happy to hear that Brad's sisters supported their struggle.
Very interesting was the morale of young people from the barricades, especially the Barricada de Cinco Señores (an intersection), which was key in defeating the Federal Preventive Police (PFP) attack on the Oaxaca University at the beginning of the month. A young man who worked at a hotel mentioned that "people from many surrounding villages, little kids, grandmothers, great-grandmothers, came rushing into town in response to the call to defend the University [on November 2]" and were key to defeating that police attack.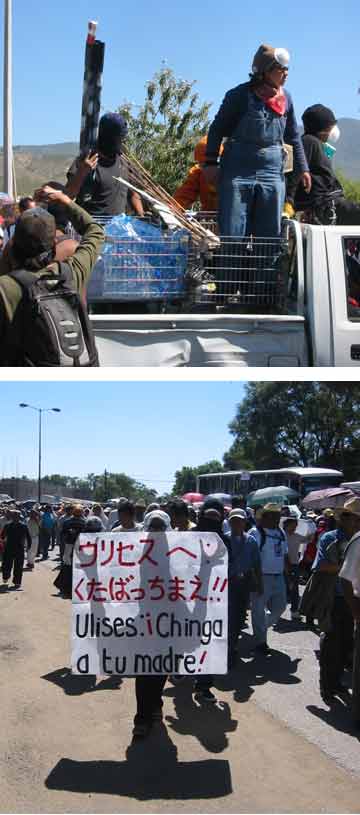 After this Saturday's demonstration reached the city center, things got "tense" but then turned into the worst situation in Oaxaca since the beginning of the mass protests seven months ago. As we walked down a street near the bus station, I looked at the night sky, noticing that the moon was obscured by what I thought was a cloud. It was an enormous cloud of tear gas and smoke from burning buildings. Soon we found out that over APPO Radio the organizers of that day's huge march were calling on everyone to seek refuge in houses or offices because the PFP was sweeping through the streets carrying out arrests.
Already earlier as protesters marched into the city center, PFP tanquetas (armored vehicles) lined side streets. Many of the protestors gathered in and near the Santo Domingo Plaza, watching the ranks of PFP cops with their visored helmets, black body armor, shields, toletes (clubs), teargas grenade launchers and other weapons.
Now police were attacking marchers. They shot teargas canisters and some live ammunition, and chased demonstrators as well as journalists (some of whom were injured), beating them with extreme violence. Soon the cops dismantled and pulverized the main APPO barricade in the city center. Buses out of the city were cancelled, and plainclothes cops invaded the bus station, smashed it up and drove out those inside.
APPO Radio was being jammed by the police, with a couple of bars of a rock song repeated over and over. You could still hear the announcers if you moved the radio around some (later the jamming blotted their voices out entirely). They reported that the cops, mainly in plainclothes were making raids and searching house to house. "La Doctora Berta," one of the most popular announcers, said a price had been put on her head. Supporters of the PRI (party of Oaxaca Governor Ulises Ruiz) had been called on to arm themselves and participate in the raids.
Red Cross ambulances on the streets actually had PFP cops in them instead of medical personnel. (Someone later told me he had seen two pick-ups filled with what he believed were plainclothes cops, wearing bandannas to look like protestors, zooming by earlier.) The ultra-right pirate radio station known by demonstrators as Radio Alcantarilla ["sewer radio"] was calling on citizens to report foreigners and "strange-looking people" so they could be taken to a Ministerio Publico (special court). Calls to that station were coming in giving the names and locations of APPO supporters to be seized. The governor repeatedly blamed "outside" leftists, "criminals" and foreigners for the events.
Downtown buildings (the local court, hotel association and others) had been set on fire. Small groups came past the place where we had taken refuge. Many had the homemade gas masks (a surgical mask with a sanitary napkin inside, soaked in vinegar) that were distributed by the brigades of health workers who, in an example of the impressive degree of organization of the protestors, had gathered at corners in the city center. They discussed whether the buildings were set on fire by some young protestors in response to the police attacks, or by provocateurs. "We Oaxaquenos defend ourselves, but we are not vandals," a middle-aged woman said.
A European photographer who had been part of a group chased through the streets by cops (his partner had his foot broken when a gas grenade was fired at him) told of an older lady in a flowered hat who said "this is dangerous for you" and the next minute told protestors where there was a pile of rocks they could use to defend themselves against the police.
Rightists smashed a pickup truck into the office of one of the main APPO leaders, Flavio Sosa's Nueva Izquierda de Oaxaca, which had 14 people inside (one of whom was reportedly "disappeared"), drenched the office with gasoline and burned it down. The APPO is reporting three dead (this has yet to be confirmed), more than 100 wounded (25 by bullets), 25 "disappeared." The number of reported arrested ranges from 140 to 160; twenty had reportedly been formally charged as of late on November 27. The Mexican League for the Defense of Human Rights put out a detailed chronology of how the PFP started the attack by shooting teargas and projectiles from rooftops. The APPO reported that 9 mm and .38 special bullet cartridges were recovered from areas where the police fired on demonstrators. The papers report that some protest leaders believe the army may be sent in
P.S. On Sunday morning helicopters were hovering over the ADO bus station. They were flying so low that they shook telephone cables along the street, whose vibration made an eery noise. Pro-government radio stations broadcast the governor's claims that everything was under control, together with the continued calls for delaciones (turning people in to be arrested). Graffiti supporting the APPO and the protests had been painted over by municipal work crews during the night; in some places the white paint was still fresh and sticky to the touch. Graffiti supporting Ulises Ruiz was on the walls in some areas, as were posters saying "Ulises, We Genuine Oaxaca Citizens Are Unanimously Behind You." Over breakfast a middle-class woman talked to her son about the reporter whose foot was broken by a teargas grenade. "They shouldn't shoot those at people," she said." He replied, "If we're talking about 'should,' they shouldn't shoot them at all, they shouldn't be here, and they shouldn't exist." n