Saturday, May 12 newspapers announced that the federal government of President Barack Obama was overriding state objections to impose its Secure Communities mass deportation program on New York, Massachusetts and several other states starting on Tuesday, May 15. There should be massive protests against this outrageous attack on immigrant working people.
A protest has been announced for Monday, May 14, from 12 to 2 p.m. at the Federal Building in downtown Manhattan. It is called by the Immigrant Defense Project, Make the Road New York, New Sanctuary Coalition, New York Civil Liberties Union, New York State Working Group Against Deportation, New York Immigration Coalition and others.
New York and Massachusetts governors have both said they told ICE they objected to Secure Communities. However, in both states police continue to send information about those arrested to ICE. In NYC, the city claims it only sends on immigration information about those charged with serious crimes. Starting Tuesday, however, every person arrested for whatever reason will have their information and fingerprints sent to ICE. This means a huge increase in deportations. Despite this, many immigrant rights organizations are still supporting Democrat Obama, claiming the Republicans are much worse. Yet Obama deserves to be known as Mr. Deportation, deporting far more immigrants than even his Republican predecessor Bush.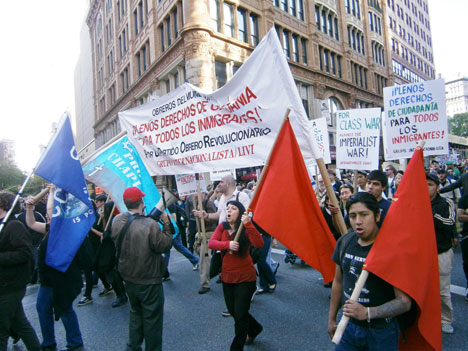 Internationalist contingent, New York City May Day 2012. (Internationalist photo)

The federal government loves Secure Communities because it is key to filling their vicious quota of 400,000 deportations a year. Last year, 217,000 undocumented immigrants were deported under this program, many of them after first being sent to concentration camps and for-profit privately run jails among the government's 961 detention facilities for immigrants. Although the government claims they only deport "serious criminals," over half of the deportees have no criminal record or at most misdemeanors such as traffic violations.
More than 5,000 U.S.-born children were left homeless last year as their immigrant parents were deported; many are put up for adoption in the government-sponsored child-snatching operation. The more than 5 million U.S.-born children of undocumented immigrant parents are all at risk. Meanwhile, the politicians of both capitalist parties push reactionary policies with their "family values" rhetoric. See "Deportation Elections 2012: For a Revolutionary Workers Party," in the May 2012 special issue of The Internationalist for more on this mass deportation program.
The organizers of Monday's protest only seek minimal immigration "reform." A spokesperson for the Immigrant Defense Project called for expanding the program at the Rikers Island jail where authorities supposedly send on to ICE information on those charged with serious crimes. We oppose all cooperation with the hated migra immigration cops. NYC City Council members claim to oppose the feds' imposition of Secure Communities on New York. But will they pass an ordinance ordering all city employees to refuse to cooperate with immigration authorities? Don't bet on it.
We call for the workers movement to drive out ICE (see "Drive Out ICE – Migra Go to Hell!" in Revolution No. 8, April 2011). Instead of begging for an "amnesty" of immigrants who have done nothing wrong, or vague calls for "legalization" or a "path to citizenship," we demand Full citizenship rights for all immigrants. And we call on the workers movement to mobilize to block deportation raids wherever possible. ■