Defeat Governor's Legislative Coup d'État
Wisconsin: For a General Strike
Now
!
Break with the Democrats, Republicans and All Capitalist Parties!
Build a Class-Struggle Workers Party!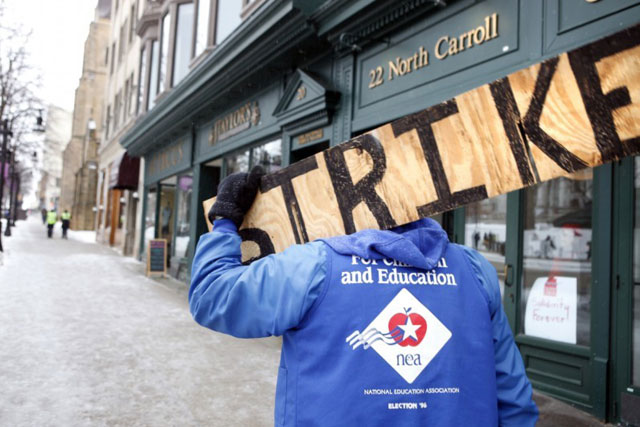 Strike calls have been frequent in protests in Madison, Wisconsin but union tops are blocking action.
(Photo: Mike Devries/The Capital Times)

A law challenging the very existence of unions of government workers has just been rammed through the legislature in Wisconsin. In addition, wages have been slashed by up to 10 percent to make up for cuts to health insurance and pensions. The labor movement and workers nationwide and internationally are vividly aware of the stakes. There has been a lot of talk in the last three weeks about a general strike. The Wisconsin South Central Labor Federation even voted to authorize one. But now that the moment of truth has arrived, the union bureaucrats have gotten cold feet. They are doing everything to prevent strike action and instead to divert anger at this vicious law into a drive to recall Republican senators. To be replaced by whom? The Democrats' "alternative" budget bill would also have drastically slashed wages and benefits.
We have said from the outset that "It will take nothing less than a statewide general strike to defeat labor hater Walker." But we warned , "union leaders block militant action as they chain workers to the Democrats" (The Internationalist leaflet, 18 February). There should be no delay: this is the hour for powerful labor action. For a general strike to shut down Wisconsin now!
When Governor Scott Walker announced on February 11 a bill to eliminate collective bargaining rights for almost all state, county and municipal employees, except for the Wisconsin State Patrol and firefighters, it was a blatant attempt to destroy public-sector unions. Using a phony state "fiscal crisis" as an excuse, its intent was to rip up a half-century of workers' hard-won rights. Walker and his Republican cohorts tried to ram this draconian union-busting law through the state legislature in a matter of a couple days, declaring an end to hearings of the joint finance committee after only a few hours. But the working people of Wisconsin reacted angrily and massively, taking to the streets in huge numbers to emphatically demand, "Kill the Bill!"
Walker's position, as one commentator put it, was "my way or the highway" – so the Democratic state senators took him at his word and drove off to Illinois, depriving the governor of the enhanced quorum required to vote on fiscal bills. As thousands of protesters occupied the state Capitol for more than two weeks and tens of thousands repeatedly protested outside (more than 100,000 ringing the square on three Saturdays running), the wannabe Duce of Madison was stymied, and increasingly frustrated. Sending police across the state line to kidnap legislators was ruled out. He admittedly considered sending provocateurs into the protests, but dropped that for tactical reasons. Finally on Wednesday, March 9 the governor decided he had had enough of democratic niceties and proceeded to carry out what can only be called a legislative coup d'état.
Walker had aides take scissors to slice out the budgetary provisions of the bill, hoping to do away with the need for a "superquorum" (while also eliminating the supposed reason for such draconian action). The Senate majority leader then called a vote on less than two hours notice, and at 6 p.m. held a hurried Senate-Assembly conference committee that lasted only a few minutes. Moments later, the Senate gaveled through the excised "budget repair" bill by an 18-1 vote with no Democrats present. On Thursday, the Assembly dutifully voted the anti-labor bill, and on Friday the governor signed it, hoping to cancel union rights with a stroke of a pen. But the issue will not be decided by parliamentary sleight of hand – workers' rights can only be won and defended through hard class struggle on the streets and in the plants.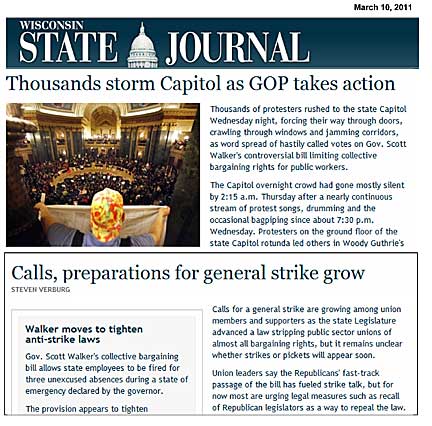 Working people and defenders of democratic rights in Wisconsin are ready and willing to fight. The minute word leaked about the plan to drum the bill through the Senate, people headed to the Capitol in droves to try and stop this outrage. The Wisconsin State Journal (10 March) headlined the next day: "Thousands Storm Capitol As GOP Takes Action." The article described the pandemonium:
"Thousands of protesters rushed to the state Capitol Wednesday night, forcing their way through doors, crawling through windows and jamming corridors, as word spread of hastily called votes on Gov. Scott Walker's controversial bill limiting collective bargaining rights for public workers….
"Shortly after 8 p.m. Wednesday, hundreds of protesters gathered outside the locked King Street entrance to the Capitol, chanting 'Break down the door!' and 'General strike!'
"Moments later, police ceded control of the State Street doors and allowed the crowd to surge inside, joining thousands who had already gathered in the Capitol to protest the votes….
"At one point, officials estimated up to 7,000 people had spilled into the Capitol, some coming through doors and windows opened from the inside, including one legislative office and several bathrooms. Some door knobs and door handles were removed…."
Union officials issued angry statements: Marty Beil, executive director of the Wisconsin State Employees Union, said that the governor and his cronies had turned Wisconsin into a "banana republic." Phil Neuenfeldt, president of the Wisconsin State AFL-CIO, said that "Senate Republicans have exercised the nuclear option to ram through their bill attacking Wisconsin's working families in the dark of night." But when it comes to labor action, it's a different story. Even as protesters were chanting "general strike" while trying to break down the doors of the Capitol, the union tops were preaching caution.
The next day the Wisconsin State Journal (11 March) reported, "'General strike' has been one of the chants that resounded through the Capitol during massive protests Wednesday and Thursday after the Legislature passed a bill that would remove bargaining rights for about 175,000 workers and create major obstacles to basic operations for unions representing teachers, state workers and local government employees." But, the paper said, "Union leaders say the Republicans' fast-track passage of the bill has fueled strike talk, but for now most are urging legal measures such as recall of Republican legislators as a way to repeal the law."
Teachers are a main target of Walker's law. Even though enough Madison teachers called in sick four school days to shut down the schools, and many others around the state did likewise so they could join the protests at the Capitol, Wisconsin State Education Association Council president Mary Bell urged her union's 98,000 members not to walk out. Instead, the Madison teachers union, MTI, concentrated on negotiating a concessionary contract with the local school board before Walker's new law kicks in. The agreement, which would extend the contract through mid-2013, would take an estimated $3,900 annually out of the pay check of the average teacher, amounting to a 7.35% wage cut.
A number of other contracts have been extended, some until 2014, but those covering 39,000 state workers expire today (March 13), because two Democratic senators voted against them (one was later rewarded by Walker with a plum state government job). Currently the union tops are pushing to recall Republican legislators, and various legal actions. Suits have been announced charging that Walker violated the state law on open meetings, since the public was excluded from the Senate vote; the conference committee and Senate vote violated a provision of the state Constitution requiring 24 hours notice before a vote by a government body. The Madison district attorney says he is investigating, etc. But at most such tactics would only delay the law.
Usually when union leaders want to drag their heels and head off militant action, they put the blame on the membership, saying the ranks aren't ready. Certainly, to undertake a general strike in this country that hasn't seen one in more than 60 years would take a lot of guts and gumption. But of all the times in recent memory, right now, as workers stand to lose thousands of dollars in wages and any semblance of job security, is when they are most likely to take such a bold step. And many are ready. "General strike" was once again a frequent chant among the 150,000 trade-unionists and supporters (including quite a few from neighboring and far-away states) who filled Capitol Square and all the way down State Street on Saturday
Talk of a general strike has not just been whistling in the wind. On February 21 the South Central Labor Federation voted that "SCFL endorses a general strike, possibly for the day Walker signs his budget repair bill." At the same time it set up an education committee to prepare materials for union locals about how to fight "this naked class war waged upon us." A history professor at Macalester College (St. Paul, MN), Peter Rachleff, prepared a brief history of general strikes, pointing to the 1886 May Day struggles for the eight-hour work day. In Milwaukee, the governor called out the National Guard to squelch a strike that shut down virtually every factory in the city (as Walker threatens to do today), killing seven strikers. Thus serious preparation for a strike should include organizing workers defense guards.
The SCFL educational materials include a "how to" guide on strike preparations by Dan La Botz of Labor Notes on the series of "Days of Action" in various cities in Ontario in 1995-98. Like many one-day "general strikes" in Europe, these were not real general strikes which pose a contest for power, over which class shall rule, but rather a series of labor demonstrations whose ultimate purpose was to moderate the anti-labor policies of the provincial government of Tory (Conservative) premier Mike Harris. La Botz doesn't mention that they failed to do that. But even if they had brought down Harris, what was the alternative: the discredited labor-backed New Democratic Party? The NDP was voted out of office after imposing a wage freeze and curtailing bargaining rights of public sector workers.
This underlines that a general strike is ultimately and inevitably political. Many in Wisconsin portray the battle as one against the Republican governor and legislators and reactionary forces such as the Tea Party movement and Americans for Prosperity, the political action committee of Charles and David Koch, millionaire funders of ultra-rightist outfits who were Walker's biggest financial backers. The toilet paper kings (Koch Industries owns the Georgia-Pacific paper company) are sinister for sure, but the far right are not the only ones going after labor these days. In New York state, a liberal Democratic governor, Andrew Cuomo, got elected on a union-bashing platform and is demanding $450 million in givebacks while threatening 10,000 layoffs. And nationally Barack Obama has imposed a wage freeze on federal workers while spearheading attacks on teachers, even supporting the firing of an entire district teaching staff in Rhode Island.
Illusions in the Democratic Party are a big problem in Wisconsin. As a result of their grandstand play of decamping to Rockford, Illinois, the 14 Democratic senators were hailed by the protesters demonstrating against Walker's union-busting bill. On Saturday, when they returned to Madison, supporters chanted "Fab(ulous) 14, our heroes." They then paraded in a line around the Capitol with senators and the crowd chanting "thank you" to each other. State Assembly Democrats sported their orange T-shirts claiming to support Wisconsin working families. But for all their phony "friend of labor" rhetoric, the Democrats were prepared to vote for all the budget cuts the governor wanted. They only want to preserve the unions' bargaining rights (and dues check-off), because labor is a key source of funds for this capitalist party.
Just about every left-wing and self-proclaimed socialist group in the country has written about the events in Wisconsin, which are the biggest upsurge in labor struggle in decades in the U.S. Mostly it is just cheerleading, ducking the key issue of the Democrats. In 20 articles on Wisconsin, the Party for Socialism and Liberation (PSL), a Stalinoid-reformist outfit, assiduously avoiding taking on the Democratic Party. Its main activity in Wisconsin was circulating a petition to "tax the rich," lending credence to Walker's talk of a budget deficit. (While claiming there was a $137 million budget shortfall this year, right after taking office he legislated $140 million in tax breaks for businesses, banks and industry.)
The problem is not lack of money – right now the Federal Reserve is funneling tens of billions of dollars to the banks at essentially 0% interest, not to mention the trillions they gave to Wall Street for the "bailout" and hundreds of billions paid to business under the "stimulus" bill. It is not the job of revolutionaries to give helpful hints to the bosses' government about its budget priorities and how to finance them. We have nothing against taxing the rich, but a "millionaires tax" will not do a thing to defend working people. To think that it would is to promote illusions that the capitalist pols would spend money on education, workers pensions, health care if only they had the dough. We need to mobilize our power to defeat the attacks on working people, poor, oppressed minorities and other victims of capital.
The social-democratic International Socialist Organization (ISO), one of the biggest pushers of the "tax the rich" nostrum, just published an editorial, titled "Now is the time to fight" (11 March). But according to the ISO, a general strike is not the way. It argues that "given the low level of strike activity in the last decade, and the overall decline of the labor movement over the past 30 years," therefore "calling for a general strike – no matter how enthusiastically it is received – is unlikely to get very far." Its alternative is to "build union activity in the workplaces" by "organizing pickets before work or noontime marches to other unionized workplaces." In other words, do anything but don't strike during working hours. So here the ISO is actively aiding the sellout bureaucrats in suppressing calls for militant union action.
Another group, the World Socialist Web Site, which also goes under the name of the Socialist Equality Party (WSWS/SEP), takes a somewhat different tack. The WSWS chimes in on the need for a general strike, and criticizes the Democrats and union bureaucrats for trying to squelch struggle. But in numerous articles, while referring to Walker's "anti-worker" law, it never mentions the fact that this is union-busting legislation. The reason why not is simple: the WSWS opposes unions as inherently bourgeois. They even tell workers not to vote for unions in union recognition votes. These scab socialists try to hide this dirty fact by denouncing the bureaucrats, who have hamstrung workers' struggle for decades. But the unions remain workers organizations, even though they are betrayed by the union misleaders who tie them to the capitalist parties, principally the Democrats.
That is why it is necessary to build a class-struggle opposition in the unions, to oust the pro-capitalist bureaucrats and break with the Democrats and bourgeois politics overall. The Wisconsin union-busting law, by outlawing collective bargaining for government workers, aims at destroying public sector unions. Following the decimation of many private sector unions over the last three decades, these are the mainstay of what is left of the labor movement. Walker & Co. would certainly make impossible the class-collaboration policies of business unionists who are willing to sacrifice all sorts of union gains as long as they get to negotiate the sellout. Class-struggle unionists do not call for or rely on such mechanisms as a dues check-off, precisely because the government and the bosses can use it as a weapon to cripple labor by cutting off its finances. But we oppose anti-union attacks as an assault of workers' rights and gains.
A statewide general strike is urgently needed in Wisconsin, and the time is now. To win against all the union-bashers, it is necessary to promote the political independence of the workers movement and break with both Democrats and Republicans, the partner parties of American capitalism, as well as minor bourgeois parties such as the Greens and sundry reformists (of which the social-democratic NDP in Canada is an extreme example) who only seek to modify the workings of the capitalist system rather than bringing it down. Thus the Internationalist Group, in calling for a general strike in Wisconsin, links this to the need to build a class-struggle workers party to lead the fight for a workers government and socialist revolution. ■