April 2020
To Meet Urgent Demand, Workers Power Is Key
How Capitalism Sabotaged Ventilator Production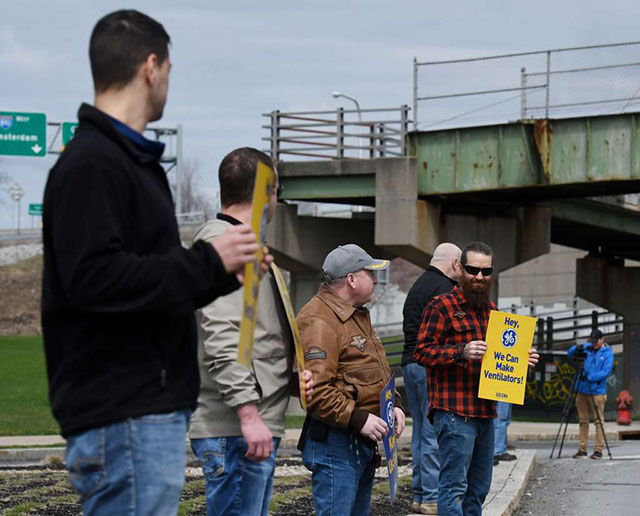 IUE-CWA members outside General Electric turbine and generator plant in Schenectady, New York, April 8, call on GE to rehire laid-off workers to manufacture ventilators.
"There are profiteers all over the place," remarked Dr. Steppe Mette, chief medical executive of the University of Arkansas for Medical Sciences (UAMS) Medical Center in Little Rock (Reuters, 10 April). As one of the people responsible for acquiring ventilators for the state of Arkansas, Mette has experienced the U.S.'s cut-throat ventilator bidding wars first-hand, in which state governments compete against each other and the Federal Emergency Management Agency (FEMA) to get their hands on these desperately-needed life-saving devices.
As the coronavirus pandemic ravages the country, with New York City being the epicenter, hospitals and government at all levels have been caught wholly unprepared. There has been a lot of political drama around the mechanical breathing devices. In late March, New York's governor Andrew Cuomo sounded the alarm when Donald ("President Death") Trump made a show of sending NYC a paltry 400 ventilators. "I need 30,000 ventilators," Cuomo responded. "You want a pat on the back for sending 400 ventilators?" Of course, the fact that New York had such a dire shortage meant that it hadn't stockpiled them long beforehand.1
Johns Hopkins University counts "approximately 62,000 full-featured mechanical ventilators" in hospitals across the U.S., with "an additional 98,000 ventilators that are not full-featured but can still provide basic function in an emergency during crisis standards of care."2 However, that estimate is based on a 2010 study that admitted that "the full number has never been enumerated." Now tens of thousands more are urgently needed across the country. According to Reuters, "31 [states] that either responded or have disclosed figures showed a collective intent to procure 70,000" ventilators.
Conclusion: There should be a crash program to produce tens of thousands of new ventilators – yesterday! So why hasn't that happened? In a word – profits. It is a horrific example of what Karl Marx and Friedrich Engels described as the "anarchy of production" under capitalism. As production is not coordinated to serve human needs, each capitalist company competes with the others to snatch the largest share of profits, inevitably leading to both gluts and shortages, often with deadly results.3 The ventilator shortage should more accurately be called a ventilator sabotage, in which capitalist vultures are feasting on COVID-19's victims.
NYC mayor Bill de Blasio with one of the 400 ventilators Trump sent to New York.
Today, states are scrambling to buy ventilators at enormous markups. A former Obama administration official reported, "One of the governors is trying to buy them at $45,000 per ventilator. The typical cost is $15,000 per ventilator…. They are all bidding against each other. State vs. state." A writer for the liberal website Talking Points Memo commented: "If you've got the right connections and access to trade networks and political power there are fortunes to be made starting bidding wars for products people are literally dying for" (The Nation, 3 April).
But it's not just cutthroat distributors who are responsible for this crisis. Ventilator manufacturers are loath to ramp up production on the massive scale needed because it would virtually eliminate their profits. The price of a ventilator can range up to $50,000 (Washington Post, 18 March), and a flood of new units on the market would drive prices way down. A recent piece in MIT Technology Review (18 March) bluntly laid this out:
"'Who will pay for all the extra ventilators even if the company can ramp up?' said Kenneth Lutchen, dean of Boston University's College of Engineering and a professor of biomedical engineering…. 'Presumably at some point this crisis will play itself out and the hospitals will have far more ventilators than they need until the next crisis.' 'There needs to be an incentivized business model to hit the go button for ramping up manufacturing…'."
So under capitalism, businesses need to be "incentivized" to produce urgently needed medical equipment. While people are left to die in hospitals critically short on staff, the result of years of cuts to healthcare funding and hospital closures by local governments and private equity firms, the bourgeoisie is worried about its bottom line. Only a centrally planned, international socialist economy, in which production is to fill human needs rather than for profit, could ever meet the demands of the vast majority of people.
Writing Was on the Wall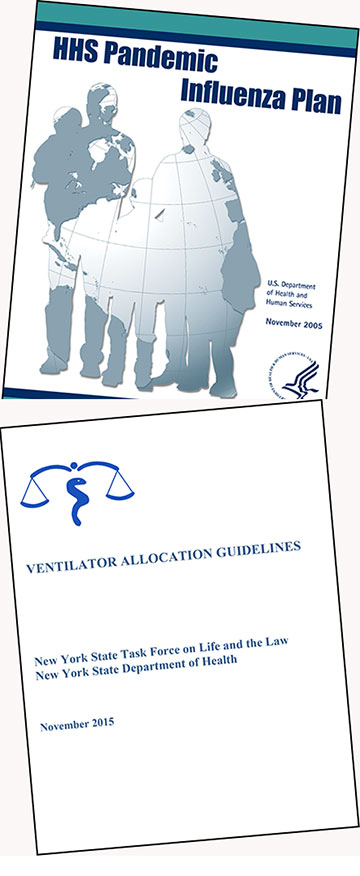 Federal and state pandemic preparedness reports have warned for years of a ventilator shortage. Nothing was done, stockpiles of emergency equipment were dissolved.
The ventilator shortage has been known for years. Medical professionals and even some government officials had been ringing the alarm bells, warning that a pandemic would leave U.S. hospitals in the lurch:
"Despite planning and preparedness, however, in a severe pandemic it is possible that shortages, for example of mechanical ventilators, will occur and medical care standards may need to be adjusted to most effectively provide care and save as many lives as possible."
–Centers for Disease Control and Prevention, "HHS Pandemic Influenza Plan" (November 2005)
"The 'just-in-time' supply chain management systems4

used by many hospitals creates a significant threat to successful disaster response as many hospitals maintain only a minimal store of medical supplies on site…. Were a mass casualty critical care event to occur tomorrow, many people with clinical conditions that are survivable under usual health-care system conditions might have to forgo life-sustaining interventions. Failure to provide critical care will likely result in high mortality rates."
–Task Force for Mass Critical Care Summit Meeting, "Definitive Care for the Critically Ill During a Disaster: Current Capabilities and Limitations" (26-27 January 2007)
"Planning for mass respiratory public health emergencies has been hampered by not knowing how many ventilators there are in US hospitals, how they are distributed across the country, and whether, taken together, the numbers and types of ventilators in hospitals will provide sufficient surge capacity to meet anticipated needs."
–"Mechanical Ventilators in US Acute Care Hospitals," Disaster Medicine and Public Health Preparedness (October 2010)
"New York state may have enough ventilators to meet the needs of patients in a moderately severe pandemic. In a severe pandemic health emergency on the scale of the 1918 influenza pandemic, however, these ventilators would not be sufficient to meet the demand. Even if the vast number of ventilators needed were purchased, a sufficient number of trained staff would not be available to operate them. If the most severe forecast becomes a reality, New York State and the rest of the country will need to allocate ventilators."
–New York State Department of Health/New York State Task Force on Life and the Law "Ventilator Allocation Guidelines" (November 2015).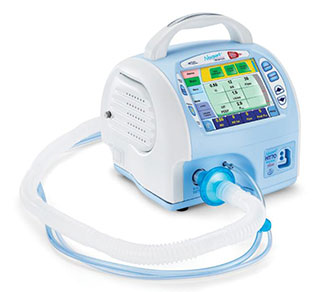 Newport HT-70 ventilator.
So what was done about this critical shortage? A federal program begun in 2008 under the auspices of the Department of Health and Human Services (HHS), during the administration of George Bush II, was meant to fill that gap by purchasing up to 40,000 new ventilators. According to a report in the New York Times (29 March), HHS contracted the job to a specialized company, Newport Medical Instruments, which would produce compact, portable devices it would sell to the government for $3,000 per unit, back when ventilators typically cost $10,000 apiece. Newport was awarded the contract in 2010, with production slated for 2013.
However, in 2012 Newport was acquired by a larger competitor, Covidien, for $100 million. After the acquisition, "Covidien had demanded additional funding and a higher sales price for the ventilators," according to the Times Then in 2014, Covidien dropped the contract, complaining "that it was not sufficiently profitable for the company." According to the article:
"Government officials and executives at rival ventilator companies said they suspected that Covidien had acquired Newport to prevent it from building a cheaper product that would undermine Covidien's profits from its existing ventilator business." [emphasis added]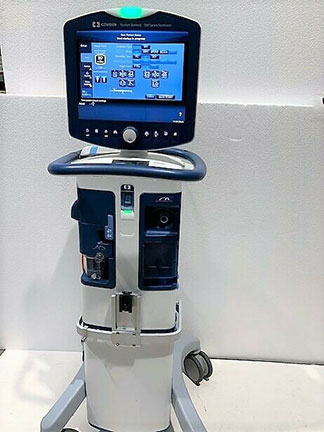 Covidien PB980 ventilator.
Note that this was under the Democratic Obama administration. In other words, the dictates of the capitalist market, where production of goods is based on profit, prevented the production of desperately needed medical equipment. This is an object lesson in capitalism, where human lives are sacrificed on the altar of private property.
Mind you, this is not something new. It's a decades-old practice for capitalist firms to either collude or buy each other out in order to produce inferior, more expensive products. Take the incandescent lightbulb, for example. In the U.S., this market was the virtual monopoly of General Electric in the 20th century. As early as 1924, GE, along with Osram (a spin-off of the German AEG) and other "competitors," formed the Phoebus Cartel, whose "enduring legacy was to engineer a shorter life span for the incandescent lightbulb," reducing it from 2,500 hours to 1,000 hours in order to increase sales (IEEE [Institute of Electrical and Electronics Engineers] Spectrum, 24 September 2014).
Democratic Fire Sale Gutted Stockpiles
While the drive for profits spiked the federal government's plan to buy 40,000 new ventilators, some states, like California, sought to accrue their own stockpiles. "In 2006, citing the threat of avian flu, Republican governor Arnold Schwarzenegger announced the state would invest hundreds of millions of dollars in a powerful set of medical weapons to deploy in the case of large-scale emergencies…" (Los Angeles Times, 27 March). The state spent over $200 million on a mobile hospital program that could quickly deploy medical care facilities to affected areas.
The Los Angeles Times report notes that "at its height, the state's stockpile held more than 50 million N95 respirators" (the close-fitting facial air filtration device for medical personnel to protect against infection) and "2,400 portable ventilators." The mobile hospitals "were fully insulated, HVAC-equipped [with heat, ventilation and air-conditioning], semi-permanent tents" that would "roll out on 18-wheelers." But in the aftermath of the 2008 financial crisis, California's Democratic governor Jerry Brown eliminated funding to the mobile hospital program in 2011. The stockpiles were sold off or allowed to expire. One Democratic state assemblyman even suggested that the state sell its medical equipment on eBay (Sacramento Bee, 13 February 2012).
New York City, which has become the epicenter of the pandemic in the U.S., acquired its own stockpile of ventilators in 2006, also in response to the strain of influenza then ravaging Asia and the Middle East. A report from that year predicted the city would face a "shortfall of between 2,036 and 9,454 ventilators" if NYC were faced with a pandemic.5 Although the city government of then-Republican Michael Bloomberg only purchased 500 ventilators that year, even those additional units were left to fall into disrepair or auctioned off under the Democratic administration of Bill ("Bloomberg Lite") de Blasio (Pro Publica, 6 April).6
Recently, Trump accused Cuomo of not heeding his own state Health Department's warnings of a critical ventilator shortage back in 2015, in a report that set the framework for "ventilator allocation." It's true, of course. New York has known for years about a ventilator shortage and did nothing about it, and the "triage committees" that would oversee such brutal health-care rationing do indeed amount to "death panels." But racist-in-chief Trump is no better. The New York Times (1 April) reports that 2,109 ventilators in the federal government's stockpile have fallen into disrepair because the contract to maintain them "lapsed late last summer, and a contracting dispute meant that a new firm did not begin its work until late January."
Meanwhile, after the U.S. government's contract with Covidien to produce low-cost ventilators fell through, Dutch manufacturer Philips was awarded a new contract for the same purpose in 2014. But it wasn't until last July that the FDA approved Philips' design, and only last December did the government order 10,000 units to be delivered in mid-2020. But not a single mention of these supposedly incoming ventilators was made by administration officials until late last month, after they were contacted by the New York Times.
Drive for Profits: Death Sentence for the Sick
So where are the ventilators? Trump says private enterprise will save the day. Democrats have urged him to use his powers under the Korean War-era Defense Production Act, promoted and signed by Democratic war criminal president Harry Truman – who A-bombed Hiroshima and Nagasaki, firebombed Tokyo and slaughtered millions in Korea – to compel companies to prioritize the filling of government contracts. On April 8, HHS signed a new, $647 million contract with Philips to produce 43,000 ventilators, the first 2,500 of which would be delivered before the end of May and the rest by the end of December. Yet under this new contract the government would be paying $15,000 for each ventilator, five times the price established under the 2014 contract. That same day, HHS signed a $489 million contract with General Motors (GM) to produce 30,000 ventilators, with the first 6,000 coming in by June 1.
But ventilators are needed now. If production had begun in January, when the pending disaster was already evident, they could be in operation today. Yet according to a former HHS official, "most of these ventilators will come too late to make a difference in this pandemic" (Ars Technica, 10 April).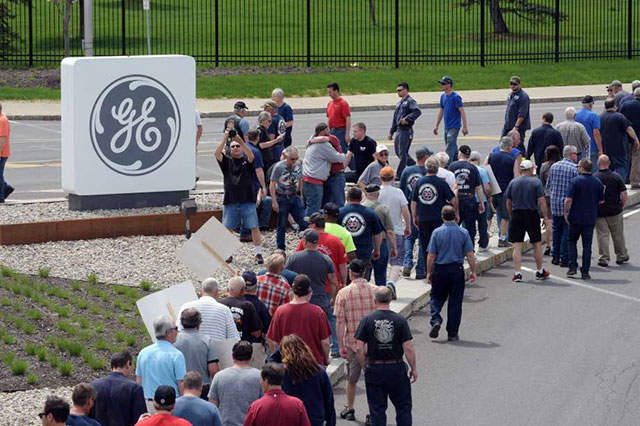 Faced with refusal by bosses to convert plants and rehire workers to serve urgent need in coronavirus crisis, GE workers should take control and gear up ventilator production.
On March 30, aviation factory workers at General Electric's Lynn, Massachusetts plant protested to demand the company convert its jet engine factories to produce ventilators. That same day, members of the IUE-CWA (International Union of Electrical Workers – Communications Workers of America) held a march at GE's Boston headquarters. This came as the company was announcing plans to lay off 10% of its domestic aviation workforce and to furlough half its maintenance workforce for three months. On April 8, workers at the GE turbine and generator plant in Schenectady, New York, Dallas, Texas, Salem, Virginia and Lynn rallied, calling to produce ventilators.
"Ventilators are desperately needed at hospitals in New York, California, Washington State, and Florida," said CWA president Chris Shelton. "They soon will be in short supply from the East Coast to the West Coast, from Puerto Rico to Hawaii, from Alaska and Illinois to Texas. Most Americans are not aware that the best ventilators are already made by General Electric within the company's healthcare division."
Okay, so how about doing something about it? Since the corporate bosses aren't going to, workers and engineers at Lynn and Schenectady GE and other plants should take matters into their own hands and gear up to produce this urgently needed medical equipment. This points to the fact that, faced with the refusal of the capitalists to ensure the health needs of the population, workers control of production is called for. This would involve the workers exerting their class power in the plants and distribution centers in a direct challenge to the bosses' power, overriding the anti-social profit drive of the parasitic owning class in order to rev up factories to make life-saving machines. That would be a fundamental break with "business as usual," but for working people around the world this is a genuine international emergency requiring drastic measures.
The fact is, companies like Ford, GM and GE, which have factories sitting idle across the country, have the capacity to produce thousands of ventilators ASAP. But they will not reopen those plants because their bottom line is that profit rules – which is why the plants were shuttered in the first place. Ultimately, the only way to ensure that the needed medical equipment is produced is by expropriating the capitalists and driving out their politicians, who have dramatically shown their incapacity to defend the lives and livelihoods of the vast majority of the population, with the working class establishing its own government.
As the call to action by Class Struggle Workers – Portland (CSWP) states: "A mass, militant workers movement with a class-struggle leadership would establish workers commissions at workplaces to decide appropriate measures, including shutting down where necessary, with no loss in pay, or continuing production with needed safeguards." That should also include what should be produced. But to get from here to there, and continuing on the road to socialist revolution, the key is building a proletarian vanguard – the nucleus of a revolutionary workers party – based on the program for putting the technology and wealth built up by the working class to work to save lives now and make a decent future for working people here and around the world. That means the working class putting an end to this deadly capitalist anarchy – and taking power into its own hands. Our lives depend on it. ■