Labor's Gotta Play Hardball to Win!


Showdown on West Coast Docks: The Battle of Longview
(November 2011).
click on photo for article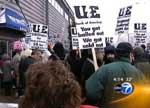 Chicago Plant Occupation Electrifies Labor
(December 2008).
click on photo for article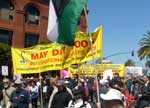 May Day Strike Against the War Shuts Down
U.S. West Coast Ports
(May 2008)
click on photo for article



June 2020

Minneapolis Public Schools
Give Cops the Boot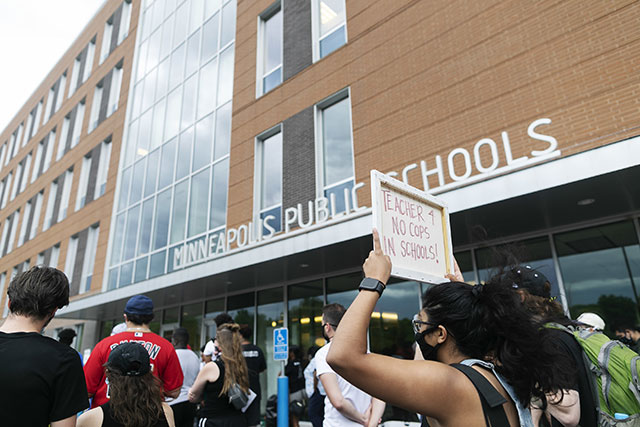 Demonstration outside meeting of Minneapolis school board, June 1, calling for police out of the schools. The board voted unanimously to end contract with Minneapolis Police Department.
MINNEAPOLIS, June 3 – In an historic move, Minneapolis Public Schools voted unanimously yesterday to cut ties with the Minneapolis Police Department. Horrified by the cold-blooded killing of George Floyd by an MPD cop, educators here and throughout the country denounced this racist murder. The next day, the president elect of the Minneapolis Federation of Teachers, Local 59 (MFT59), issued a statement saying, "whatever the courts decide, our students were just given another terrifying lesson on what it means to be black in Minnesota."
Students at local high schools and community have been organizing for years to get the misnamed "school resource officers" (SROs) out of the schools. The MPS contract with the police goes back to 1967, at the height the white blacklash against ghetto explosions over police violence. In the 1990s, the Democratic administration of Bill Clinton launched a "COPS in Schools" program which doled out millions to local school districts to bring in police. This was further ramped up in the wake of the 1999 Columbine, Colorado, school shooting.
Today, according to National Center for Education Statistics, more than 70% of U.S. high schools have police, many of them armed (London Guardian, 3 June). In New York City, there is a veritable army of some 5,000 uniformed NYPD officers (called "school safety agents," although they can make warrantless arrests and use deadly force) plus another 200 regular police stationed in schools. Studies have shown that in schools with a police presence, more students are arrested, fueling the racist "school-to-prison pipeline." Class Struggle Education Workers has long called for police and security guards out of the schools, and out of the unions.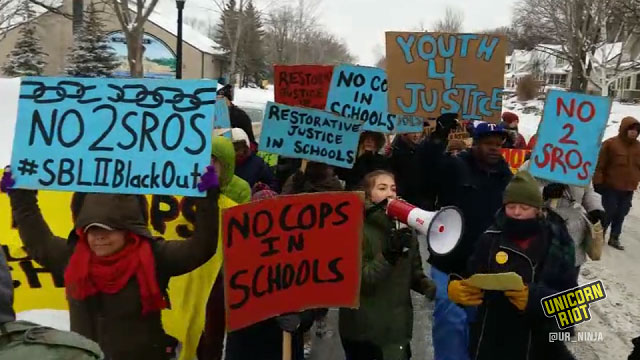 Minneapolis students demonstrate the day before Superbowl 2018 for cops out of the schools.
In 2015-16 there were big mobilizations in the Twin Cities over the police killing of Jamar Clark, near the 4th Precinct in North Minneapolis. A few years later, a scandal erupted over a racist Christmas tree display in the same cop precinct decorated with Popeye's fried chicken buckets and crime-scene tape. In July 2016, Philando Castile, a cafeteria worker in the St. Paul public schools, was shot to death in his car. And now George Floyd, lynched by a cop smugly putting his knee and the full force of his body weight on George's neck for almost nine minutes while he gasped "I can't breathe."
On June 2, MFT59 held a rally outside Minneapolis Public Schools Davis Center in North Minneapolis demanding "No More Police in Our Schools!" SEIU Local 284, representing food service and custodial workers, also called for cops out. Inside, the school board was scheduled to vote on severing ties with the MPD. Supporters of the Internationalist Group (IG) attended the demonstration, with signs commemorating victims of police lynching in the U.S. and calling for "All Cops Out of the Schools and Unions."
At the demo, teachers and parents shared stories about how their African American and Latino kids do not feel safe with MPD officers roaming their hallways. One mother recounted how her daughter, who was also present at the protest, was tackled to the ground by cops, who cut the straps off her backpack and put her in cuffs. A teacher emphasized that George Floyd's murder at the hands of an MPD officer was a stark reminder that police have no place in public schools. One teacher and a group of high school students did argue for keeping "SROs," yet of 1,600 students who responded to a survey, 90% wanted the school cops removed completely.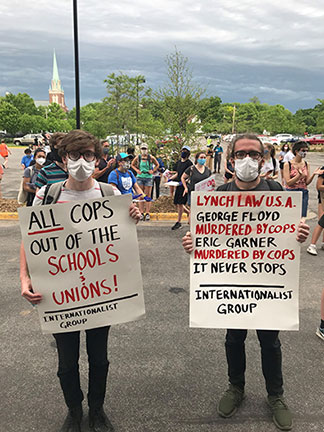 Internationalist Group supporters at June 2 demonstration for police out of the Minneapolis schools.
Democratic representative Ilhan Omar, who has been the object of vituperative racist attacks, spoke at the rally for no more police in the schools. But the fact is, as we have pointed out, in almost every big city in the country, including the Twin Cities, Democratic mayors are the bosses of the police, and therefore responsible for the systematic racist repression. And the city councils here that vote for school and police budgets are entirely Democratic Farmer-Labor, except for a lone Green in Minneapolis. They have also presided over the increasing segregation of the schools. In Minneapolis, the number of schools where white students are less than 10% of the total increased sevenfold since 2000 (The Atlantic, 12 July 2016).
While the number of police in Minneapolis schools is small, the unanimous vote of the school board to remove them has national importance. St. Paul schools are considering a similar motion next week. "Hey New York, hey Colorado, hey Nevada, look at us — we're making a change with our voices, just like our parents and neighbors are, and you can do it too," said a student activist. But it remains to be seen whether the school district will sign a contract with some other "school safety" outfit, as the Star Tribune reports (2 June): "the district must come up with new safety plan by mid-August." Replacing the MPD with private security guards or simply another police department will mean back to business as usual.
What is vitally necessary is to take control of the public schools out of the hands of the capitalist state, and to turn private and charter schools into public schools. Class Struggle Education Workers calls for the schools to be governed by councils of teachers, students, parents and workers. Cops have now been ordered out of Minneapolis public schools – and they'd better stay out! ■