October 2017
For International Workers Solidarity!
New York Protest Against
Repression in Catalonia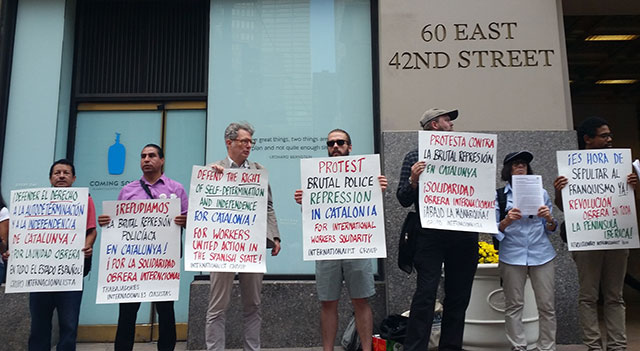 Demonstrators outside Spanish government office in New York City protest repression in Catalonia, October 6.
NEW YORK, October 6 – An emergency protest was held here today to denounce police repression against voters in the referendum on independence for Catalonia last Sunday, October 1. Demonstrators called for defense of the right to self-determination (the right to independence) for Catalonia, for workers unity throughout the Spanish state and for international workers solidarity actions.
The text of the leaflet distributed at the protest outside the Spanish government tourist office in Midtown Manhattan read:
"The Internationalist Group and Trabajadores Internacionales Clasistas (Class Struggle International Workers) are calling an urgent protest to denounce the brutal police attack on the October 1 referendum on independence in Catalonia. Almost 900 people were injured as thousands of riot police brought in from elsewhere in Spain dragged retirees out of voters lines to beat them bloody. It was a throwback to the days of the dictatorship of Francisco Franco, and a clear attempt to intimidate and humiliate the population of this restive region who dared to defy the neo-Francoist Spanish government. Two days later (on October 3) there was a work stoppage throughout Catalonia as hundreds of thousands marched to denounce the vicious repression.
"We are calling for International Workers Solidarity Against Police Repression in Catalonia and to Defend Catalonia's Right to Self-Determination and to Independence, while fighting for the United Action by the Working Class Throughout the Spanish State against the repression. The urgency of the protest is heightened as the government appears to be preparing to cancel Catalonia's regional autonomy and impose direct rule from Madrid through a military/police occupation (army units are already being brought in)."
Other signs carried by protesters included: "Guardia Civil and National Police, Out of Catalonia!" "It's Time to Bury Francoism Now! For Workers Revolution in the Entire Iberian Peninsula!" and "Down with the Monarchy! For an Iberian Federation of Workers Republics, in a Socialist United States of Europe!" ■