January 2017
Pipelines, Oil Trains and Capitalism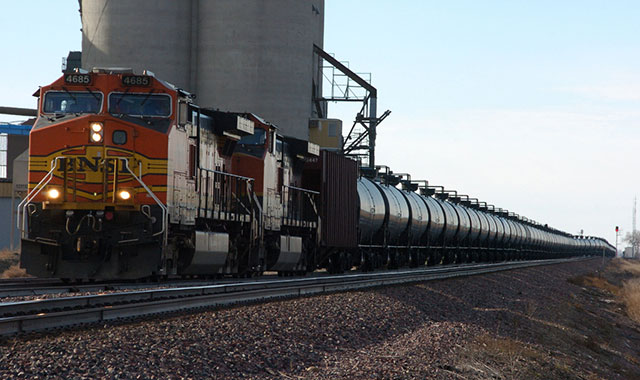 Oil train near Wolf Point, Montana in November 2013. Rail transportation of Bakken crude oil is far more dangerous than pipelines. So why are environmentalists protesting DAPL but not BNSF? Clue: pipeline owners are right-wing Republicans while BNSF is owned by Warren Buffet, the darling of environmentalists and liberal Democrats.
The push to ram through the Dakota Access Pipeline (DAPL) reflects the frantic pace of the oil boom over the last decade. In the space of six years, production in the Bakken oil fields more than quintupled to more than 1.2 million barrels per day, making sparsely populated North Dakota the second-largest oil producing state after Texas. But shortage of pipeline capacity has led to bottlenecks. So after fast-track approval by the compliant state Public Utilities Commission in January, the DAPL got a rubber-stamp OK from the U.S. Fish and Wildlife Service in May. On July 25 the Army Corps of Engineers issued a "Mitigated Finding of No Significant Impact," overriding 23 objections by the Standing Rock Sioux Tribe (and another 16 by the Environmental Protection Administration) to decree that "no Environmental Impact Statement was required." Construction began in January (and in North Dakota on May 23). Proceeding at breakneck speed, DAPL sponsors vowed to finish the $3.8 billion project by the end of the year.
Following the oil boom came the oil bust. Prices for the U.S. benchmark oil West Texas Intermediate Crude fell from $107 per barrel in June 2014, when the Dakota Access Pipeline was launched, to under $27 by February 2016, since then rebounding to a little over $50. The price collapse, mainly due to Saudi Arabia's decision to ratchet up production to grab market share, is particularly problematic for higher-cost shale oil producers such as the Bakken field in North Dakota. But with advances in hydraulic fracturing (fracking) technology the marginal cost for new production is still below price levels, so that North Dakota's production has only fallen to around 1 million barrels per day.1 Meanwhile, Kelcy Warren, boss of Energy Transfer Partners, which is building the pipeline, and of Sunoco Logistics, which will operate it, is hell-bent on pushing through DAPL.
Warren, a high roller in the mergers and acquisitions (M&A) game, has been snapping up hard-hit pipeline companies2 left and right. So residents of an impoverished Indian reservation are struggling to protect their water supply against a pipeline cowboy who has been playing fast and loose in the casino-like energy industry. One reason for the ETP chief's urgency may be worry about some of his M&A deals going up in smoke amid concerns about funny money maneuvers. After all, this is the industry that gave rise to the 2001 Enron accounting scandal and bankruptcy, which Warren fed off. There have been frictions in the $37 billion bid by Energy Transfer Equity (ETE), a "sister company" of ETP, to buy out the Williams Companies, owner of the Transco pipeline. And a planned sale of a minority stake in DAPL to Canadian pipeline giant Enbridge and oil independent Marathon could fall through.
But clearly a major reason for ETP's urgency is that it has contractual agreements for up to ten years for 90% of its capacity with major producers, whose terms were negotiated at the height of the boom when oil prices were double today's levels. Those contracts expired on 1 January 2017, and the producers could demand a renegotiation of prices or pull out3 . In this boom-bust industry, if oil prices and production fall, a pipeline that was rushed to completion could end up sitting idle, a "stranded asset." Or alternatively, with friends in high places in a Trump administration, Kelcy Warren & Co. could luck out and rake in billions. Either way, the indigenous peoples and farmers that Dakota Access Pipeline's owners rode roughshod over will not benefit – and could reap disaster.
The oil boom has transformed North Dakota from an agricultural state ‍– mainly producing hard winter wheat for pasta, beans, sugar beets and canola, flax and sunflower oil – to a major player in the U.S. energy economy. Correspondingly, its politics have been transformed from a pale reflection of the prairie populism of yore into a kind of Texas North. Shale tycoons buy politicians who run state regulatory agencies as subsidiaries of the industries they are supposed to watch over. A celebration of state oil production topping a million barrels a day was catered by Halliburton and featured the theme song of Dallas – the TV series of intrigue, skullduggery and unbridled greed. Presiding over the pit of corruption has been Republican governor Jack Dalrymple, also a member of the North Dakota Industrial Commission. In his 2012 election campaign, Dalrymple took in $550,000 from big oil executives, lawyers and political action committees.4
In addition to such naked "pay to play" practices, the companies and state government are in cahoots to suppress information about environmental damage caused by the oil boom frenzy, and to minimize any cost to the industry. A New York Times investigation documented that more than 18 million gallons of oil and chemicals were spilled in North Dakota in almost 8,700 incidents from 2006 to 2014, mostly during the last two years as the drive to raise production reached a fever pitch. Yet state officials "do not release even summary statistics about environmental incidents and enforcement measures."5 Much of the damage is avoidable. Some producers have a far better record than others, and Warren's Sunoco operation is the absolute worst in the industry, with over 200 spills since 2010.6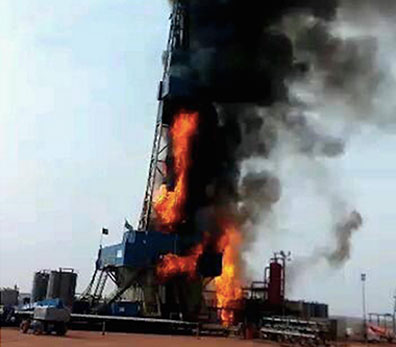 Oil rig fire near Waterford, North Dakota, in March 2014. In June 2016, another fire in the same area caused death of an oil worker and severe injuries to two others. Six months later, the Occupational Safety and Health Administration proposed slap-on-the-wrist fines of $36,000. A fighting labor movement would organize union safety committees to close down unsafe production.
Most environmental activism in recent years has focused on pipelines and fracking. But in North Dakota, with its small population (750,000) and low population density (11 people per square mile), there has been less concern about the dangers of fracking than in states like Pennsylvania (population 12.8 million, density 286 per square mile) and New York (20 million, 420 per square mile). Since North Dakota now has the lowest unemployment rate in the U.S., with family incomes rising by 20% over the last decade to well over the national average while in the U.S. overall income levels fell from 2005 to 2015, outright opposition to oil and natural gas production is limited. Yet the real safety issues in this industry run by swashbuckling rough riders, for whom dangers to human life are just a dollar figure on their bottom lines, are of little concern to the "keep it in the ground" environmentalists. A militant labor movement, in contrast, would use its power to shut down unsafe operations, for workers' lives are on the line.
In terms of industrial safety, North Dakota is "The most dangerous U.S. state for workers," headlined CBS Moneywatch (8 May 2014). A report by the AFL-CIO, Death on the Job: The Toll of Neglect (2014), summarized:
"North Dakota stands out as an exceptionally dangerous and deadly place to work. The state's job fatality rate of 17.7 per 100,000 [workers] is more than five times the national average and is one of the highest state job fatality rates ever reported for any state. North Dakota's fatality rate more than doubled from a rate of 7.0 per 100,000 in 2007, and the number of workers killed on the job increased from 25 to 65. Latino workers accounted for 12 of the deaths in 2012, compared with three Latino worker deaths in 2011. The fatality rate in the mining and oil and gas extraction sector in North Dakota was an alarming 104.0 per 100,000, more than six times the national fatality rate of 15.9 per 100,000 in this industry; and the construction sector fatality rate in North Dakota was 97.4 per 100,000, almost 10 times the national fatality rate of 9.9 per 100,000 for construction."
The number of workplace injuries and illnesses is not even known, since North Dakota is one of only a handful of states that don't even keep records of this data. Yet in the protests over the DAPL, the dangers to oil industry workers are never mentioned. In fact, pipeline construction crews are sometimes cast as the enemy, whereas energy/transportation workers should be the allies of those genuinely fighting for environmental (and industrial) safety.
The Standing Rock struggle has been taken up by ecology activists including Bill McKibben, who penned an op-ed piece, "Why Dakota Is the New Keystone" (New York Times, 29 October). McKibben's outfit, 350.org (whose $11 million annual budget is 70% financed by capitalist foundations including the Rockefeller Brothers Fund, heirs to the Standard Oil fortune), calls to "keep carbon in the ground." The well-financed eco-guru proposes to "Save the Planet From Trump" by "fighting every pipeline and every coal port" (Ecowatch, 4 December). Opposing all pipelines is a recipe to shut down industry, electrical energy and heating, all of which largely depend on oil, natural gas and coal. This is the program of arrogant petty-bourgeois "smaller is better, back-to-nature, love the earth – hate the people" eco-maniacs, backed by a section of the U.S. ruling class (like Democrat Al Gore). They seek to reorder capitalist priorities rather than to overthrow the system of production for profit that threatens environmental disaster.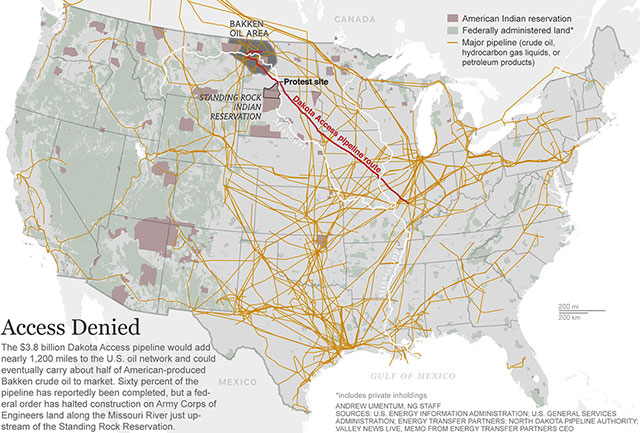 There are more than 2.6 million miles of oil, natural gas and petroleum products pipelines in the United States. We do not support or oppose the Dakota Access Pipeline as such, but proposals to oppose "every pipeline and every coal port," as the environmentalist group 350.org proposes would cripple industry, electricity production, heating and other vital functions. Railroads (which currently carry over half of Bakken crude oil production) are far more dangerous means of transportation. Click on map to enlarge.
There are 2.6 million miles of pipelines in the U.S. An article on the web site Inside Energy (18 November) poses the question, "Protesters Say Pipelines Are Dangerous. Are They?" It answers: "According to data from federal regulators, there is actually a low probability of a pipeline accident. But when there is an accident, the impact can be huge." From 2010 to 2015, significant pipeline accidents caused 74 deaths, an average of 12 per year.7 By way of comparison, in the same period, there were over 199,500 traffic fatalities in the U.S., an average of 33,250 a year.8 So should cars and trucks be banned? Inside Energy concludes that "analysis of PHMSA data showed that, over the years, the risk of an accident has remained steady: roughly 1.2 incidents that included injury, death, substantial property damage or spillage, per 10,000 miles.… But it is exactly that tiny fraction, that rare accident, that the Standing Rock Sioux are worried about."
The fact that serious pipeline accidents are relatively rare does not mean that nothing can be done. Quite the contrary. The scandalous fact is that the tiny federal Pipeline and Hazardous Materials Safety Administration has a grand total of 184 "inspection staff" on its payroll, roughly one for every 14,000 miles of pipe. There are no PHMSA inspectors stationed in North Dakota (the nearest is in Omaha, 400 miles from Standing Rock). The PHMSA doesn't even pretend to inspect local pipelines, but as of 2014 there were zero North Dakota state inspectors for 18,000 miles of such "gathering lines" transporting water and oil to and from wellheads. So federal and state agencies responsible for overseeing hazmat dangers rely on self-inspection by the industry. Any real concern for environmental safety would demand the deployment of thousands of inspectors, frequent inspections, heavy fines and shutting down dangerous operations.
Inspection of pipelines is generally carried out by means of "pigs," devices designed to fit snugly into the pipe which can prevent leaks by detecting faulty or weak welds, corrosion, etc. Regular "pigging" is presently only required for "high consequence" areas (which Standing Rock was deemed by the Corps of Engineers not to be). Not only should such mechanical monitoring be greatly increased, on-site inspections are necessary to spot shoddy welding, poor quality pipe, inadequate coating and the like. This is all the more necessary because more than half the nation's pipeline network is now over half a century old, dating to a pipeline building boom from the late 1940s to the early 1960s. Some lines are a century old. Moreover, new pipelines should be required to have (and older lines should be retrofitted to install) automatic shut-off valves with sensors all along the line to detect a drop in pressure.
According to the Corps of Engineers' July 25 environmental non-assessment (written by Dakota Access) Standing Rock Sioux concerns about a spill are misplaced because "Dakota Access would utilize a supervisory control and data acquisition (SCADA) system to provide constant remote oversight of the pipeline facilities" which would ensure "100% reliable remote monitoring/operation of these sites through the SCADA system to the Operations Control Center (OCC) in Sugarland, Texas." Yet Sugarland, Texas is 1,190 miles from Standing Rock, North Dakota "as the crow flies"! In addition to relocating the pipeline well away from the reservation, any serious response to concerns about spills would require a resident monitoring team, shut-off valves and spill basins to catch any fluids that escaped. All of this costs money, of course, which the multi-billion-dollar companies naturally object to.
But neither a Republican Bush or Trump administration dominated by Big Oil, nor a supposedly eco-friendly Democratic Clinton or Obama administration has ever or would ever propose such measures because they cut into the sacrosanct profit stream, the lifeblood of capitalism, which both parties represent and defend. Nor has the "green capitalist" ecology movement (or even their "eco-socialist" left tails) demanded such measures. Instead they play around with their "keep it in the ground" sophistry. In fact, both the partner parties of U.S. imperialism are strongly behind the push to develop Bakken shale oil and natural gas, in order to achieve "energy independence" (i.e., no longer depend on oil imports from Venezuela), and to export U.S. gas to wean Europe off Russian gas. This was behind the April 2014 visit of former CIA director David Petraeus to Williston in the heart of North Dakota's, "oil patch.9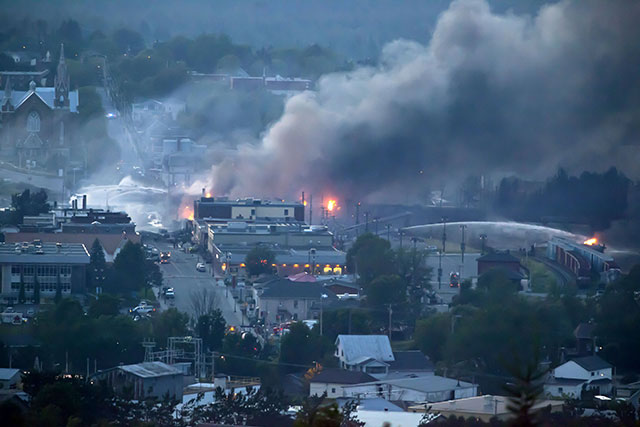 Oil train exploded in Lac-Mégantic, Quebec in July 2013 (above), killing 47 and devastating downtown area.
Meanwhile, as ecology activists try to stop one pipeline after another, the oil is being produced, and it is transported to markets – by a far more dangerous means: oil trains. If there is a danger of pipeline spills, the potential outcome of train derailments and tank car explosions is much greater. We have already seen what can happen: in July 2013, a train with 72 loaded tank cars of crude oil from North Dakota en route from Montreal, Quebec to a refinery at St. John, New Brunswick, was parked just outside the town of Lac-Mégantic, Quebec. The brakes failed, and the train rolled down into the center of town where 63 cars derailed, leading to multiple explosions and fires. Forty-seven people were killed, 2,000 were evacuated and the town center was devastated. Investigators concluded that the "light, sweet" Bakken crude oil was more volatile than previously thought.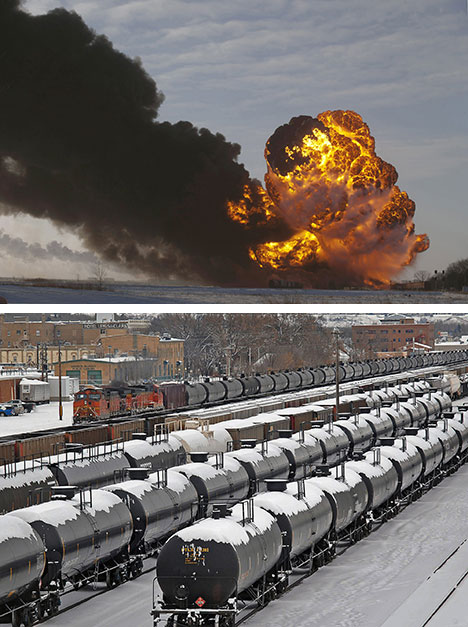 Oil train fire outside Casselton, North Dakota on 30 December 2013 (left, top) produced huge fire ball and burned for days. This led to huge back-up of oil trains in Mandan just across the river from the state capital, Bismarck. Public library branch (at left, with green doors) is located next to the BNSF rail yards.
Then that November another train of 90 cars going from North Dakota to a refinery in Mobile derailed in Alabama, with 26 tank cars sending almost 800,000 gallons of crude into a wetland while a dozen cars burned. Again on December 30, an eastbound train on the BNSF railroad hauling 106 tank cars hit a westbound train outside Casselton, North Dakota: 20 tank cars with Bakken crude derailed and exploded, sending a giant fireball into the air and burning for hours. A week later, on 7 January 2014, five tank cars carrying crude oil from Manitoba and Alberta heading for the St. John refinery derailed and exploded in New Brunswick, burning for days. On January 20, a 101-car CSX train derailed in Philadelphia with a tank car leaning off a bridge over the Schuykill River near hospitals. The list goes on and on, to last June 3 when a Union Pacific oil train derailed in the Columbia River Gorge, Oregon setting off a major fire.
A Congressional Research Service report on U.S. Rail Transportation of Crude Oil (4 December 2014) noted that "The volume of crude oil carried by rail increased by 20-fold between 2008 and 2013." With the sudden and massive increase in rail transport of oil, more crude oil was spilled from rail incidents in 2013 than in the previous 37 years since the federal government began collecting such data.10 Statistics from the American Association of Railroads show that oil transportation by train results in almost three times as many spills as by pipeline.11 A report by the Minneapolis Federal Reserve Bank notes that "Pipelines are by far the cheapest and safest way to move oil and the only practicable method of transporting gas." Yet by 2012, most crude oil from the Bakken basin was transported by rail due to lack of pipeline capacity. Moreover, 70% of oil is moved from wellhead to rail hub or pipeline terminal by truck, an even more dangerous transportation method.12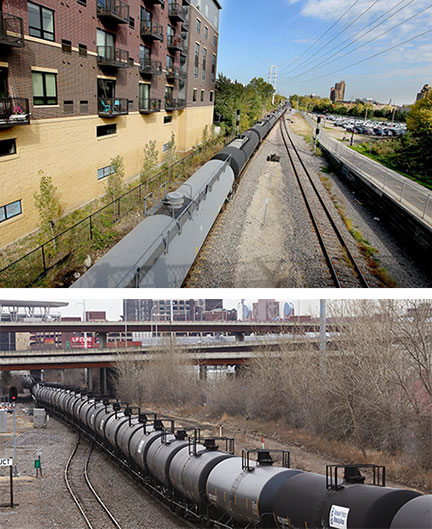 Oil trains pass through downtown Minneapolis, Minnesota, next to apartment buildings (top) and past Target Field (bottom), where 40,000 spectators regularly attend sports events. Democratic governor and mayor rerouted trains through working-class Northeast Minneapolis
By opposing construction of a pipeline, rather than demanding it be relocated away from Standing Rock and be outfitted with vastly more safety measures, ecology groups are effectively supporting the far more dangerous alternative of rail transportation. And the potential for a truly gargantuan tragedy is enormous. Oil trains run through the downtown areas of small towns and big cities all the way from western North Dakota to the East Coast. The BNSF main line runs through the center of Minot and Fargo, North Dakota, then Moorhead and St. Cloud, Minnesota and on to the Twin Cities. In November 2015, the trains were routed through downtown Minneapolis, only blocks from where Jamar Clark was shot to death by police, going past apartment houses (see picture) and literally right next to Target Field where close to 40,000 people regularly attend games of the Minnesota Twins, the Vikings and the UofM Gophers.
With a dozen to two dozen mile-long oil trains passing through every week, it didn't take much effort to imagine what could happen if some tank cars exploded next to the stadium, particularly with the city in an uproar over racist police murder. So the governor and city leaders had the trains moved back to blue-collar working-class Northeast Minneapolis. The same scenario looms over numerous locations around the country. Every week, 27 trains with crude oil from the Bakken field pass through Buffalo, New York on their way to Albany, a major hub. There the oil is transferred to barges for transport to East Coast refineries, from Philadelphia to New York City and New Brunswick. Some 26 public schools (and 7 charter schools) in the Buffalo area are located within one-half mile of the tracks, i.e., inside the Department of Transportation mandated evacuation zone in case of a derailment.
In Buffalo, New York, there are 33 schools located inside the USDOT-mandated half-mile evacuation zone (yellow band) in case of an oil train derailment. (Dark red dots are public schools, dark blue dots are charters.) Click on map to enlarge.
There are obvious steps that can be taken to sharply reduce the dangers of oil trains. Since a 2014 PHMSA report determined that the standard oil tanker cars (DOT-111) rupture too easily in derailments, they should be immediately replaced with cars using heavier steel, ceramic thermal jackets and other safety measures. Rail companies have already introduced an upgraded model, but even those cars exploded in the June 2016 Columbia River Gorge derailment. Yet the Department of Transportation has yet to settle on a design, and only plans to phase in new cars gradually, while the unsafe DOT-111s continue to roll. In addition, oil shippers can be required to use stabilization technology for the gassy Bakken crude, and there could be a ban on running oil trains through cities, requiring railroads to build new tracks to skirt heavily populated areas. But none of this has been done, nor are environmental groups pushing this.
Why not? In part, it's because the environmental NGOs (non-governmental organizations), which are basically marketing and fundraising operations, always go for the great visuals. For them, pipeline protests are a dream. That's how the Avaaz lobbying and public relations outfit spun off by hedge fund mogul George Soros organized the September 201 "People's Climate March" and simultaneously pushed for U.S. intervention in Syria.13 (They tried the same tack lately with soulful pictures and fake blogs by 7-year-olds in Aleppo.) But there's another factor involved: bourgeois party politics. ETP/Sunoco chief Kelcy Warren, Continental CEO Harold Hamm and the rest of the pipeliners are staunch Republicans, while the owner of the BNSF railway which monopolizes oil transport by rail from North Dakota is Obama backer Warren Buffett, the Democratic Party's favorite capitalist.
Buffett is a liberal, known for his calls to "tax the rich," and his famous remark that "There's class warfare, all right, but it's my class, the rich class, that's making war, and we're winning." Oil "independents" like ETP's Warren and Hamm are small fry, worth perhaps $7 billion and $14 billion respectively; Buffett is the big time, with a net worth of $73.7 billion, according to Forbes. He also is a leading "philanthrocapitalist" and has invested in wind farms and solar energy. His son and designated successor Howard Buffett (who also sits on the board of Coca-Cola) received the 2011 World Ecology Award for launching the Global Water Initiative. Even more specifically, Warren Buffet gave over $6 million in 2013 to the Tides Foundation of San Francisco, of which $1.3 million was funneled to two environmental groups (Honor the Earth and the Indigenous Environmental Network) which have been active opposing pipeline construction. Meanwhile, the Buffetts bought the BNSF railroad in 2006, just as the Bakken boom was taking off, and since then have been making money hand over fist moving oil by rail from North Dakota.

Whether fuel is transported by rail or pipeline, or energy produced by wind farms and solar power, environmentalist efforts to promote a "clean" capitalism are doomed to fail, while ensuring that the chaos of production for profit will continue. Governments from Bismarck to Washington defend the interests of their big business masters, for whom workers' deaths and ecological disasters are just a cost of doing business. Class-conscious workers should fight for union safety committees and labor action to put a stop to unsafe operations, which requires ousting the pro-capitalist labor bureaucracy. But to counter global climate change it's necessary to sweep away the capitalist system, embraced by the reactionary oil moguls and "progressive" environmentalist NGOs alike. Only through international socialist revolution will it be possible to establish a rationally planned world economy to deal with the mounting environmental danger. ■
---
1. "Will Oil Price Collapse Hit Bakken Output? Don't Count on It," Institutional Investor, February 2016.
2. See "Pipeline Billionaire Kelcy Warren Is Having Fun in the Oil Bust," Bloomberg, 19 May 2015, and "Oil's Wild Ride," Dallas Magazine, June 2016.
3. See Institute for Energy Economics and Financial Analysis, "The High-Risk Financing Behind the Dakota Access Pipeline" (November 2016).
4. "Where Oil and Politics Mix,"

New York Times, 24 November 2014.
5. "The Downside of the Boom,"

New York Times, 23 November 2014.
6. "Sunoco, behind protested Dakota pipeline, tops U.S. crude spill charts," Reuters, 23 September 2016.
7. U.S. Pipeline and Hazardous Materials Safety Administration, Pipeline Significant Incident 20 Year Trend (28 December 2016).
8.

National Highway Traffic Safety Administration,

Fatality Analysis Reporting System Encyclopedia

(2016)
9. See "Petraeus Fracking Field Trip Reveals ND Government, Oil, Private Equity Nexus," Desmog Blog, 22 May 2014; and "Petraeus Visits N.D.'s 'energy revolution'," Oil Patch Dispatch, 29 April 2014.
10. "More Oil Spilled From Trains in 2013 Than in Previous 4 Decades, Federal Data Show," McClatchy Newspapers, 20 January 2014.
11. "Quebec disaster spurs rail-versus-pipelines debate on oil," Bloomberg, 8 July 2013.
12. "Busting Bottlenecks in the Bakken," Fedgazette, April 2013.
13. See "The Great 'People's Climate March' Scam,"

The Internationalist

No. 38, October-November 2014.

See also: The Battle Over Standing Rock (7 January 2017)
Standing Rock and the Revolutionary Fight for Native American Rights (7 January 2017)
Spartacist League: Land Surveyor Socialists (7 January 2017)