Labor's Gotta Play Hardball to Win!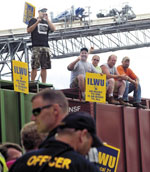 Showdown on West Coast Docks: The Battle of Longview
(November 2011).
click on photo for article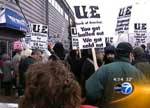 Chicago Plant Occupation Electrifies Labor
(December 2008).
click on photo for article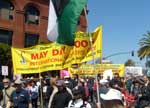 May Day Strike Against the War Shuts Down
U.S. West Coast Ports
(May 2008)
click on photo for article



February 2021

Front-Line Workers: Essential, Yes! Expendable, No!
Temporary Hazard Pay: Not Enough

Food Chain Workers: $5/Hour Permanent Raise and Vaccine Now!
As Grocery Chains Rake in Pandemic Profits, Workers Face Dangerous Conditions, More Stress, Low Pay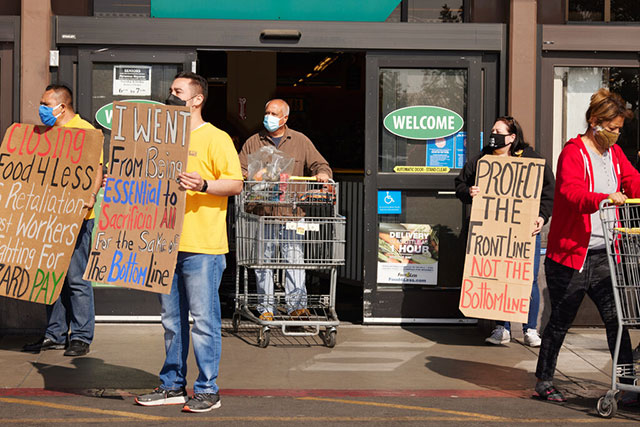 Grocery workers of Food 4 Less store in Long Beach, California, members of UFCW Local 324, protested on February 3 against closing of store by Kroger in retaliation for city ordinance requiring hazard pay.

PORTLAND/LOS ANGELES – On February 1, the giant grocery conglomerate Kroger announced it was closing two of its chain stores (a Ralphs and a Food 4 Less) in Long Beach, California. Why? Because of an ordinance passed by the city council last month requiring that grocery store chains pay their workers an extra $4 an hour "hero pay" for the next four months. A company spokeswoman threatened additional store closures if mandates requiring hazard pay are passed elsewhere. This is shameless blackmail, to keep grocery workers toiling in dangerous conditions at rock-bottom wages while owners rake in billions of dollars in profits during the COVID-19 pandemic. Across the U.S., the United Food and Commercial Workers (UFCW) says 28,700 workers in the industry have been infected and at least 134 have died from the virus.

Kroger is the largest supermarket operator in the United States, with over 2,750 grocery stores and over half a million employees in several chains, including Fred Meyer in the Pacific Northwest. Despite bellyaching about low profit margins in the industry, Kroger's profits doubled in 2020 as a direct result of the pandemic, more than any other major retailer.1 In the first three quarters of the year, they shot up to $2.66 billion. The company complained that the $4 hourly hazard pay amounted to a 30% wage increase. That means the average pay of Ralphs and Food 4 Less Workers in Long Beach is a little over $13 an hour, impossible to live on in California's high-rent cities. And while Kroger threatens to shut stores, the California Grocers Association is suing Long Beach in federal court.

This fight is not just about a particularly greedy employer raking in obscene profits while its employees risk their lives toiling in dangerous conditions – although Kroger is certainly that. It is a class battle in which the workers movement and all working people must come to the defense of the low-wage essential workers who are called heroes in the media while being treated as expendable by the bosses. The fight is spreading as more cities in California are passing $4 an hour "hero pay" ordinances, and L.A. has mandated $5 an hour. Similar proposals are being raised in Seattle and elsewhere in the Pacific Northwest.

But temporary hazard pay is no solution for brutally exploited low-wage workers. What's urgently called for is a massive union-led campaign to demand an immediate $5/hour permanent raise for all workers in the food chain, from farm workers and packing house workers to food distribution center, grocery, bodega and restaurant workers, or else strike! Not just in California, and not just one store or one chain: include the big-box stores (exempted from the local ordinances) like Walmart, Amazon and Costco, and ,shut down all that refuse to pay up! As we have insisted: Low-wage workers need a whopping pay raise, and a fighting union! At the same time, food chain workers must be given access NOW to vaccines against COVID-19, from which they are currently being excluded in many states.

Grocery and other food workers are literally facing mortal danger. A study published by the British Medical Journal (30 October 2020) of grocery workers in the Boston area last May showed that workers with direct exposure to customers were five times more likely to be infected with the novel coronavirus. Now a study by researchers at the University of California in San Francisco on heightened risks for COVID-19 among essential workers in the state, published on medRxiv (21 January), shows that food/agricultural workers have had a huge 39% increase in deaths during the pandemic, with 59% "excess mortality" for Latino workers in the industry, compared to a 6% increase for white working-age Californians. Food chain workers are paying with their lives while being denied vaccine and even minimal hazard pay.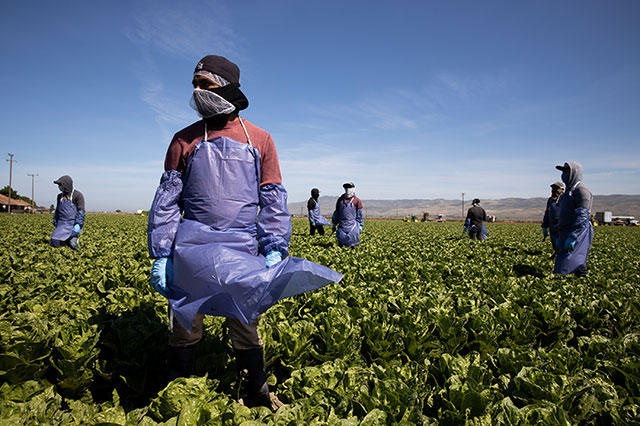 Essential workers in the front lines: Demand permanent $5/hour pay raise for agricultural, grocery and all food-chain workers! COVID-19 infection rates are sky-high for agricultural workers such as these at Fresh Harvest in Greenfield, California, in April 2020, harvesting crops with little protective equipment.
While grocery workers have been keeping people fed even as they face dangers to their health and safety, grocery tycoons cynically praise workers, while taking hazard pay out of their pockets. Here's Kroger's press release from March of 2020 announcing their $2/hr. "hero bonus": "Our associates have displayed the true actions of a hero, working tirelessly on the frontlines to ensure everyone has access to affordable, fresh food and essentials during this national emergency," said Rodney McMullen, Kroger's chairman and CEO. "The Hero Bonus is just one more way we continue to convey our thanks and gratitude…." Some thanks! In May, the company made a one-time "thank you bonus," and quietly ended the hourly hazard pay. As the November Brookings study put it, Kroger went "from hero pay to zero pay."
Similarly, in March Amazon announced in a self-congratulatory press release that workers at its Whole Foods stores would receive an additional $2/hour, only to revoke it in May. Amazon has demonstrated time and again that it will stop at nothing in its crusade to score record profits and smash any attempt at unionization (such as currently underway in Bessemer, Alabama). In Portland, Oregon when workers at several Whole Foods stores wore pins with the company's own slogan, "Racism Has No Place Here," management disciplined the employees by sending them home. Class Struggle Workers – Portland (CSWP) joined the picket, leading chants of "Defend black lives, Now's the time to unionize!" Whole Foods workers faced similar retaliation from management in Seattle as well, and the series of incidents resulted in a new "dress code" policy requiring workers to wear "solid colors" to work.
When PDX Whole Foods workers demonstrated and demanded an end to retaliation against employees for expressing anti-racist sentiment, as well as demanding improved safety protocols (including limiting the number of shoppers in the store) to help mitigate the dangers posed by the coronavirus, the company refused to hear, or even receive a petition with their demands. Instead, with workers pushed to their limit by management attacks and hazardous working conditions, even as the rate of transmission spiked in Oregon in the days before Thanksgiving, the limits on customers in the store were increased to unsafe although technically legal levels to accommodate holiday shoppers. This all occurred after at least one employee died last April from COVID-19 at the Pearl district Portland location. Companies' callous disregard for the well-being of their employees, as well as public health in general, cannot be overstated.
Class-conscious workers should call on labor to bring out its ranks, along with the hard-hit Latino and African American populations, to fight the capitalist horror show being inflicted on us during the coronavirus pandemic. In Long Beach, UFCW Local 324 called a protest on February 3 outside the Food 4 Less store that Kroger said it is closing. Militants from Amalgamated Transit Union (ATU) Local 1277 joined, calling "For Labor Solidarity with Grocery Workers! Stop the Closures! Hazard Pay Now!" Mayor Robert Garcia stressed that the "hero pay" was only temporary. UFCW leaders called the closures "chilling," but took no action against any of the eight other Kroger stores in Long Beach or the dozen in Los Angeles. Against any move to actually shut down the two stores, the union and its allies should strike or picket out every Kroger location in Long Beach, L.A. and Orange County!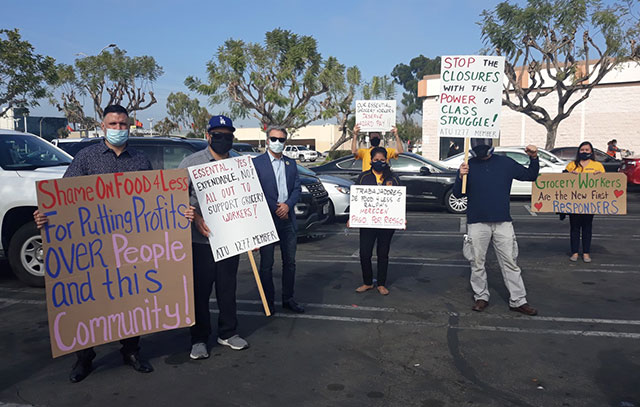 Los Angeles Metro transit workers of ATU Local 1277 join February 3 protest over store closure in Long Beach. For labor solidarity with grocery workers, stop the closures, permanent pay raise now!
Long Beach is a stronghold of the International Longshore and Warehouse Union (ILWU), many of whose members live and shop in the city. In a serious fight, the ILWU and UFCW could bring the grocery bosses to their knees. If the L.A.-Long Beach-San Pedro port shut down, see how long the threat of closures would last! But instead of using that power to fight for permanent raises, the union tops heap praise on Democratic politicians promoting the temporary pay hikes. Andrea Zinder, president of UFCW Local 324 gushed over the "hero pay" measure in Irvine: "This temporary wage increase shows workers that their elected officials stand behind them and are grateful for the jobs they do to keep our communities fed." Limiting demands and lowering expectations as workers face unrelenting attack is the guiding principle of a labor bureaucracy tied to the Democratic Party and the machinery of the capitalist state that the bosses' parties administer.
Kroger and the other supermarket chains are playing hardball. They don't give a damn about the good will of "elected officials" – the bosses want to use the pandemic to break the unions. The same with Amazon, which is shelling out $3,200 a day to just one union-busting consultant to fight a union drive at one of the company's warehouses in Alabama.
As supermarket chains make billions on the pandemic, unions should use the opening of the fight over "hero pay" mandates to demand a permanent, universal and hefty pay hike for grocery and all food-chain workers. There should be a mass campaign for $5 AN HOUR MINIMUM RAISE – and VACCINATION NOW! Along with this, since last March, the CSWP and the Internationalist Group have put forward a rogram for workers action in the coronavirus crisis, including the call for union safety committees with the power to shut down unsafe operations at every workplace, and to break with the bosses parties to build a class-struggle workers party.
As we headlined, the recent strike by workers at the Hunts Point food distribution center in New York City showed the potential for an upsurge of labor struggle across the U.S. A struggle by West Coast grocery workers can be the next step. Kroger styles itself "America's grocer" and flaunts a "Statement on Human Rights" on its web site for vendors. Yet the average pay for a cashier in Kroger stores nationwide is $10 an hour! As local officials and grocery barons shadow-box over the conditions workers must endure, union tops don't challenge the horrendous conditions and meager pay that is standard in the industry.
We need a class-struggle leadership of labor. No amount of BS about "corporate social responsibility" and "tweaking" the capitalist system of production for profit can achieve the urgent task of boosting pay for low-paid frontline workers and putting their health and safety first. That will require a massive campaign to mobilize working-class power to bring the grocery giants' mega-profits to a grinding halt.
Labor must lead the way. The time to strike to win big gains for grocery workers is NOW! ■