February 2023
Cops Murdered Tyre Nichols in Memphis, Tortuguita in Atlanta, It Never Stops – Mobilize Workers' Power Against Cop Terror

Under Biden and the Democrats,
Racist Police Terror Rages On
It's "Systemic Racism," and the System Is Capitalism
Only Revolution Can Bring Justice!
FEBRUARY 16 – On the evening of January 7, Tyre Nichols was savagely beaten to death by a half dozen police officers in Memphis, Tennessee. The cops claimed in the official incident report that they pulled Nichols over on suspicion of a traffic violation, that he "started to fight with detectives," "began actively resisting" and supposedly tried to grab their guns. All lies – nothing of the sort was shown in the video footage of police body cameras and an overhead "crime-fighting" camera, which told a whole different story. A team of the city's elite "Scorpion" unit swarmed the car, yanked the bewildered Nichols out, screaming at him to get on the ground, explaining nothing. After they pepper-sprayed him and shot him with an electric taser, Nichols fled for his life. When officers caught up to him eight minutes later, they unleashed a deadly torrent of baton blows, punches and lethal kicks to the head. Tyre died in the hospital three days later. It was murder.
Less than two weeks after the Memphis Police Department's execution of Tyre Nichols, Manuel Esteban Paez Terán, whose chosen name was Tortuguita, was gunned down in a hail of police bullets during a military-style sweep of an activist encampment in suburban Atlanta, Georgia. Protestors calling themselves the Forest Defenders had been camped out in the South River Forest since late 2021 to stop the city from building a sprawling police training center – a $90-million "Cop City" – on greenspace previously slated for preservation. On the morning of January 18 dozens of officers of the Atlanta Police Department, DeKalb County police, the Georgia state patrol, the Georgia Bureau of Investigation and the FBI assembled to clear out the occupiers. State police pumped 13 bullets into Tortuguita, who they claimed shot and injured a trooper: no evidence of this has ever been presented. It was a "cold-blooded assassination," said Terán's mother.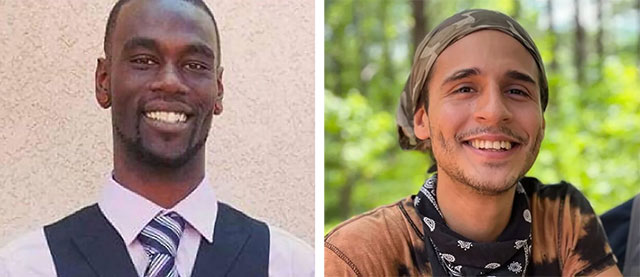 Tyre Nichols (left) and Manuel Esteban Paez Terán (Tortuguita), murdered by cops.
The back-to-back police murders in Memphis and Atlanta are a brutal reminder that the plague of racist cop terror continues to hold black America in bondage. The legacy of slavery is ever-present in the brutal repression of African Americans – as well as Latinos, indigenous peoples, immigrants, poor white people and anyone who crosses the arrogant forces of "law and order." The cops keep killing over a thousand people every year, and the toll is rising. While Democrats from President Joe Biden on down try to keep the lid on with cynical talk of "police reform" and "accountability," the stark reality is that the police cannot be reformed. And whatever happens to the five killer cops (all black), there is no justice for the oppressed in the capitalist courts. It is up to the defenders of black rights and democratic rights, with the multiracial working class in the lead, to mobilize our power against that of the murderous capitalist state. In the end, only revolution can bring justice.
Solidarity with Bay Area ILWU Port Shutdown
Demanding Freedom for Mumia Abu-Jamal!
To spearhead the fight against racist police terror, we urge one and all to take up the struggle for workers action to free Mumia Abu-Jamal. Mumia, the former Black Panther and world-renowned journalist, is the U.S.' foremost class-war prisoner, framed by the cops and held in prison hell for 41 years, 29 of them on Death Row – another heritage of slavery. Today, the International Longshore and Warehouse Union (ILWU) Local 10 will stop work and shut down the ports of Oakland and San Francisco, California, to demand freedom for Mumia Abu-Jamal. Across the globe there will be demonstrations by the Doro-Chiba rail workers union at the U.S. embassy in Japan; by NUMSA metal workers at the U.S. embassy in Pretoria, South Africa, and by dock workers at the U.S. consulate in Durban; in New York City, a teach-in under the watchword "Mumia's Freedom Is Labor's Cause"; and in San Francisco, a march along the Embarcadero that will also highlight the case of Tyre Nichols in Memphis.
In the U.S., Painters (IUPAT Local 10) and Stagehands (IATSE Local 28) in Portland have recently passed resolutions calling for workers mobilization to free Mumia Abu-Jamal, while the Vermont AFL-CIO has come out in his defense and resolutions are being presented in other labor bodies. What is key is to turn these resolutions into action, to make the call "workers of the world, unite!" a reality, as Mumia put it. In April 1999, the ILWU shut down every port on the U.S. West Coast and led a march in San Francisco chanting, "An injury to one is an injury to all, Free Mumia Abu-Jamal!" In 2020, the ILWU again shut down every West Coast port (including Canada) on Juneteenth (June 19) demanding "Stop Police Terror!" Today, the labor-centered actions of February 16 must not be a one-shot affair but the kickoff for a campaign of labor action to free Mumia and bring out workers' power against the police murder machine.
Memphis, Atlanta:
Horror Show of Cop Terror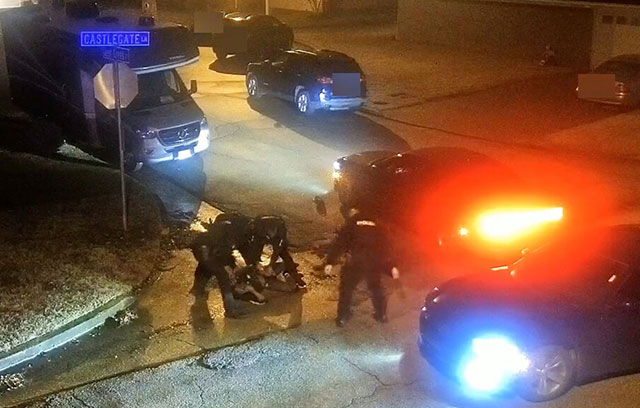 View from overhead Memphis Police Department SkyCop surveillance camera as MPD officers mercilessly beat Tyre Nichols while he cried out for help. Cops pepper-sprayed him, shot him with an electric Taser, struck him repeatedly with batons, hitting and kicking him in the head at least 13 times.
The video of the Memphis police at work horrified millions. Many compared it to the cop beating of Rodney King by officers of the Los Angeles Police Department in 1991, which led to the L.A. upheaval the next year when a jury with not a single African American in suburban Simi Valley acquitted the five police. But that video was from a distance and King lived, while multiple cameras recorded the vicious beating of Tyre Nichols up close, and he died. If the enduring image of the suffocation of George Floyd in Minneapolis was the cold-blooded killer cop Derek Chauvin smirking as he refused to take his knee off his victim's neck, what perhaps most shocked those who watched the hot-blooded ultra-violent murder of Nichols was the relentless screaming by the police and their repeated deadly punches and kicks to Tyre's head that were like scenes out of a horror movie.
The footage starts with the police charging his car, manhandling Tyre and bombarding him with commands to get on the ground as he says, "I'm just trying to get home." The cops put a taser to his leg and fire pepper spray at him. After he manages to break free, the police catch up with him, tackle him as he cries out "Mom!" (this takes place barely 100 yards from her home). As Nichols lay writhing on the ground crying out for help, an officer lands seven blows to his face while another pepper-sprays him. The cops start hitting him with their batons even as an officer drives his boot into Nichols' head so hard that he almost slips, and then, yelling to "Lay flat, goddammit," kicks him in the head again. This is followed by even more baton blows. As Nichols groans in agony, both arms held by a cop, one can see from the skycam as an officer starts throwing more punches to his head, landing at least four blows.
In the videos, the police are barking orders nonstop – 71 commands according to a tally by the media. After the beating stops, story time begins. The police brag about their punches: "I was hitting him with straight haymakers," says one. Another takes photos of Tyre propped up against a car and sends the photos on his cellphone. Then they start trying to get their stories straight, claiming that Nichols took a swing at one of cops (a lie), that he supposedly grabbed a cop's gun (another lie), and then went for another officer's gun (also a lie). None of this is on the video footage, but they are clearly checking to make sure they are all telling the same tale. They are furious that they couldn't find anything in Nichols' car that they could use to frame him with. The Fire Department Emergency Medical Team arrives fairly early on, but for 19 minutes does nothing to aid Tyre – one EMT technician never even leaves the van.
The scenes are harrowing. The standard response from the authorities in the past when the police have been caught red-handed was to conjure up the story line of "bad apples," of "rogue cops" who have "run amok." But by now those fictions no longer work. Everyone in the country knows, admit it or not, that threatening and using deadly force is standard operating procedure of big city police, county sheriffs and state patrols. The statistics are there to prove it, although police departments try to cover this up, reporting less than half of their kills to the federal government.1 Tyre Nichols and Tortuguita are the latest high-profile victims of an apparatus of brutal repression geared to keeping the exploited and oppressed down. The "law enforcement community" (police) along with the military, courts and jails, are pillars of the capitalist state. Their job is, and always has been, to defend the interests of the ruling class.
The Memphis Police Department whose officers chased and beat Tyre Nichols to death is the same MPD whose cops in 1974 chased an unarmed 15-year-old youth, Edward Garner, accused of stealing, and shot him in the back of the head. That case became famous with the 1985 U.S. Supreme Court decision, known as Tennessee v. Garner, holding that police may not use deadly force to prevent escape unless "the officer has probable cause to believe that the suspect poses a significant threat of death or serious physical injury to the officer or others." This leaves a giant hole as the killer cop can claim "probable cause." But despite this decision of the highest court in the U.S., half the states refused to change their use-of-force laws. Even in those that did (like Tennessee), this has not stopped the police using deadly force with abandon, as when in 2015 MPD cops shot and killed 19-year-old Darrius Stewart as he was "running away" after a traffic stop.2
Meanwhile in suburban Atlanta, "Manny" Terán/Tortuguita was not a random victim of some out-of-control, trigger-happy police but of a quasi-military operation that sent in a small army of city, county, state and federal officials to put an end to the occupation of the planned "Cop City." In December, seven Forest Defenders were jailed on spurious charges of "domestic terrorism," the same charges filed against those arrested on January 18, for the "crimes" of trespassing in the woods, camping or occupying a tree house! What is behind such heavy-handed repression? It turns out that the slated Atlanta 85-acre police training center is to be paid for mainly by the Atlanta Police Foundation (APF), whose board members and contributors are a roster Atlanta's corporate elite, including from Home Depot, Delta Air Lines, Coca-Cola and Cox Enterprises, the media giant that owns the Atlanta Journal-Constitution.3
The APF is one of many corporate "police foundations" founded in recent years to promote more flagrantly direct capitalist control of the police. The first and prime example is the New York City Police Foundation, started in 1971 in response to the Knapp Commission investigation of police corruption. In the bad old days, business owners paid off the cop on the beat in a Mafia-style protection racket. Now Wall Street bankers and real estate titans (as well as media moguls, such as the New York Times and Spectrum, owner of NY1 cable news) help ensure that the police do their bidding by funneling millions in (tax-exempt) funds to the NYPD. This pays for programs like Crime Stoppers (luring viewers to become informants for the cops), computers for the Compstat program racially profiling black and Latino neighborhoods, stationing NYPD officers in Israel and whipping up hysteria over rising crime with saturation media coverage. ■
Democrats Scramble to Contain Outrage Over Cop Murder of Tyre Nichols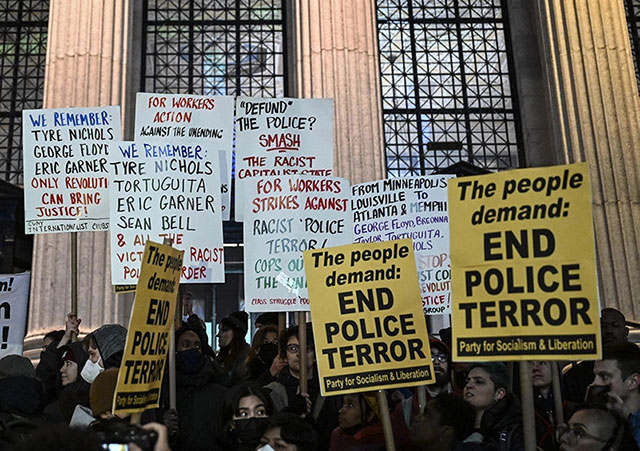 NYC protest against Memphis police murder of Tyre Nichols, January 27.
When a composite video of body cam and surveillance camera footage of the police execution of Tyre Nichols was finally posted on the Internet in late January, there was an anguished outcry coast-to-coast of "Not again! It never stops." In May 2020, a video by a courageous young woman bystander of the wanton murder of George Floyd by a Minneapolis, Minnesota cop set off a summer of massive protests across the country. Upwards of 26 million people took to the streets for weeks to denounce racist police repression in the largest sustained protests in U.S. history. In Minneapolis, a police station was torched while in Washington, D.C., demonstrators were assaulted by police outside the White House. This time, in 2023, the authorities were determined to get out ahead of the protests, in Memphis and elsewhere. The killer cops were suspended on January 8, the day after they assaulted Nichols; they were fired on January 20 and charged with second-degree murder on January 26, the day before the videos were released.
Instead of the usual stonewalling, refusing to release evidence "in an ongoing investigation," refusing, delaying and minimizing charges against the cops, a different playbook was adopted. The Memphis chief of police declared that the video would show cops' actions that were "inhumane" and "heinous." Where in 2020 Republican president Donald Trump egged on police with talk of "shooting" rioters, in 2023 Democrat Joe Biden mouthed platitudes about "fair and impartial justice, equal treatment, and dignity for all." (In response to Trump, Biden grotesquely said that, instead of shooting people in the heart, police should "shoot 'em in the leg.) At the same time, police and National Guard units were alerted in major cities for the day the video would be released. And it worked. In Memphis protesters spilled onto the Interstate and took the bridge over the Mississippi River to Arkansas without incident. Around the U.S., there were small demonstrations in New York City, Washington, D.C. and Sacramento, California on the first night, and elsewhere in coming days. But nothing that could be billed as "riots."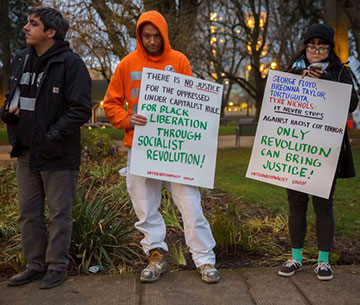 Portland protest against Memphis police murder of Tyre Nichols, January 28.
What the Democrats' exercise in preventive urban counterinsurgency did not, will not and cannot do is stop the murderous police repression – particularly against African Americans but not only – because that is built into the system of racist American capitalism. After the millions-strong protests against racist police terror in 2020, the number of civilians killed by police has only increased, to a record 1,192 in 2022 – over three people a day – according to the database maintained by mappingpoliceviolence.us.4 The same site reported that black people are three times as likely to be killed by police as white people; that most police killings begin with traffic stops, mental health checks, family disturbances, other non-violent offenses and where no crime is alleged; that one-quarter of police killings are of people seeking to flee; and in 98% of killings by cops, no officers are charged with any crime.
Nor have police killings in the city of Memphis declined. In fact, cops shot and killed three black people in the month leading up to the murder of Tyre Nichols (and another since). Various "reforms" have been proposed to reduce racist police brutality, including civilian review boards (Memphis has had one since 1994), more black police (58% of Memphis cops are black); black police chiefs (the Memphis chief is an African American woman, Cerelyn Davis); black city governments (while the current mayor, Democrat Jim Strickland, is white, Memphis has had black mayors since 1992, and the present city council has an 8-5 black majority); training and use-of-force policies (the Memphis Police Department bans chokeholds, requires de-escalation, warnings before shootings, duty to intervene to stop excessive force, reporting use or threats of force); federal consent decrees (Memphis has had one since 2015, against police spying on activists). All to no avail.
The fact the all five of the Memphis cops who murdered Tyre Nichols are black underlines that racist repression in the United States is systemic. Like liberal Minneapolis, Memphis implemented every supposed police reform on the books, but it hasn't made a dent. During the 2020 protests over the murder of George Floyd, Breonna Taylor, Rayshard Brooks and so many others, would-be radicals and many liberals called to "defund the police" – some even raising the utopian call to "abolish" these enforcers of capitalist rule under capitalism. The opposite happened. In the 2020 elections, Democrat Joe Biden, a longtime backer of the police, won the presidency and Democrats won control of both houses of Congress. In his 2021 State of the Union address, Biden declared: "We should all agree the answer is not to defund the police, [it] is to fund the police," he said. "Fund them. Fund them. Fund them with resources and training." And fund them, they did. Memphis got a $10 million "public safety partnership and community policing" grant. And Tyre Nichols got murdered by the cops.
This underlines the importance considering what demands protesters should raise in protesting racist police repression. The Party for Socialism and Liberation (PSL), which organized protests in many cities against the police murder of Tyre Nichols while much of the left did nothing, called to "Jail Killer Cops." But as the PSL handed out signs with this slogan on January 27, the killer cops had already been arrested (and then quickly released on bail), thanks to the Democratic Party efforts to defuse protests. The PSL's reformist program is at bottom a call on the Democrats to clean up their act. In contrast, the Internationalist Group demonstrated on January 27 and following days in New York, Los Angeles, Portland and Boston with signs calling "For Workers Strikes Against Racist Police Terror," declaring "Democrats Are the Bosses of the Racist Killer Cops – Build a Revolutionary Workers Party!" and "Only Revolution Can Bring Justice!"
Police "Reforms" Change Nothing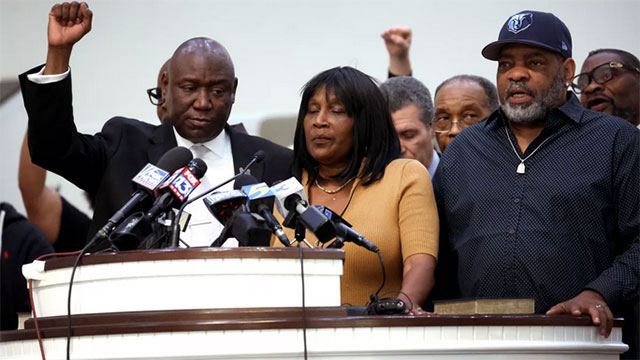 RowVaughn Wells, mother of Tyre Nichols, and his stepfather Rodeney Wells, flanksed by attorney Ben Crump (left) at press conference in Memphis, January 27.
While Democrats run most big cities, ruling-class support for escalating police violence is bi-partisan. In Atlanta, the "Cop City" facility – which one Forest Defender called "a police murder playground" – was pushed by both Democrat then-mayor Keisha Lance Bottoms and Republican governor Brian Kemp as an answer to high crime and low police morale. During the 2020 George Floyd protests, the mayor denounced the "chaos" of the protesters. When shortly after, APD cops gunned down restaurant worker Rayshard Brooks for the "crime" of falling asleep in his car blocking a drive-thru lane at a Wendy's fast-food restaurant, she had them fired and they were charged with murder. But then Democrat Fani Willis was elected D.A. with the support of the police. Willis asked the Republican governor to appoint a special prosecutor, who declared that killer cop Garrett Rolfe acted reasonably in arresting Brooks for drunk driving in a parking lot, shooting him in the back and kicking Rayshard as he lay dying.5
In Memphis, the cops who killed Tyre Nichols were part of the S.C.O.R.P.I.O.N. (Street Crimes Operation to Restore Peace In Our Neighborhood) task force. This is one of numerous special police squads in cities around the country, often in street clothes riding in unmarked cars, set up to terrorize poor and minority neighborhoods. Examples include the C.R.A.S.H. (Community Resources Against Street Hoodlums) unit in the Rampart Division in Los Angeles that in the late 1990s, in the guise of fighting gangs, stole drugs, beat suspects and even robbed a bank; street crime units in New York City that assassinated Amadou Diallo (1999), Sean Bell (2006) and Eric Garner (2014); and the R.E.D. D.O.G. (Run Every Drug Dealer Out of Georgia) unit in the Atlanta Police, notorious for ambushing young men to carry out strip searches on the public streets, and killing a 92-year-old grandmother in her home.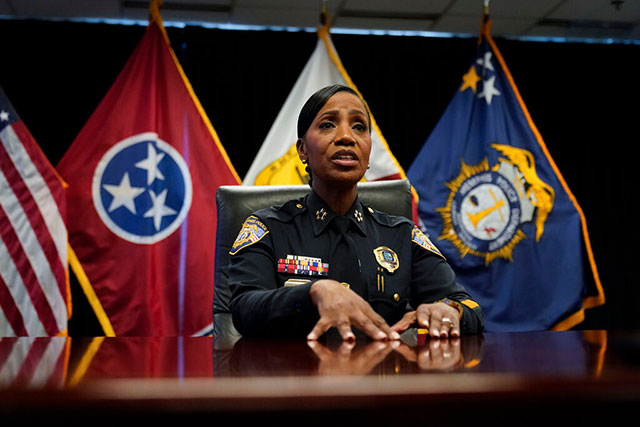 Memphis killer cops were trained in violent tactics, in get-tough-on-crime drive. Police Chief Cerelyn Davis launched the "Scorpion" unit shortly after assuming job in 2021. Earlier, she had led the similar "Red Dog" squad in the Atlanta police, as well as training with and setting up an exchange with the Israeli National Police.
Memphis police chief Cerelyn Davis, who set up the now-infamous "Scorpion" unit, was in 2006-08 in charge of the "Red Dog" force in the Atlanta Police Department, which used similar brutal tactics.6 She also commanded the APD's S.W.A.T. riot squads, established and headed its Homeland Security unit, received "leadership training" with the Israel National Police in 2013 and set up a program of annual APD command visits to Israel. The Israeli training includes observing the repression of Palestinian protests in the occupied West Bank and joining Israeli police patrols in East Jerusalem. City University of New York sociology professor Alex Vitale noted that this "encourages a warrior mindset in police and exposes them to practices that would be unconstitutional in the U.S." 7 In the wake of the 2020 protests over racist police brutality, a number of anti-crime/anti-drug/anti-gang units were disbanded. But from 2021 on, they are being brought back with a vengeance.8 The police murder of Tyre Nichols in Memphis is a result.
One of the places where such elite units have been reinstituted is New York City, where ex-cop Eric Adams (currently a Democrat, previously a Republican backer of fascistic NYC mayor Rudy Giuliani) was elected mayor on a "fear city" program, as the tabloid press, TV news and radio talk shows whipped up hysteria over crime in the streets, subways, schools, everywhere. On taking office in January 2022, Adams announced that he was resuscitating the anti-gun units which carried out the racial-profiling "stop-and-frisk" program in African American and Latino areas. He claimed that this time it would be different because the cops would wear body cameras. Adams is also touting surveillance cameras and facial recognition technology, dismissing complaints of racist misidentification and violation of civil liberties, baldly proclaiming "Big Brother is protecting you."
Meanwhile, in Memphis, some have praised the SkyCop overhead cameras. Did body cams and sky cams protect Tyre Nichols? No, they did not. The killer cops carried out their beating knowing that it was being caught on camera. The video footage shocked the public, and in this case may aid prosecution – or not, since the whole racist "justice" system is rigged to protect the badge-toting killers in blue. But dozens of studies have "found no evidence that body cameras significantly reduced police misconduct," as Grid (29 January) reported.9 Another frequent theme among liberals calling for police "reform" is to call for more "training" and "professionalization." But these special units of the police – and not just street crime units, but also other special operations squads – are trained to be violent. They are the professional killer elite of the police: a 2018 study showed that of 174 people killed by NYPD police since 2000, 54 (31%, almost a third) were killed by plainclothes or undercover cops.10
Now the Memphis police "Scorpion" unit has been disbanded, by the same police chief who set it up. But that won't stop police killings either. It's a familiar pattern: following an outcry over rampant crime, special squads are set up to intimidate, harass and entrap. Officials brag about statistics purporting to show falling crime rates. Then, after these action squads do what they were supposed to do, there is a scandal over their heavy-handed, ultra-violent and often lethal tactics, and they are dissolved, among much hand-wringing, only to be reinstituted in the next round. But the killings by cops don't stop: 2014 (Michael Brown, Eric Garner, Laquan McDonald, Tamir Rice), 2015 (Freddie Gray, Sandra Bland, Walter Scott), 2016 (Philando Castile, Alton Sterling), 2017 (Justine Diamond), 2018 (Stephon Clark, Botham Jean), 2019 (Elijah McClain), 2020 (George Floyd, Breonna Taylor), 2021 (Anthony Alvarez, Adam Toledo, Daunte Wright), 2022 (Jayland Walker), to list only a few of the most prominent cases.
Police: The Armed Fist of Capital
Los Angeles protest against Memphis police murder of Tyre Nichols, January 29.
In response to the uproar over the murder of Tyre Nichols, the White House sent Vice President Kamala Harris to his funeral in Memphis and invited his mother and stepfather, RowVaughn and Rodney Wells, to the State of the Union address, where President Biden called to "finish the job on police reform." This was taken as a reference to the "George Floyd Justice in Policing Act" which passed the Democrat-controlled House of Representatives in 2020 and 2021 but went nowhere in the Senate, even though with Harris presiding the Democrats had a one-vote majority. This year they haven't even bothered to revive the bill. But even if they did, it would hardly make a dent in police killings. Many of its provisions (against chokeholds, duty to intervene to deescalate, deadly force only as last resort) are already in police regulations around the U.S., with little effect. And while it calls to curtail the "qualified immunity" from prosecution of state and local police (certain to be challenged in court), it does not do so for federal agents!
Just as Bill Clinton sought to quell unrest with his "I feel your pain" pitch, the Democrats routinely pose as friends of African Americans, Latinos, immigrants, labor, women and others with rhetoric and empty legislative gestures, while "reaching across the aisle" to pass vicious "bipartisan" laws escalating police repression. Case in point: Clinton's 1994 omnibus crime bill (authored by Joe Biden) that was a prime factor in escalating mass incarceration. But when all the police "reform" measures do nothing against racist cop terror, the politicians and pundits fall back on the old standby, "police culture." That "culture" is not the cause of police brutality, although it certainly contributes to it. Instead, it is the reflection of and part of a system of brutal racist repression that has been integral to capitalist rule in the U.S. since the country was founded on chattel slavery of African Americans and genocide of Native Americans, and which has been further fueled by U.S. imperialist wars, many of whose veterans become cops.
The fact that five black cops beat a black man to death is cited by conservatives as supposed "proof" that race has nothing to do with it. The same refrain is sounded by the anti-union, pseudo-socialist WSWS Internet outlet (which should be universally known as the World Scab Web Site) as it denies that there is any such thing as "systemic racism."11 Liberals, on the other hand, while praising body cams, say that "Officers' Race Turns Focus to System," and "Tyre Nichols Beating Opens a Complex Conversation on Race and Policing" (New York Times, 29 January). Contrary to the phony "color-blind" rhetoric of the right, which now poses as being opponents of discrimination and supporters of "equal opportunity," systemic racism is deeply ingrained in the U.S. But what is that system? Liberals and some radicals label it "white supremacy" – as if the issue is white people vs. black people. This lets those who profit from black oppression off the hook.
Fighting racist repression requires going up against the capitalist state, as Memphis sanitation workers bravely did in their 1968 strike, marching under the bayonets of the National Guard (above), which was mobilized to crush them. Martin Luther King Jr. was assassinated when he came to Memphis to aid strikers.
Rather, the system that produces rampant cop terror directed against the exploited and oppressed, including white workers fighting for their rights, is racist American capitalism. That is the system that spawns the actual white supremacists of the Ku Klux Klan and other racist terrorists. Who do the police serve, and whose interests do they protect? Not white people in general but the owners of capital, from the slave-owning plantation owners to the post-Civil War kings of cotton to the Wall Street titans, modern-day robber barons like Amazon and other union-busting companies like Coca-Cola and Delta Airlines, headquartered in Atlanta, and FedEx, based in Memphis. An important fact that is scarcely mentioned in the media coverage is that Tyre Nichols was a FedEx worker, as is his stepfather. FedEx bosses reap billions from the low-wage labor of "their" wage-slaves, and the police are there to do their bidding.
The fact that the material conditions that breed racist police brutality are rooted in capitalist exploitation has a direct effect on how to fight this deadly plague. A black conservative commentator from the right-wing Manhattan Institute (and Columbia University), John McWhorter, writes that "Police Brutality Is Not Always About Race" (New York Times, 7 February), and points to the effects of poverty. Police are sent to "poorer neighborhoods more often than to middle-class or affluent ones," he notes. It is an important fact that Memphis today is considerably poorer than it was in 1968, when Martin Luther King was assassinated there. "Median family income, in inflation-adjusted dollars, has dropped nearly 20 percent, and the nine-county Memphis region has the highest poverty rate of any metro area in the nation with at least 1 million residents," noted the Memphis Commercial Appeal (1 April 2018).
But brutal police action is not limited to impoverished inner-city neighborhoods. The Brandywine Cove area where Tyre Nichols was murdered, and where his mother and stepfather live, is in an black middle-class and working-class census tract where the median family income is $49,000, well above the average for Memphis. In fact, many of the police actions by the "Scorpion" unit as they "rolled through Memphis" in their muscle cars, "zooming up on targets, jumping out of their Dodge Chargers at a dead run, shouting at people" to hit the ground, as they did with Tyre, were in modern apartment complexes.12 And the Atlanta city-county-state-federal police raid in which Tortuguita was killed took place in the majority black, overwhelmingly Democratic middle-income suburban DeKalb County. In short, race, poverty and class intersect and overlap in the areas most subjected to marauding police repression.
Because the cop terror that has killed more than 1,000 civilians every year (and double that in the count of now-discontinued data bases) is rooted in the racist capitalist system, little affected by whatever police "reform" is currently being pushed, the answer to it must take on that system. You can't "Stop Police Terror" (as many protest signs proclaim) by marching to chants of "No justice, no peace," or by "speaking truth to power," but only by bringing to bear a greater power than that of the capitalist state. That is the power of the working class, whose labor produces the profits that make capitalism go round. But that potential power must be mobilized in action. Every resident of Memphis is vividly aware that when Martin Luther King Jr. was assassinated, he was supporting a strike of sanitation workers who marched, facing National Guard bayonets, with signs proclaiming "I Am A Man." Today protesters march on the Interstate bridge to Arkansas with pictures of Tyre in the hospital and the same message.
January 16 protest for Tyre Nichols in Memphis carried photos of him in the hospital with the slogan under which sanitation workers marched in 1968.
The police murder of Tyre Nichols in Memphis and Tortuguita in Atlanta should be met with workers action nationwide, accompanied by a drive to fully unionize FedEx, whose hub at the Memphis airport makes it the busiest cargo airport in the world. In Atlanta, headquarters of the unionized United Parcel Service, labor-led protests with Teamsters in the lead could shake city rulers, and prepare the way for a powerful strike against UPS later this year. Taking up the struggle today to make Mumia's freedom labor's cause is a first step in the direction of a class struggle against racist cop terror.
Such a struggle must be waged politically against the capitalist parties that finance and institute these practices in the first place. That means centrally breaking with the Democrats, who are the bosses of the racist killer cops at home and lead U.S. imperialist wars abroad, from World Wars I and II, through Korea and Vietnam to the Middle East. Today, Democrat Biden is pushing the U.S./NATO imperialist-provoked war against Russia over Ukraine as part of the war drive targeting China tomorrow, hurtling down the road toward a thermonuclear World War III. To wage and win the fight against poverty, racism, imperialist war and cop terror requires building a class-struggle workers party leading the struggle for socialist revolution to bring down the capitalist system that breeds them all. ■