Labor's Gotta Play Hardball to Win!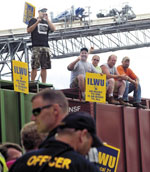 Showdown on West Coast Docks: The Battle of Longview
(November 2011).
click on photo for article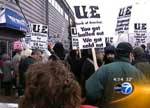 Chicago Plant Occupation Electrifies Labor
(December 2008).
click on photo for article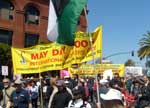 May Day Strike Against the War Shuts Down
U.S. West Coast Ports
(May 2008)
click on photo for article



September 2020

A Class-Struggle Program to
Reopen New York City Schools Safely
By Class Struggle Education Workers/UFT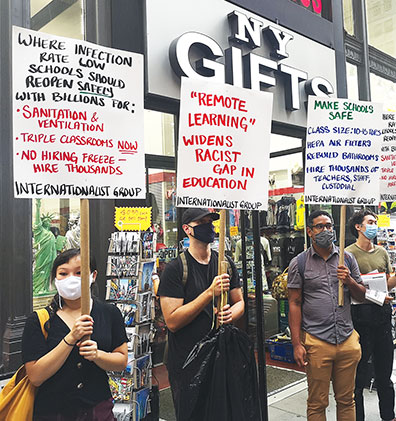 IG on NYC school reopening, from August 3 demo: "Make Schools Safe: Class size, 10-15 tops, HEPA air filters, rebuild bathrooms, hire thousands of teachers, staff, custodial."
We in Class Struggle Education Workers seek to mobilize the unions' power at this crucial moment not to keep New York City schools closed but to make them safe to reopen, and in the process fight for fundamental gains. We can do so now because this is a crucial juncture when parents and masses of working people are acutely aware that their children's future depends on it. A class-struggle program must be enforced by union power, including strike action, and based on the principle that those directly involved in the schools – the educators, students, parents and workers – make the decisions about what is safe and how teaching should be carried out, not some educrats in distant offices, highly paid consultants, charter-school profiteers or capitalist politicians. Who needs the suits?
At the August 3 NYC demonstration by the Movement of Rank-and-file Educators (M.O.R.E.), where our presence was palpably unwelcome, Class Struggle Education Workers, together with the Internationalist Group and Revolutionary Internationalist Youth, brought out a contingent with signs including:

Where Pandemic Is Raging
Keep Schools Closed –
For Teacher-Student-Parent-
Worker Control

Where Infection Rate Is Low
Schools Should Reopen Safely
With Billions for:
• Sanitation & Ventilation
• Triple ClassroomsNow
• No Hiring Freeze,Hire Thousands

Police Out of
The Schools
and the Unions

114,000 Homeless Students –
No Laptops, No Wi-Fi
They Need Real Schools

"Remote Learning"
Widens Racist Gap
In Education

Remote Learning:
An Oxymoron
Vygotsky:
"Education Is Social"

UFT: Stand Up for
Teachers & Kids
Not the Mayor & Chancellor
For Teacher-Student-Parent-
Worker Control of Schools

Make Schools Safe
At Every School
Teacher-Student-Parent-
Worker Committees
Must Approve Reopening

Make Schools Safe
• Class Size: 10-15 Tops
• HEPA Air Filters
• Rebuild Bathrooms
• Hire Thousands of Teachers, Staff, Custodial

Capitalists Using Pandemic
To Gut Public Education
Expropriate Private Schools
Turn Charters Into
Public Schools

Hybrid Is Chaos
Students Can't Learn
Parents Can't Work
Teachers Overworked

Democrats, Republicans
Enemies of Public Education
For Teacher-Student-Parent
Worker Control of Schools

Profit-Driven Capitalists
Hands Off Our Schools
No to Mayoral Dictatorship
Teacher-Student-Parent-
Worker Control of Schools
In the wake of the September 1 agreement between union leaders and the mayor, the United Federation of Teachers Delegate Assembly dutifully voted by 82% to approve the agreement, sight unseen. M.O.R.E. issued a statement rejecting the "backroom deal" by the mayor and Mulgrew (actually, in the latter's account it was a cellphone deal while he was driving) and reiterating its call for "no full reopening of in-person schools until 14 days of no new cases." While we reject such reactionary calls to just keep NYC schools shuttered, the demands of the UFT bureaucracy are far from what's needed, and the deal with de Blasio is even more insufficient. Specifically:
Testing: Despite Mulgrew's demand in his August 19 press conference that everyone entering a New York City school must have evidence that they don't have COVID-19, when it came to specifics, he called for everyone to get a COVID test within ten days before a school opening, which is much too long a time frame, or for adults to get antibody tests, which are notoriously inaccurate. Now the agreement with the city has no requirement that anyone be tested before starting school. Instead there will only be random testing of 10-20% of people in school buildings on a monthly basis. That is hardly ensuring the safety of the schools.
In fact, there are existing "point-of-care" tests that produce results in as little as 15 minutes. They're used to test NBA basketball players, well-heeled party-goers in the Hamptons or anyone who comes into contact with President Trump. Questions have been raised about the accuracy of some tests, like the one used in the White House, but two other companies are producing point-of-care antigen tests, and more are in the works. One of the rapid-result test companies is already turning out over millions of tests a month for clinics.1 So why can't those be used to screen the 800,000 students, teachers and staff expected to be in NYC schools? It's certainly a national priority. The answer is money, and neither Democrats nor Republicans will come up with it.
Nevertheless, teacher-student-parent-worker committees at every site should insist that everyone get tested on the spot for COVID-19 before opening a school.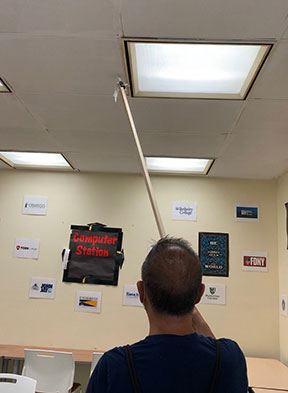 IG on NYC school reopening, from August 3 demo: "Make Schools Safe: Class size, 10-15 tops, HEPA air filters, rebuild bathrooms, hire thousands of teachers, staff, custodial."
Ventilation: There are 1,800 public schools in New York City housed in 1,400 buildings, many of them over a century old. Less than half have integrated HVAC (heating, ventilation and air conditioning) systems. The D.O.E. claims teams inspected every classroom in 1,600 schools in a week. But as one could see in a viral video, this consisted of clipping a piece of toilet paper to a yardstick and holding it next to a ceiling vent to see if enough air was coming out to make it wave. In the video, if only one vent of several was working, the room was okayed. In quite a few older schools, the only way to get airflow is to keep windows open even in winter. But many of the windows are nailed shut, or open only a crack. And then there are the inside classrooms, sometimes in a basement, and entire schools (MLK in Manhattan) with no outside windows.
Coronavirus infections occur overwhelmingly indoors, in closed spaces, so good ventilation is key to preventing contagion. Standard recommended airflow levels for school classrooms are that the air in a classroom should change at least every 20 minutes, but in many New York schools the air change rate is at best once an hour. The HVAC systems are inspected annually,2 and the NY Daily News (9 August) analyzed 1,500 of these reports, finding that 630 schools had deficiencies. Even the elite Stuyvesant High School had 25 defective exhaust fans. To defend against COVID-19 infection, a Harvard School of Public Health report3 calls for bringing in plenty of fresh air, upgrading HVAC filters to MERV13 levels or above, and using portable air cleaners with HEPA (MERV17) filters, which block particles as small as 0.3 micrometers.
The D.O.E. claims it is installing MERV13 filters in all schools, checking CO2 levels and bringing in 10,000 portable air purification units. The union says it is doing its own inspection: good, but not enough. Teacher-student-parent-worker committees should bring in independent ventilation experts to inspect and certify adequate airflow and air quality in every classroom.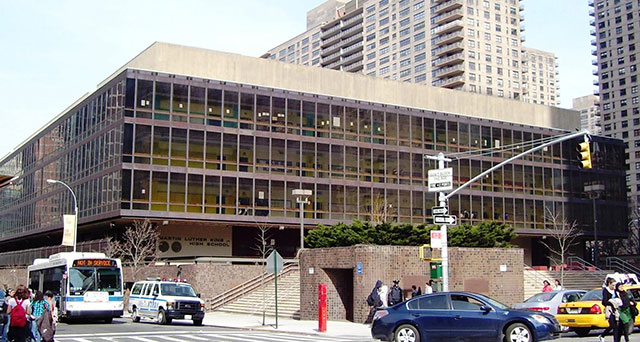 Martin Luther King Jr. "campus" in Manhattan now houses seven different schools, with no windows in any classroom. Scores of classrooms failed ventilation test.
Bathrooms and handwashing stations: To the extent that the coronavirus is transmitted by touching surfaces, bathrooms are a prime area where infection could take place – and many New York City school bathrooms are in miserable shape. Toilets that don't flush, faucets that don't work, and a general lack of cleanliness. Many older buildings have inadequate numbers of bathrooms or stalls. As in just about everything else, there are state regulations about bathrooms, which are regularly ignored. Teacher-student-parent-worker committees at each school should inspect the bathrooms, and if they are not in good condition, insist that they must be rebuilt before school opens. Handwashing stations in the halls, schedules for hourly cleaning and resupplying soap, and workers hired to carry it out.
Class sizes: For years, those fighting against the privatizing education "reformers" have emphasized that far smaller classes are needed to provide effective instruction. Elite private schools have always had small classes of 10-15 students, with student-teacher ratios of between 5 and 6,4 whereas the ratio in NYC public schools is more than double that, with class sizes of around 30 students in middle and high schools. Now, due to the coronavirus crisis, with "social distancing" guidelines of 6 feet between student desks, typical NYC classrooms can only hold a third of the previous capacity. Union militants should demand that the UFT and DOE contractually specify that classes should be limited to no more than 10-15 students, or teachers don't go back. At this moment they would win massive support from parents and students.
Overcrowded NYC classroom. Teachers should demand that class sizes must be reduced by 2/3, with no classes over 10-15 from now on, and formalize that contractually.
Massive hiring: That would require hiring tens of thousands of teachers and staff for New York City schools, at a time when the Democratic Party political leaders have imposed a hiring freeze and are threatening tens of thousands of layoffs. A massive hiring drive would be bitterly opposed by Cuomo and de Blasio, both of whom are closely tied to real estate interests, and by billionaire ex-Republican mayor Michael Bloomberg, now once again a Democrat, and his Wall Street cronies. They plead poverty, saying city and state coffers are empty, and blame it all on Trump and the Republicans in Congress who refuse to pass the "HEROES Act" for a second, $3 trillion "stimulus" package. But they, as well as Trump, need to get the economy back in gear, and for that they need the schools to be open and functioning so parents can go back to work.
"Hybrid" is chaos: The school schedules are impossible. De Blasio finally agreed that no teacher should have to do both remote and in-person instruction, but principals said they don't have the staff.5 The vast majority of students will fall further behind with remote classes, and the schedules will be impossible for working parents, varying from day to day and week to week. And if their children's days in or out of school don't coincide, what's a single mom to do? De Blasio responded on TV that New York City parents are resourceful! We say: All students should be able to return to school full-time if they wish. A massive expansion of university teacher-education courses at the City University in conjunction with existing UFT educational programs, enabling new teachers to start immediately, would find many eager takers among the tens of thousands of unemployed college graduates in NYC.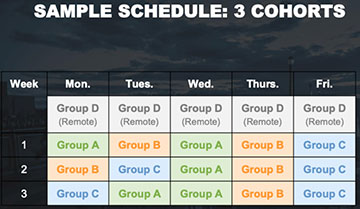 The days in which students will be in school under
De Blasio's crazed "hybrid" system. And if you're a
single mother with children in different "cohorts"?
There are many other concrete issues posed by the reopening of New York City schools. De Blasio has promised 400 more nurses, so that there would be one in every building. Yet already there are reportedly 300 unfilled positions for school nurses, and some large schools certainly need more than one. There has been much talk of holding classes outdoors, in schoolyards, parks and adjacent streets. Half the schools have reportedly filed plans for such classes. But where is the financing? De Blasio suggested maybe the richer PTAs could chip in! All such classes must be centrally funded. The city promised daycare for children of parents who had to work, but it is only planning for 100,000 slots, and even those are being prioritized for D.O.E. personnel and "essential workers." So long as schools are on the crazy hybrid model, daycare must be provided for hundreds of thousands of children.
A class-struggle offensive would also demand the expropriation of private schools and to turn charters into public schools. In NYC it would call to expand eligibility for accommodation for risk factors, particularly for paraprofessionals, who had a disproportionate number of deaths from COVID-19, and forschool aides and food service workers represented by AFSCME Local 372, who are generally older (one-third are over 55, compared to 11% of teachers who are age 57 and older) and 85% of whom are African American or Latino, and thus at greater risk. It would demand air conditioning, greatly improved ventilation and rearranging school kitchens, where 9,000 workers toiled through the spring and summer in crowded conditions and often brutal heat (temperatures up to 135°) preparing over 1 million "grab-and-go" meals for children and others.
Class-struggle militants would demand to get cops out of the schools, as we and many others called for in this summer's millions-strong marches against racist police terror. In NYC, the mayor and City Council went through a charade of switching school cops from the NYPD budget line to the D.O.E.'s (in 2021!), but police are still in the schools and in uniform. In a school system where 60% of all students are either immigrants or children of immigrants, in which 125,000 students are foreign-born and 40,000 undocumented, another key demand is to keep immigration police away from the schools. CSEW supporters in 2017 initiated committees to defend our immigrant students (and fellow workers), vowing to block any attempt to grab them and calling to mobilize labor against raids and deportations.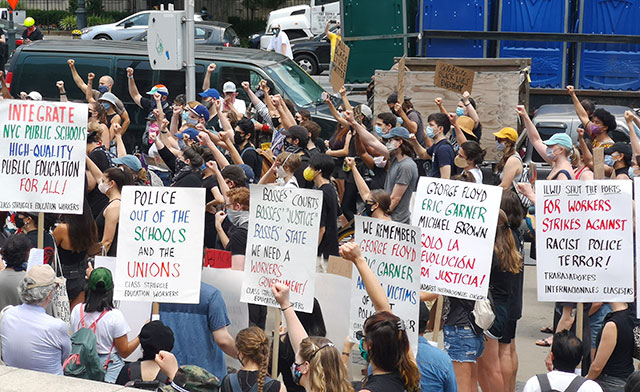 Class Struggle Education Workers at Juneteenth march in Brooklyn against racist police brutality.
The challenge and problems posed in reopening schools are a key moment to fight against mayoral dictatorship, and for educator-led control of the schools by councils of teachers, students, parents and workers. This was a vital component of the educational policies of the early Soviet republic following the 1917 October Revolution. In his 2002 campaign for mayoral control, Bloomberg said of government by councils, "the Bolsheviks tried that, and it didn't work." On the contrary, it spurred active participation of all those involved in education. Today, we fight for teacher-parent-student-worker control of school reopening, independent of the D.O.E., to ensure safe conditions, and to counter attacks by those who would set parents and the community against the teachers.
Where's the money to come from? That's their problem, of the bosses and their political hacks. Don't tell us that in the center of international finance capital they can't find the dollars.
The reality is that teachers are today in the strongest position we have been in for at least half a century, and possibly ever, to force the capitalist rulers to pay up and fund public education, to make the schools safe to reopen. The Wall Street Journal(3 August) has figured that out, accusing teachers unions in an editorial of "School-Opening Extortion." Of course, if American Federation of Teachers president Randi Weingarten said "safety strikes" could happen, and UFT leader Mulgrew threatened to call one, these mainstream Obama/Clinton Democrats are only talking tough because of pressure from the ranks, and as a bargaining tactic. But the liberal Sanders Democrats of M.O.R.E. likewise only wanted a "credible strike threat," and their talk of "taxing the rich and Wall Street" is so much hot air.
As we have always said, labor's gotta play hardball to win. The bosses certainly do, with decades of union-busting. But right now, teachers unions have the bosses over a barrel. Instead of just demanding to keep the schools closed, in those places where they can be opened – like New York City – unions should demand safety changes like the above be implemented now, or else no school. Where in-person instruction is precluded by high COVID-19 transmission rates, unions should demand that the needed measures be agreed to in advance of reopening. Thus in Los Angeles, where the contract with the LAUSD allows for absurdly large class sizes of 45 students, teachers should demand that this be cut by two-thirds, or more.
Liberals can publish Diane Ravitch columns and statistics-rich studies laying out the disastrous effects of corporatization, privatization and charterization of the schools and calling on the Cuomos and de Blasios to "do the right thing," but that won't stop the bipartisan capitalist war on education. As we have pointed out,6 this assault on the public schools is the result of decaying imperialism, whose results are now being vividly played out before our eyes in the devastation wrought by the deadly coronavirus pandemic, the mass unemployment resulting from it, and the onslaught of police violence seeking to quash opposition to racist U.S. capitalism.
The fight to defeat the forces that would destroy public schools, as well as the struggle of educators to provide an enriching education that can actually aid the students from working-class, immigrant, poor and doubly oppressed communities who make up the vast majority of those in the NYC public schools, must be a political struggle against the capitalist system which breeds poverty, racism and war. It requires a break with the Democrats and all capitalist parties, and the forging of a class-struggle workers party to fight for socialist revolution, here and internationally. ■