August 2020
Cops Shoot Jacob Blake in the Back, Shackle Him to Hospital Bed
Anti-Racist Protesters Murdered by Fascistic Gunman
Cops, Feds and Fascists Unleash
Racist Terror in Kenosha, Wisconsin

For Mass Worker/Black/Immigrant Action!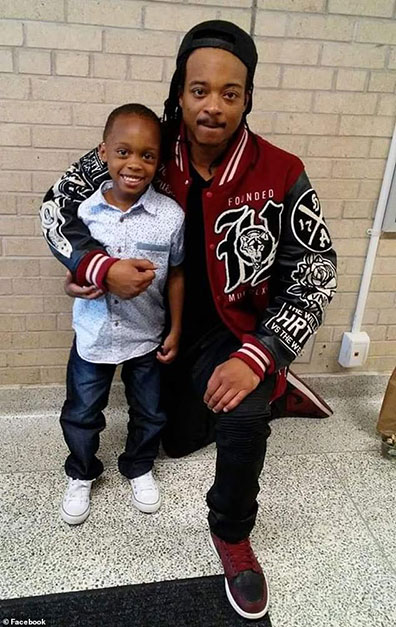 Jacob Blake with one of his sons.
A slightly abridged version of this article was issued as an Internationalist Group leaflet on August 29.
AUGUST 28 – Shot repeatedly in the back by the cops, Jacob Blake lies paralyzed in his hospital bed after being gunned down in the streets of Kenosha, Wisconsin. His "crime": barely escaping death at the hands of the racist police who shot him on August 23. And like an escaped slave, the wounded 29-year-old black man was then shackled by ankles and wrist to his hospital bed, as his captors inflicted more racist torture on him. Only after his father's denunciation of this barbarity did the cops uncuff Blake, whose spinal cord was severed as at least seven bullets fired at his back.
Then, two nights after the racist maiming of Jacob Blake, anti-racist protesters in Kenosha were confronted by National Guard troops, BearCat armored vehicles, city police, county sheriffs, and armed white racists of a fascistic local militia group brandishing semi-automatic rifles. Kyle Rittenhouse, 17, who was with the militia and had been greeted by the police, shot and killed anti-racist protesters Anthony Huber and Joseph Rosenbaum, and seriously wounded medic Gaige Grosskreutz. We say: Cops, Feds and Fascists, Out of Kenosha!
Despite millions marching in the streets, day after day, night after night, in Black Lives Matter protests across the U.S. this summer, racist police repression just won't stop. To fight it, we urgently need to bring out the power of the multiracial working class. The Internationalist Group calls for mass worker/black/immigrant action against racist terror. And that's only the first step. The fight to unchain that vast potential power must lead to and be part of the struggle to end, once and for all, the subjugation of the exploited and oppressed to the parties, politicians and institutions of this racist capitalist system. For black liberation through socialist revolution!
Deadly Racist Rampage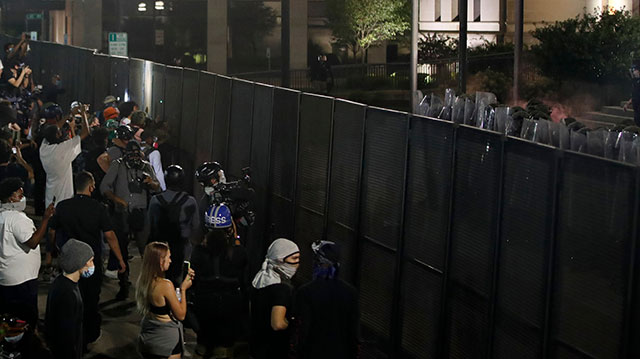 Protesters face off against National Guard behind fence infront of courthouse in Kenosha, August 25.
The scenes from Wisconsin bear witness to one more deadly rampage of white-supremacist terror. In Kenosha, the young white killer proclaimed himself to be a back-up to the official forces of "law and order" – that is, of racist repression. And it was those forces that, once again, had shot down an African American for existing while black.
Almost three months to the day since George Floyd was choked to death on May 25 by a Minneapolis cop, the Kenosha, Wisconsin police cut down Jacob Blake. Seeking to de-escalate a dispute on the street, he was tasered by police. As he opened the driver-side door of his car, where his three sons – ages 3, 5 and 8 – were sitting, officer Ruseten Sheskey fired seven bullets at his back. Now paralyzed from the waist down, Blake's liver and kidney were damaged, and nearly his entire colon and small intestine were removed. Yet another black man marked for death U.S. capitalism's racist repressive forces," Jacob Blake may – unlike George Floyd and so many others – survive lynch-law "justice." Right now he is fighting for his life.
Dozens of Kenosha residents gathered at the scene of the police crime on August 23 to protest the racist shooting. Later that night, demonstrators took to the streets of the city of 100,000, a former auto industry hub on Lake Michigan south of Milwaukee. They marched on a police station, where a dump truck had been parked to block access, setting the truck on fire along with a truck parked outside a courthouse. Police fired off tear gas and rubber bullets. The Democrat-controlled city government, headed by Mayor John Antaramian, who has held the job for a total of 20 years, declared a state of emergency. A racist curfew was imposed. Democratic governor Tony Evers deployed 125 troops of the Wisconsin National Guard on August 24, doubling the number to 250 the next day and again to 500 by Wednesday, August 26.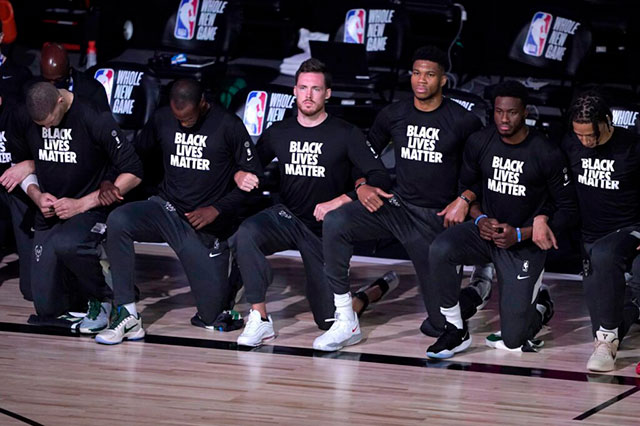 Milwaukee Bucks refuse to participate in playoff game to protest racist police shooting of Jacob Blake, August 24.
Outrage and indignation at the new racist atrocity swelled. Professional athletes took the lead. On the night of August 26, players from the Milwaukee Bucks refused to participate in their National Basketball Association (NBA) playoff game. Players from the Oklahoma City Thunder, Houston Rockets, Portland Blazers and Los Angeles Lakers struck in solidarity. All three Women's National Basketball Association games, three Major League Baseball games and five Major League Soccer games were postponed as well. Japanese tennis champion Naomi Osaka, whose father is Haitian, withdrew from her match. The next day, the New York Mets and Miami Marlins walked off the field, leaving a Black Lives Matter t-shirt on home plate, and the National Hockey League postponed playoff games. The impact of this solidarity by striking professional athletes is huge. Billionaire sports franchise owners stand to lose big bucks if high-profile playoff games are postponed, especially after months of inactivity due to the pandemic.
Above all, what's urgently needed is to mobilize key sectors of the working class, whose labor makes the entire U.S. economy run. That includes fighting for workers strikes against racist police terror, as the Internationalist Group has advocated during the mass upsurge of past months. On Juneteenth (June 19), the International Longshore and Warehouse Union (ILWU) provided a taste of that power by shutting down all 29 U.S. West Coast ports (plus ports in Canada) against police brutality and systemic racism. In 2011, Wisconsin unions brought out tens of thousands in daily marches against Scott Walker's union-busting law, only to have the labor bureaucracy call off the struggle in favor of voting for Democrats. Today Wisconsin labor must use its power, along with Midwest industrial unions (UAW, electrical workers), the ILWU and other dock and transport unions (ILA, Teamsters, TWU, ATU), municipal (AFSCME) and service employees (SEIU) and teachers to spark powerful strike action to shut U.S. cities down.
Fascistic Militias Aid Cops, Guard and Feds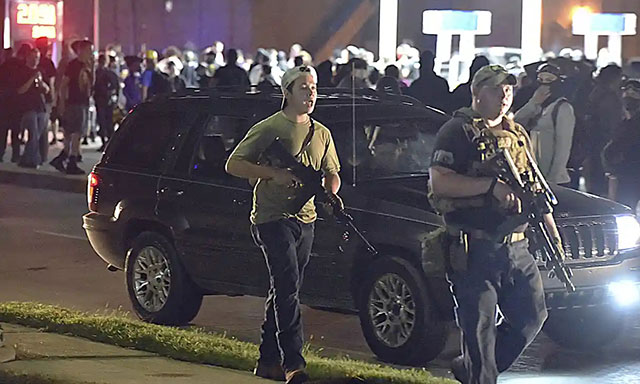 Racist vigilante Kyle Rittenhouse (left) with fascistic militia members in Kenosha on August 25, before he murdered Anthony Huber and Joseph Rosenbaum during Black Lives Matter protest of shooting of Jacob Blake.
As of today, nearly 1,000 National Guard troops, including from Arizona, Michigan and Alabama, and over 250 federal agents have been deployed to Wisconsin by Donald Trump, with the agreement of Democratic Wisconsin governor Tony Evers. Despite the foam-flecked diatribes of the bigot-in-chief about Democrats supposedly being soft on anti-racist protesters, it is the Democratic mayor who presides over Kenosha police and who imposed the racist curfew, and the Democratic governor who brought in the National Guard. This is what happened in one city after another as anti-racist protests flared in May and June.
By the second night of the Kenosha protests, on August 25, the fascistic militia group Kenosha Guard had put out a literal call to arms on Facebook: "Any patriots willing to take up arms and defend out [sic] city tonight from the evil thugs?" Another post from the group that night addressed Kenosha Police Chief Daniel Miskinis: "We are mobilizing tonight and have about 3,000 RSVP's…. I ask that you do NOT have your officers tell us to go home under threat of arrest as you have done in the past." One user identified himself as a "state officer" with the fascistic Three Percenters Original (TPPO) militia group, attempting to coordinate with the Kenosha Guard. In the Stand Up Kenosha Facebook group, another rallying point for armed reactionaries, posts included directives to "start busting heads" and to "shoot to kill folks."
Shoot to kill is exactly what 17-year-old Kyle Rittenhouse of Antioch, Illinois did. Claiming to be "defending property," on August 25 the self-proclaimed police supporter shot three anti-racist protesters, killing Anthony Huber, 26, and Joseph Rosenbaum, 36, both of whom leave children behind. Video footage shows Rittenhouse with a group of armed men, about 15 minutes before the first shooting. Far from telling them to go home, police in armored vehicles give the group some bottles of water and tell them "we appreciate you guys, we really do." Six minutes later, Rittenhouse fires four shots at Rosenbaum, who is unarmed, striking him in the head as Rosenbaum tries to take away the gunman's rifle. Fleeing the scene, Rittenhouse is chased by a group of protesters. Anthony Huber with his skateboard tries to stop the racist killer. Rittenhouse then fires four shots, hitting Huber in the chest and Gaige Grosskreutz in the arm.
Police in armored vehicles stationed one block away looked on as Rittenhouse calmly walked toward them. Bystanders called out that Rittenhouse had just shot people, but cops drove right by him. It was only the next day that he was arrested, in Illinois. Fascist groups and fascistic right-wing militias often act as auxiliaries to the police – as has been the case in Portland, Oregon. The day before Jacob Blake was shot in Wisconsin, Portland cops watched as Proud Boys and Patriot Prayer fascists and armed militias assaulted antifascist demonstrators (after which federal agents pushed the leftists out). Even bourgeois media have documented an increasing presence of such groups within the police and armed forces. Rittenhouse is a former youth cadet of the Grayslake, Illinois police department, which "offers participants from ages 14 to 21 'the opportunity to explore a career in law enforcement' through ride-alongs with officers on patrol and firearms training, according to since-deleted pages on its website" (Washington Post, 27 August).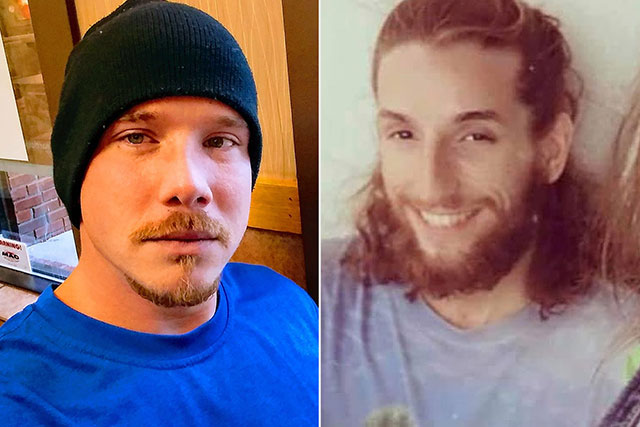 Joseph Rosenbaum (left) and Anthony Huber, murdered for standing up to white supremacist rampage in Kenosha, WI, August 25.
Like Ricky Best and Taliesin Myrddin Namkai-Meche, murdered by a Nazi in Portland in 2017 as they came to the aid of two young black women, and Heather Heyer, the anti-racist protester murdered by an Ohio Nazi in Charlottesville, Virginia not long after, Anthony Huber and Joseph Rosenbaum join those who have been murdered for standing up against fascist and white-supremacist rampages in recent years. To defend themselves, workers and the oppressed cannot look to the official forces of state repression that gun down black people almost daily while protecting and often working with racist vigilantes. As for calls by Democratic liberals for "gun control," this slogan was coined to prevent black people from defending themselves against racist terror. As revolutionary Marxists, we uphold the right of armed black self-defense and have called for the formation of workers defense guards, based on the mass organizations of the working class, against racist and fascist threats.
Solidarity with Anti-Racist Protesters!
Fascistic Militias Aid Cops, Guard and Feds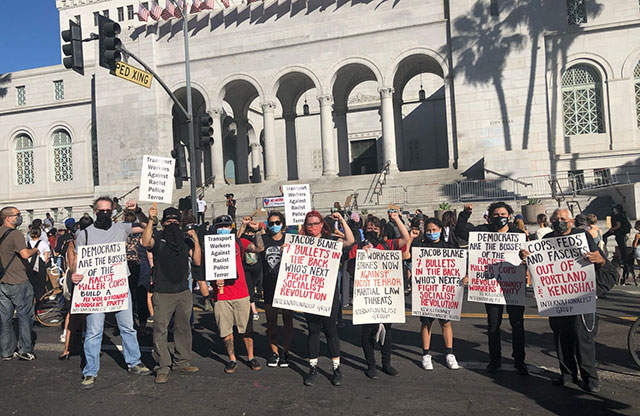 Internationalist Group, Revolutionary Internationalist Youth and Transport Workers Against Racist Police Terror at downtown Los Angeles protest against the shooting of Jacob Blake, August 29. .
In the wake of the horrifying racist shooting of Jacob Blake, and the killing of anti-racist protesters in Kenosha, scattered solidarity actions have taken place so far in New York, Los Angeles, Minneapolis, Oakland and elsewhere. Yet these do not even begin to approach the scale of protests in May and June after Minneapolis police murdered George Floyd. Why not? Because the Democrats worry they would be vulnerable to Trump's claims that they allow "anarchy" in the cities they govern. With the objective of "getting out the vote," their organizational apparatus has sought to channel protest into "Commitment March 2020," on the anniversary in Martin Luther King Jr.'s 1963 March on Washington. Official civil rights groups and ministers told marchers that voting to remove Triump is "the first step toward a solution" (New York Times, 28 August).
Yet the events of this past week have shown once again that it is the Democrats who are the bosses of the racist killer cops in nearly every major U.S. city, who unleash violent repression against those who protest the endless police terror. Now two of the most blatantly pro-cop politicians on the national stage, Joseph Biden and Kamala Harris, are the Democratic "law-and-order" duo vying for the White House. Together they have a record of locking up black people and blocking school integration that outstrips even the likes of Donald Trump. The segregationist Biden opposed school busing in the 1970s and crafted the 1994 crime bill that turbocharged the mass incarceration of African Americans and Latinos. Kamala Harris spent her days as San Francisco district attorney locking up black people, and as California's attorney general fought to make sure they stayed behind bars, despite evidence of their innocence.
The triple pandemic of economic crisis, COVID-19 and incessant racist police murder casts a stark light on the fact that ruling class of this country is increasingly desperate to maintain its decaying social order. Both Republicans and Democrats have decided that this means increasing reliance on the forces of repression to head off and suppress unrest, rebellion and revolt. Capitalism is killing us. To defend our lives and the most basic rights of all, to unchain the power of the working class in the fight against racist repression, is it urgently necessary to break with Democrats, Republicans and all capitalist parties and politicians! Build a revolutionary workers party to fight for a workers government! Only revolution can bring justice! ■