Labor's Gotta Play Hardball to Win!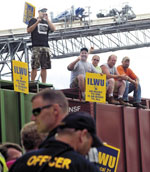 Showdown on West Coast Docks: The Battle of Longview
(November 2011).
click on photo for article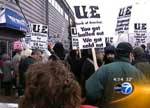 Chicago Plant Occupation Electrifies Labor
(December 2008).
click on photo for article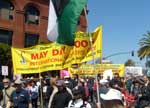 May Day Strike Against the War Shuts Down
U.S. West Coast Ports
(May 2008)
click on photo for article



April 2020


For Class-Struggle Unionism! Organize the Unorganized! No Safety, No Work!
As the COVID-19 Pandemic Rages,
Workers Fight for Health and Safety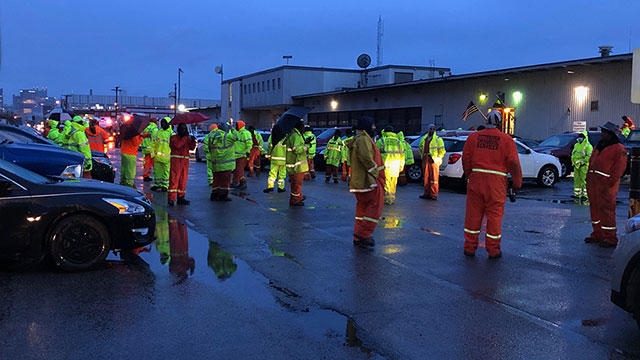 Sanitation workers in Pittsburgh, Pennsylvania refuse to work without adequate protective equipment, March 25.
APRIL 13 – The class struggle does not shut down during a "natural" disaster – if anything it intensifies. Contrary to the deceptively reassuring and hypocritical "we're all in this together" rhetoric of the politicians, the stark realities of life or death expose the fundamentally opposed interests of the exploiters and the exploited – at least for those who dare to see. And the capitalist rulers never "let a good crisis go to waste." That is why, for the working class and all the oppressed, desperate and tragic times cry out for revolutionary leadership.
As the deadly coronavirus pandemic has spread throughout the United States, some 95% of the population is under "stay at home" orders by state governments and local municipalities. Effective quarantine measures are key to combating the COVID-19 public health emergency, which has already led to over 20,000 deaths in the U.S. and 110,000 worldwide, while actual numbers are certainly far higher. At the same time, millions of workers continue to go to work, performing vital tasks while facing grave risks to their health and lives.
This includes, first of all, nurses, doctors, orderlies and other health-care workers in the front ranks of this battle, heroically treating the sick, often in horrendously overcrowded medical facilities. In New York City, currently the epicenter of the outbreak in the U.S., there have been protests at a number of major hospitals over the lack of vital personal protective equipment (PPE). In many cases, hospital administrators have disciplined and even fired those who have spoken out against the criminal disregard for their employees' lives.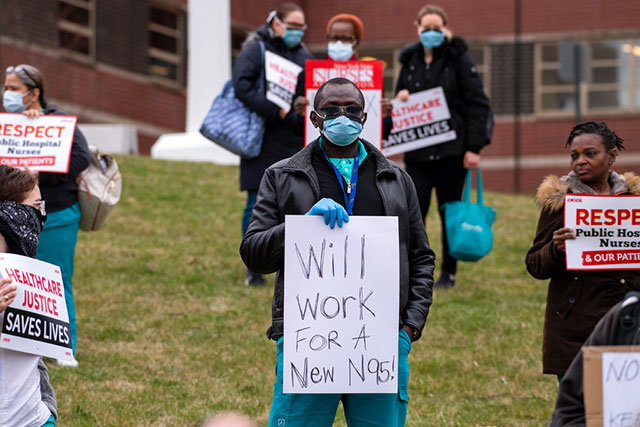 Nurses at Jacobi Hospital in the Bronx, New York protest lack of personal protective equipment, March 29.
Meanwhile, in nursing homes, group homes and similar facilities, frequently horrendous conditions for highly vulnerable patients combine with management's rampant disregard for employees' health and working conditions.
In addition, the frontline workers include millions of others – among them public transit workers, postal workers and delivery workers, as well as grocery store, drug store, deli, food service, cleaning and other service workers – whose labor is indeed essential to supplying those who remain at home with vital necessities. In New York City, four out of five of these frontline workers are African American, Hispanic and Asian, almost half are foreign-born, often earning poverty pay, while those who can work from home are predominantly middle-class and white.
We have noted that in some places politically connected real-estate magnates initially got the construction industry declared "essential," endangering workers' lives to fuel speculative profits. This led to protests, and on April 6 over 10,000 Carpenters union members in Massachusetts refused to show up for work at new housing and infrastructure projects, protesting unsanitary conditions. At least two dozen union members had tested positive for the coronavirus; hundreds had symptoms and were self-quarantining. The Engineering News Record (April 6) reported:
"The International Union of Painters and Allied Trades District Council 35 will also follow suit, with the union issuing a stay-at-home order for its thousands of members that will go into effect after the close of business on April 6.
"The moves come just a few days after the Massachusetts Building Trades Council, which represents 75,000 union members ranging from carpenters and painters to ironworkers and laborers, urged [Governor Charles] Baker to shut down all but emergency work for the rest of April."
In auto, as workers called to shut down the industry, the Big 3 companies and the leaders of the United Auto Workers (UAW) at first agreed to a "rotating partial shutdown of facilities." But hours later, after Fiat Chrysler reported that another employee at its Sterling Heights, Michigan, plant had tested positive for coronavirus, workers on the early shift on March 18 refused to go in. Similar strikes quickly spread through Detroit-area auto plants, forcing the auto giants to shut down. On March 24 it was announced that two Fiat Chrysler workers had died.
A Wave of Walkouts by "Essential Workers" Endangered by the Bosses
Even in jobs that truly are essential in providing basic necessities, the bosses' criminal disregard for workers' health and safety has led to widespread protests, walkouts and strikes. Workers in meatpacking plants are among those most at risk, with thousands standing shoulder-to-shoulder in areas awash in fluid in near-freezing temperatures. Yesterday, Smithfield Foods was forced to close its Sioux Falls, South Dakota, pork plant, where 293 out of the 3,700 employees tested positive for coronavirus, 40% of all cases in the state (Newsweek, 12 April).
The overwhelmingly black, Hispanic and immigrant workers in the packinghouse industry have also been in the forefront of those taking action.1 On March 23, dozens of workers at a non-union Perdue Farms chicken plant in Kathleen, Georgia, walked out over unsafe working conditions. On April 1, nearly 1,000 workers at the JBS beef plant in Greely, Colorado, organized by the United Food and Commercial Workers Union (UFCW), walked off the job after ten workers had tested positive for COVID-19.
One of the main clusters of COVID-19 in the country has been Albany, Georgia. A key fact is that "The town is ringed by a series of a half-dozen meatpacking plants, where thousands of workers are employed" (Payday Report, 10 April). At Tyson's Food in nearby Camilla, Georgia, the Retail, Wholesale and Department Store Union (RWDSU) reported that two its members had already died. But while a RWDSU press release declared, "Poultry Industry's Delayed Covid-19 Response Is Killing America's Essential Workers," the union did not call any action.
The warehouses of Amazon, the e-commerce and distribution giant, have been a focal point of protests. The rabidly labor-hating company has so far managed to crush union-organizing campaigns in the U.S. (see "Unionize Amazon and Whole Foods!" Internationalist No. 55, Winter 2019). Currently, it is raking in billions as more and more shoppers stuck at home order online. On March 18, workers shut down an Amazon "fulfillment center" in Queens, New York, demanding that production be stopped for a full sanitization of the plant.
Protest initiator Chris Smalls at March 30 action outside Staten Island Amazon facility. That night he was fired.
Then on March 30, workers at an Amazon warehouse on Staten Island walked out demanding hazard pay, sanitizing and protective equipment after it came out that the company had hushed up cases of COVID-19 at the facility. Amazon retaliated that night by firing Chris Smalls, a supervisor, who had set off the protest. After widespread media coverage, Amazon bosses, including owner Jeff Bezos, the richest man in the world, met to plan a strategy on how to deal with the protests and reports that workers at 14 or more Amazon facilities had been infected.
After the meeting, the company's chief legal counsel issued a memo calling Smalls, who is black, "not smart, or articulate," as part of a planned racist PR campaign to smear him and make him "the face of the entire union/organizing movement." The next day, March 31, employees at Amazon-owned Whole Foods stores across the country staged a sickout, demanding paid leave for quarantined workers, hazard pay and health-care coverage for part-time and seasonal workers. And on April 6, protesters were back outside the Staten Island plant chanting, "Shut it down, clean it up!"
Similar protests have taken place at Amazon locations in Chicago and Detroit. The company, which is already the second-largest private employer in the U.S., has announced plans to hire another 100,000 workers. Meanwhile, Instacart, the grocery store delivery app, says it plans to sign up another 300,000 "contractors," a designation it and other "gig economy" employers use to deny their employees rights. On March 30, Instacart workers held protests demanding company-paid PPE, hazard pay, and paid time off for workers affected by COVID-19.
And at the Trader Joe's grocery store chain, workers who have been fighting for a union are protesting unsafe working conditions. The bosses' response, in the midst of the pandemic, has been an intense anti-union campaign, as managers lecture "crew members" about the "dangers" of organizing. In Louisville, Kentucky, TJ employee Kris King formed a Facebook page for workers to discuss the company's response to the coronavirus crisis. On March 28, the company fired King, saying, "We don't operate by letting crew talk amongst themselves" (New York Times, 2 April).
These are only a few of the instances of workers being driven to take action, demanding safe conditions of employment in the face of a stark threat to their lives. Other examples include:
On March 20, International Longshore and Warehouse Union (ILWU) Locals 10 and 34 in Oakland, California, protested, threatening a shutdown to demand that facilities be cleaned daily by professionals. They also demanded protection for the crew of the contaminated Grand Princess cruise ship that is being held in quarantine offshore.
On March 24, workers represented by the International Association of Machinists (IAM) at the Bath Iron Works shipyard in Maine walked out, calling for closure of the shipyard, owned by General Dynamics, during the Covid-19 crisis and that workers continue to be paid.
On March 25, mostly black sanitation workers in Pittsburgh, members of Teamsters (IBT) Local 249, held a two-hour strike and rally, using trucks to block entrances to the Bureau of Environmental Services, to demand protective masks, better gloves, more work boots and hazard pay to cover medical expenses if they get sick from the virus.
On March 30, General Electric workers represented by the International Union of Electrical Workers-Communications Workers of America (IUE-CWA) protested at company headquarters in Boston, demanding better protections against coronavirus and that GE rehire laid-off workers to manufacture urgently needed ventilators to treat COVID-19 patients.
On April 6, in Chicago, a hundred workers at two suburban factories walked out after co-workers were infected; at a factory making Mexican desserts, the UFCW demanded that the company pay workers who self-quarantine for 14 days, as well as providing hazard pay of $2/hour for those who stay at work.
On April 7, "gig workers" for Target-owned national shop-and-deliver app Shipt walked out demanding PPE, paid sick time, hazard pay, and protesting pay cuts imposed during the pandemic. Shipt is notorious for its abuse of workers and its "deactivation" (firing) of any who express any criticism, online or offline, of its policies.
Class-Struggle Unionism vs. Sellout Labor Bureaucracy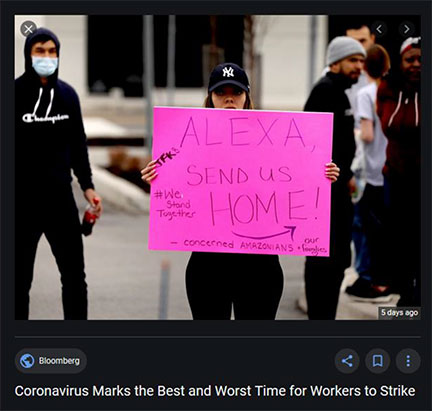 Wall Street organ Bloomberg Business Week, with photo of Staten Island protest, worries that essential workers are in a strong position to strike.
The big business press is well-aware that "essential workers" are in a potentially very strong position in the present crisis. Bloomberg Business Week (7 April) headlined, "Coronavirus Marks the Best and Worst Time for Workers to Strike" and "When Working Means Deadly Risk, Backlash Brews." It is likely that in the aftermath of the crisis there could be a surge in union organizing. But the present leadership of the U.S. labor movement is incapable of enforcing workers' demands for safe conditions of employment. That requires something very different: class-struggle unionism.
These struggles show the irreconcilable clash between the interests of the working class and those of the bosses, whose only concern for workers is as a source of profit through exploiting their labor. Even in "normal" times, over 5,000 workers are killed on the job every year in the U.S.; tens of thousands more die each year from work-related diseases. The present health crisis is magnified many times over by capitalism, as the pandemic has triggered what will likely be a long economic depression, with tens of millions thrown out of work and pauperized.
What can and must emerge out of this crisis is a newly invigorated labor movement. But a continuation of the same old legalistic "business unionism," such as has been practiced by the AFL-CIO trade-union bureaucracy for many decades, is a dead end. It is precisely such policies that that have led to the decimation of the unions, leaving barely 10% of workers unionized, and only 6% in the private sector. The labor misleaders seek a bogus "partnership" with the bosses, who have waged unrelenting class war against the working class and oppressed for decades, and continue to do so today in the coronavirus crisis.
Workers have been hamstrung by the union tops' subordination to the capitalist Democratic Party, and their obedience to anti-labor laws and institutions of the bosses' government, including the National Labor Relations Board. The bureaucrats' loyalty to the capitalist order is exemplified by their welcoming of cops, security guards and prison guards – the armed fist of the ruling class – into the labor movement, while hiding behind "no strike" laws and contract clauses. Class-struggle unionists say: Hell no – Cops of all kinds out of the unions, and Rip up the bosses' union-busting laws!
Workers have the power to win – we need a leadership with a program to use it! The rotten union bureaucracy that sits atop these workers organizations undermines their power by chaining them to the bosses. The corruption scandals that have rocked the UAW are not just about individual enrichment, they are the personalized expression of the politics of class collaboration. And just as sellout bureaucrats can't stop the closing of plants, they can't protect workers' health and safety. Yet it is the workers, who produce the vital goods and services, who are the union.
What's desperately needed is a labor movement based upon the program of class struggle, of the working class mobilizing its own social power. The economistic "rank-and-fileism" pitched by some currents on the left as a supposed alterative to the entrenched labor bureaucracy deliberately sidesteps sharp social and political issues and evades the need for working-class leadership based a program to win the class war. In a major crisis of capitalist society like today's, such an approach is doubly bankrupt.
Tens of millions of workers in the multiracial working class – in many places largely Latino, African American and immigrant, often poorly paid and poorly protected, with few benefits – desperately need to organize into unions simply to defend their interests, and their lives. To do so, the workers movement must fight not only for narrow sectoral interests but champion the cause of all the oppressed.
Some of the most crucial workers today are undocumented immigrant agricultural laborers, without whose backbreaking toil the country won't be fed. Yet even as the Department of Homeland Security (DHS) declares them essential workers, they can still be picked up and deported by Immigration and Customs Enforcement (I.C.E.). A fighting labor movement must demand full citizenship rights for all immigrants. It would mobilize workers power to stop raids and deportations, and to shut the detention centers which are a hotbed of COVID-19 infection.
Today, many African American, Latino and Asian workers in the front lines of the battle against the coronavirus have no health insurance. While reformists echo the "Medicare for All" demand of Bernie Sanders and Democratic Party "progressives," this is only a Band-Aid. Blacks and Latinos frequently have greater underlying health issues, face discrimination in the racist capitalist medical system and are dying of the virus at twice the rate of whites. A class-struggle workers movement must fight for socialized medicine, to provide free, quality medical care for all!
What's desperately needed is a labor movement built upon the old principles of class against class, of the working class mobilizing its social power, as the "essential" producers of wealth who make society function. And that means a class-struggle union movement that combats all forms of social oppression, that places itself in the forefront of the struggle against racism, the fight for full equality of women, gays, lesbians and transgender people, and that joins these struggles in a fight to do away with the capitalist system that produces death and destruction for everyone. It means a fight for revolutionary leadership.
Capitalism Is Killing Us – Fight for Socialist Revolution!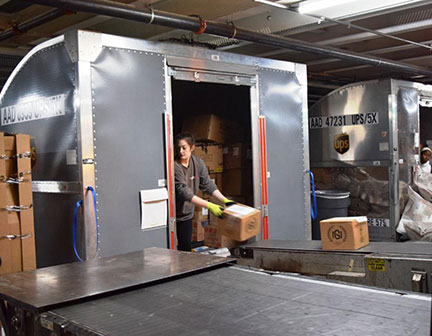 Workers at UPS Worldport hub in Louisville, Kentucky, where two employees have died of coronavirus.
The one language that the capitalists and their politicians in the Democratic and Republican parties understand is that of power. While they worry that "essential workers" have potential power, the bosses are banking on their ability to bamboozle and intimidate those who are desperately trying to make ends meet and now fear a potentially deadly threat. We who would organize the deeply exploited "wage slaves," as Karl Marx called them, must be clear-eyed that the recent walkouts are still very small and tentative. They need real power to back them up.
Everywhere, the pro-capitalist labor bureaucracy has posed an obstacle. Even when unions like the UAW, UFCW and RWDSU have taken action, it has been at most sporadic and the initiative has come from below. Where they have made a halfhearted show of organizing behemoths like Walmart, Amazon or fast-food chains, they don't even try to build real unions, only setting up flimsy workers centers and often barely even trying to mobilize in-house workers. Why? The union tops won't risk their "partnership" with the bosses (and real-estate holdings) by defying the anti-labor laws that cripple the unions.
To organize a ferociously anti-labor outfit like Amazon, the key will be bringing to bear the raw power of unions like the Teamsters. And it won't be done playing by the bosses' rules. That is why initiatives by class-struggle militants in unionized industries are exceptionally important today and could help open the way for a large-scale campaign to organize the unorganized. At the UPS facility in Chelmsford, Massachusetts, after Teamster Local 25 president wrote a letter to company officials on March 27 denouncing the lack of protections, a flier was issued by union militant Mike Gath, titled "No Safety, No Work!" The leaflet demanded "an independent, all-worker health & safety committee of union stewards and other Chelmsford workers" to ensure compliance by the company. It concluded:
"No safety, no work. If there is no thorough, independent cleaning and disinfection of the facility by Monday, work there should not proceed until it is done.
"Union power, workers power – this is a matter of life and death for us all right now."
A second leaflet, posted on social media on April 3, reiterated these demands and added: "We should be getting hazard pay, which should be double-time. We won't be sacrificed for their profits. Don't let the company wait til someone dies on the job."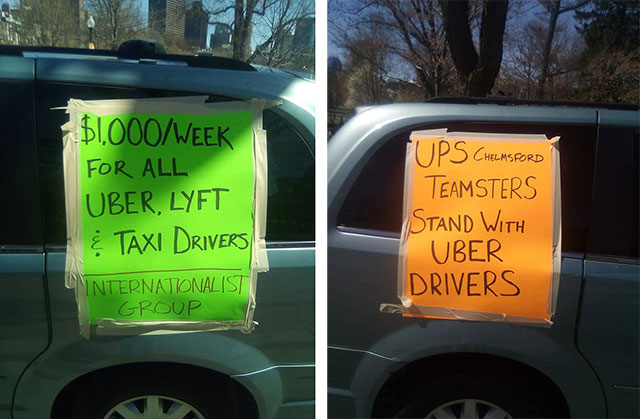 Solidarity with Boston app-taxi workers, April 6.
Emphasizing that the struggle isn't limited to a single warehouse or industry, on April 6 Gath and supporters from the Internationalist Group joined in a caravan of app-taxi drivers in Boston, declaring their solidarity and raising the demand for "$1,000/Week for All Uber, Lyft and Taxi Drivers." Later that day, it was reported that a worker had died of COVID-19 at UPS' giant Worldport international hub in Louisville, Kentucky, where some 10,000 workers are employed, handling up to 416,000 packages an hour. On April 10, Gath posted:
"As I have written before, every passing day shows we need a Nationwide Health and Safety Walkout!
"And we need the whole union to hear that and carry it out. A real fight on this now at UPS would also be crucial for a breakthrough in unionizing FedEx, Amazon, Whole Foods, etc….
"Hazard pay now!
"No Safety, No Work!
"We need a Nationwide Union Health and Safety Walkout at UPS!"
A fighting perspective was put forward by our sisters and brothers of Class Struggle Workers – Portland in a March 18 call for workers action in the coronavirus crisis. It raised a series of demands to require protective gear as decided by the workers; for the formation of health and safety committees representing both unionized and unorganized workers; for full pay for all who are unable to work because of the virus; for occupying vacant properties to provide housing for the homeless; for freeing detainees from I.C.E. concentration camps, and concluded:
"A mass, militant workers movement with a class-struggle leadership would establish workers commissions at workplaces to decide appropriate measures, including shutting down where necessary, with no loss in pay, or continuing production with needed safeguards.
"Ultimately, it will take a planned economy capable of redirecting production and distribution of medical equipment, safety equipment and basic necessities for a large-scale outbreak, with workplaces organized with the safety of workers as a central priority, in order to effectively fight a pandemic. That means a fight to end this capitalist system of profit-driven chaos, incompetence, racism and exploitation, and establish a workers government.
"With the lives and livelihoods of so many workers and oppressed people in the balance, the only way forward is class struggle."
This crisis has opened the eyes of a lot of people who normally don't give a thought about where the goods and services they consume come from. In these desperate times, it must be made clear that the capitalist system itself constitutes an imminent danger to the lives of working people, the poor, and to humanity as a whole (see "Coronavirus and Capitalism," The Internationalist, 29 March). As the CSWP statement said: "The urgent need for an international revolutionary workers party could not be more clear as the pandemic unfolds." Such a party must be in the vanguard of a working class fighting to rip state power out of the hands of the capitalist rulers in the fight for international socialist revolution. ■