September 2020
PSL Targeted for Marches Against Cop Murder of Elijah McClain

Defend Denver Anti-Racist
Protest Leaders!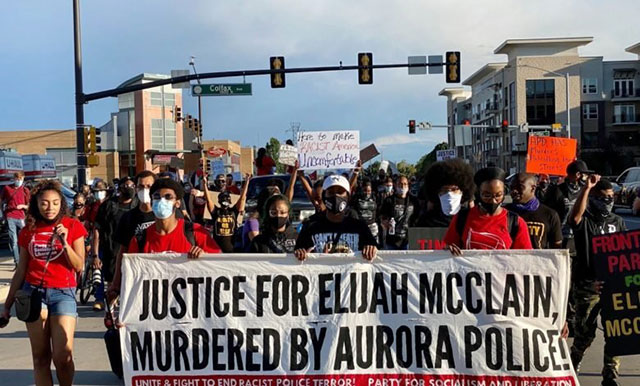 PSL activists played leading role in organizing protests against racist police murder of Elijah McClain in Aurora, Colorado. Now they have been arrested in an attempt to intimidate protesters.
On Thursday, September 17, police raids were carried out in Denver, Colorado against activists who have been organizing protests denouncing the racist murder of Elijah McClain, a young black man, by police in suburban Aurora in August 2019. Six of the protest leaders were arrested, including Lillian House, Eliza Lucero, Joel Northam and Russel Ruch – all members of the Party for Socialism and Liberation (PSL), which has played a leading role in the protests – along with Terrance Roberts and Trey Quinn. They have outrageously been charged with multiple serious felonies, including the absurd charge of "kidnapping."
The Denver arrests are the spearhead of a national drive by the administration of racist U.S. president Donald Trump to criminalize Black Lives Matter protests and jail the leaders on draconian trumped-up federal charges. The Internationalist Group and Revolutionary Internationalist Youth, youth section of the IG, denounce this ominous attack on the right to protest. We demand that the arrested activists be immediately released and that all charges against them be dropped. We also demand that all charges be dropped against all of the over 1,500 people arrested during or in conjunction with the nationwide protests against racist police brutality.
We have written about the murder of Elijah McClain in Revolution No. 17 (August 2020). As he was walking home from a convenience store a year ago, Aurora police arrived, pinned him down, put him in a chokehold and insidiously injected him with a double dose of ketamine, a potent tranquilizer, which caused him to go into cardiac arrest and ultimately die. Elijah taught himself to play the violin, and this caught the world's attention. This past June 27, string players from across the U.S. gathered to play in Aurora in homage to the young violinist. They were met by violent police repression – batons, tear gas, pepper spray. It was for organizing demonstrations that day, and again on July 3, 12 and 25, that the protest leaders are now being persecuted.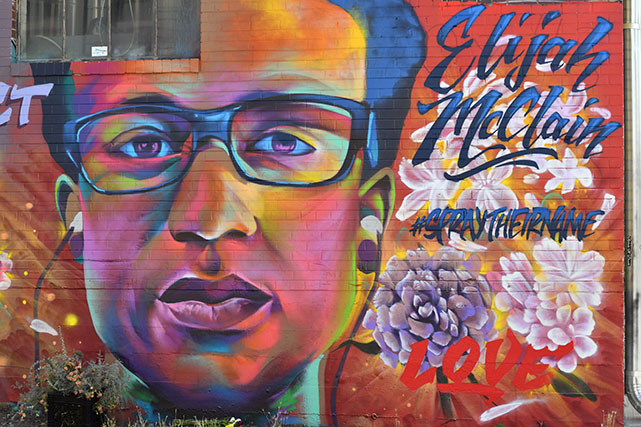 Mural of Elijah McClain, painted by Thomas "Detour," in Denver, Colorado.
The tactics used in the Denver arrests – seizing one in a Home Depot parking lot, surrounding the car of another with five police cruisers as she was driving, sending a S.W.A.T. team to the home of a third – recall the use of federal snatch squads to seize protesters off the streets of Portland in July. Or the hours-long siege by scores of New York City cops, with dogs, a helicopter and sharpshooters, attempting to arrest (without a warrant) a BLM protest leader, Derrick Ingram, in August. On September 16 it was revealed that U.S. attorney William Barr had instructed federal prosecutors to charge protesters ("rioters") with sedition, as in attempting to overthrow the government.
As highlighted by Trump's failed attempt at imposing martial law in Washington, D.C., at the beginning of June,1 followed by his dispatch of federal forces to Portland2 and Kenosha, Wisconsin,3 and the murder of Portland activist Michael Reinoehl by federal agents in Washington state earlier this month, the escalating use of police-state measures is a threat to the civil liberties of all. Although a push for the arrests may have come from Washington, it was carried out by police in a city with a Democratic mayor and city council and a state with a Democratic governor. And while the white-supremacist Republican in the White House is running for reelection with incendiary attacks on anti-racist protesters, the Democrats are running their own "law and order" ticket of Joe Biden and Kamala Harris.
We call on organized labor and unions around the country to denounce and take action against the arrests of the PSL activists and other protest leaders in Denver and the repression against demonstrators protesting police terror elsewhere around the country. This is both necessary and possible. In 2013, the Internationalist Group in Portland was instrumental in gaining the endorsement of five area unions of a resolution denouncing an FBI witch hunt and arrests there, and as well as the feds' spying on activists and labor unions.4 And this past June 19, the International Longshore and Warehouse Union shut down all 29 U.S. West Coast ports as well as Vancouver in Canada in honor of George Floyd and to denounce police brutality and systemic racism.5
The power of the multiethnic working class must be brought out in labor/black/Latino/immigrant mobilizations against the racist police terror carried out by both major capitalist parties. Escalating bourgeois repression highlights the urgency of building a class-struggle workers party to fight for a workers government. Free the Denver Six!