September 2022
Break with the Democrats – Build a Workers Party!
Free Abortion on Demand
How Revolutionaries Fight for It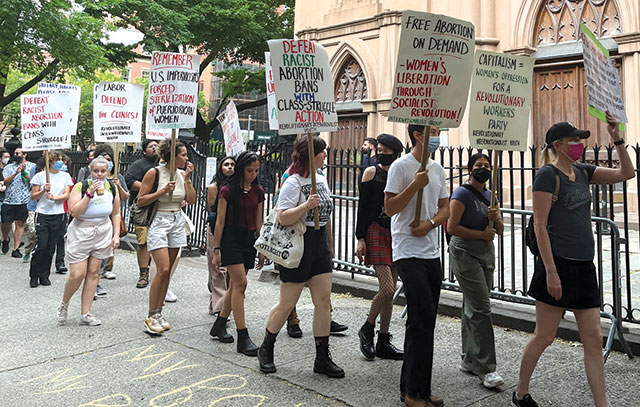 Revolutionary Internationalist Youth and CUNY Internationalist Clubs at July 2 protest to defend abortion clinic in downtown Manhattan from anti-abortion bigots.
By Maeve
The United States Supreme Court – that reactionary institution of unelected, appointed-for-life, black-robed dispensers of capitalist "justice" – overturned the Roe v. Wade decision on June 24. Shredding the ruling that was the basis for the constitutional right to abortion since 1973, it opened the way for even further onslaughts against basic democratic rights. Due to so-called trigger laws on the books, thirteen states immediately banned abortion in most, if not all, cases. Eight more quickly passed their own prohibitions. Bans in even more states are working their way through the courts. The impact was soon felt: less than a week after the ruling, a 10-year-old rape victim in Ohio was forced to cross state lines to obtain an abortion in Indiana. Then on August 5, Indiana passed a near-total abortion ban.
Back in May, when Justice Samuel Alito's deranged draft decision was leaked, it sparked mass protests in cities around the country. After the decision was put into effect, many thousands more came out in protest. The following article is an expanded version of a talk given by comrade Maeve of the Revolutionary Internationalist Youth in late May, at events organized by the Internationalist Clubs at the City University of New York.
* * *
On May 2, it was leaked that the Supreme Court intends to overturn Roe v. Wade, the 1973 Supreme Court decision which established the constitutional basis of the legal right to have an abortion. After years of piecemeal attacks in the form of six-week bans, heartbeat bills and "god squad" thugs threatening and attacking abortion clinics, this decision is a threat to abortion rights everywhere in the United States.
Liberals want to use this to round up votes for the Democrats. But we revolutionary Marxists explain that only by unchaining the power of the workers and oppressed can this onslaught against basic rights be defeated. To bring out that power we have to fight independently from, and against, the capitalist parties and politicians. For us the fight for the right of pregnant people to get an abortion – for free, unrestricted abortion on demand – is part and parcel of the struggle to achieve real and full emancipation of women and all the oppressed. What is required for this urgent, deep-going task is nothing less than socialist revolution, establishing the material basis for liberation.
Let's start out by discussing Justice Samuel Alito's draft decision. It has some really bizarre stuff in it. It claims an "unbroken" American "tradition" of criminal punishment for abortion, which is not only terrifying but also a myth. Alito goes on to compare overturning the basic democratic right to abortion to the effective overturning in 1954 of the Plessy v. Ferguson decision (1896), which upheld racial segregation. He tries to make the case that Roe v. Wade was like Plessy v. Ferguson, which enshrined Jim Crow. All this is really grotesque. And in reality, racism ignited and fuels the anti-abortion crusade.1
Without protections afforded by Roe v. Wade in place, abortion rights will be eliminated or severely restricted in over half the states in the U.S., according to Planned Parenthood's predictions.2 This means that for large numbers of people in big swathes of the country it would become nearly impossible to get an abortion. Some maps have been put out showing that women in Louisiana, for example, would have to travel up to 500 miles to get this procedure, which is part of basic medical care. Many of those laws will disproportionately impact poor people who may not have the money, access to childcare or time off work making it possible to travel, or the money to pay up-front for a simple medical procedure that can cost almost a thousand dollars. In this and other ways, the anti-abortion onslaught very notably targets African American and Latina women.
In several states, it will be possible for zealots and anti-woman bigots to charge those getting abortions with one or more of the following: fetal assault, chemical endangerment of a fetus, manslaughter, second-degree murder, feticide, child abuse, reckless injury to a child, concealing a birth, concealing a death, neglect of a minor, reckless homicide, attempted procurement of a miscarriage... In September 2021, the Texas legislature passed SB8, also known as the Texas Heartbeat Bill. With this law in place, those who help someone get an abortion can be sued for up to $10,000 by any bounty hunter looking for big bucks or "god squad" glory. In this truly draconian move, women and other people who can give birth will be subject to the perils of back-alley abortions and forced birth.
The illegalization of abortion will result in some of the most grotesque sorts of physical and emotional trauma, from self-inflicted coat hanger abortions to women being forced to give birth to children that are the result of rape. Because of the life-or-death urgency of this issue, many thousands of people have come out to protests to defend abortion rights.
On May 9 outside Hunter College here in New York, and on May 12 at the University of California at Los Angeles, activists from the Internationalist Clubs organized important abortion rights speak-outs. (See article on page 3.) A good number of students, faculty and staff came out, sharing their outrage and, in many cases, speaking courageously about some of their own personal experiences around this issue. These events were really different from the "women's marches" built by pro-Democratic Party organizations (and tailed by opportunist left groups). What we put forward in speeches and signs, together with our Marxist literature, was the need for revolutionary class struggle for the liberation of women and all the oppressed.
The Racist, Bloody History Behind Abortion Bans
If we look at the history of attitudes and laws about abortion, we find that it has not always been painted as some kind of horrendous sin or morally repugnant act. Before European colonial societies existed in North America, native peoples across the continent were performing abortions for myriad socially accepted reasons, using naturally occurring abortifacients such as black root and red cedar. Meanwhile in England, as far back as the Anglo-Saxon period, "common law" was far from considering abortion per se to be murder or "fetal assault" as some right-wingers (including Justice Alito) claim today.3
Laws that some states were already passing a decade ago were making it more difficult to get an abortion than it was in colonial New England in the year 1650. And in terms of attitudes about the issue, in the Thirteen Colonies and the early United States uncontroversial references to abortion appeared in the medical literature and in writings by such prominent figures as Benjamin Franklin.4 Early laws on abortion in the U.S., from the first decades of the 19th century, were concerned with protecting women from dangerous substances in use at the time. Nevertheless, abortifacients were advertised in the popular press and abortion clinics operated openly in the mid-19th century.
The history of abortion bans in the United States is deeply racist. Enslaved black women were prohibited from having abortions; some nevertheless put together abortion-inducing concoctions in secret. Blanket bans on abortion can be traced to the mid-19th century. In 1857, the newly formed American Medical Association began a crusade aimed at the illegalization of abortion at every stage of pregnancy. While the AMA was eager to take control from midwives, a major part of its motivation was anti-black and anti-immigrant prejudice and the fear that "Anglo-Saxon" women were not having enough babies. The most prominent crusader against abortion during this period, physician Horatio Storer, asked if the new western territories of the U.S. would "be filled by our own children or those of aliens." This, he stated, "is a question that our own women must answer; upon their loins depends the future destiny of the nation."5 When Storer first suggested that all abortions be banned and pregnant woman be held criminally liable, his peers in the medical community thought the idea far-fetched. However, the crusade succeeded; by 1900 abortion was illegal in every state.
In terms of the Catholic Church, those who claim its doctrine on abortion goes back 2,000 years are off by more than 1,857 years. Its current stance is about 153 years old, having been proclaimed for political reasons by Pope Pius IX in 1869. It has long been maintained that this was the result of a deal between the pope, who sought support for the doctrine of papal infallibility, and the emperor of France, Napoleon III, who was concerned about a declining birth rate in France and a potential lack of soldiers to serve as cannon fodder for his wars and colonial conquests. The pope's 1869 document removed the prior distinction between an "animated" and an "unanimated" fetus from Church doctrine, declaring instead that life begins at conception. Abortions at any stage of gestation became punishable by excommunication. And papal infallibility was approved by the First Vatican Council, held in 1869-70.
Modern-day attacks on abortion rights follow a similar logic, that making babies is women's duty to the bourgeois fatherland. The right to abortion is seen as threatening to undermine the family unit, and the family is the basic institution through which the labor force is born and reared. The woman in the family plays a vital role for capitalist society in bearing and rearing children, cooking, cleaning and on and on. This household drudgery and servitude are a prison for women. But as capitalism decays, attempts to shore up the family have become increasingly frenzied and fanatical. This is often spearheaded in the U.S. by the religious right (largely though not exclusively based in some evangelical denominations), which increasingly weaponizes doctrines about sin, the duty to give birth no matter what, and "protection" of the unborn. In line with this, over time they have sought to legally set "when life begins" ever earlier and to ramp up the zealotry of attacks on abortion.
Violent attacks by anti-abortion fanatics were already growing alarmingly decades ago. A 1990 article from Women and Revolution noted that between 1977 and 1987 anti-abortion terror groups carried out "70 bombings and acts of arson, 213 bomb threats, 216 clinic invasions, 41 acts of assault and battery, 2 kidnappings, 191 instances of vandalism, 61 death threats and 624 pickets and blockades against clinics or facilities."6 But since then the figures grew even more dramatically: between 1989 and 2015, the National Abortion Federation received nearly 6,500 reports of anti-abortion violence, including 11 murders and 26 attempted murders.7
Some of you here today have participated with us in helping defend clinics. At one of them, on New York's Lower East Side, anti-abortion bikers assemble together with others to menace women who want to get abortions. Once a month the anti-woman religious fanatics form a procession to terrorize women outside the clinic, and are protected by a line of cops. This is one of the things we face in NYC, despite the city being seen as a haven for abortion. The situation is already much worse in many other places – and over the next period that is going to increase sharply. Bringing out the power of the workers and oppressed in this struggle is more urgent than ever, and in many cases is likely to become a matter of life and death for people seeking abortion, and those that defend this basic right.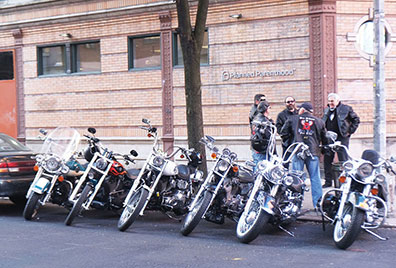 Anti-abortion "Pro Bikers for Life" group outside Planned Parenthood clinic in downtown Manhattan. RIY and CUNY Internationalists have frequently brought students and workers out to defense actions to counter the "god squad" reactionaries targeting women seeking abortions.
The Democrats Won't Protect Abortion Rights
In U.S. politics today, abortion is largely presented as a partisan issue – and the price of admission as a Republican politician is that you proclaim fervent opposition to abortion. It wasn't always that way, and Donald Trump is an example of that fact. He was not always anti-abortion but adopted that position to pursue his ambitions as a Republican Party candidate.
The shift to making an anti-abortion stance that kind of requirement can be traced back to Richard Nixon's 1972 campaign to be reelected as president, when he sought to use the issue to win over anti-abortion Catholics and other socially conservative voters. Republican strategists moved to employ this strategy with other candidates. This overlapped with the rise of the evangelical wing of the anti-abortion movement. A wave of Republican politicians who might have otherwise held relatively liberal stances on abortion started to crusade on this issue. A key example is Ronald Reagan. As governor of California, he signed into law a loosening of restrictions on abortion – but then he went on as president to carry out a full-on assault on abortion. This was pitched as part of promoting "traditional family values" – one of reactionaries' favorite terms, centered on "defending" women's oppression, together with anti-gay bigotry, the promotion of censorship, and other "culture war" themes.
However, this was not just a Republican strategy. It was part of a bipartisan effort to cash in on politicized promotion of religion, and on hysteria about "defense of the family" in the wake of the 1960s. Enforcing "women's place in the home" was explicitly promoted as part of anti-communism during the 1950s Cold War period.8 After the U.S. defeat in Vietnam, in the '70s, family-values themes linked to explicitly bringing religion into politics were revved up as part of the push to reassert U.S. power and authority against the Soviet bloc and revolutionary upheavals in the "Third World."
A key figure in this was Jimmy Carter, who liberals now want to paint as a sweet old philanthropist building houses for the poor. In 1976, the Georgia Democrat Carter ran for president. Up to that point the norm was not to talk about your personal religious views when running for president – but Carter talked about it all the time and ran as a born-again Christian. He also declared that he would defend the "ethnic purity" of neighborhoods and the economic "homogeneity" of affluent suburbs. After he won the election, "Jimmy Carter's presidency proved crucial to the recrudescence of American military power after Vietnam."<9 This went hand in hand with him hyping the supposed role of U.S. imperialism as a force for "human rights," as he revved up his anti-Soviet drive that helped pave the way for his successor in the White House, Ronald Reagan.
What about abortion? Passed in 1976 not long before Carter became president, the notorious Hyde Amendment had his backing, and as a candidate he proclaimed his belief that abortions are "wrong." The Hyde Amendment prohibited the use of federal funds to pay for abortion, meaning, for example, that people on Medicaid were out of luck if they couldn't pay out of pocket. As president, Carter signed into law funding bills that included the Hyde Amendment, which has continued in force ever since. This is just one of the ways that anti-abortion legislation is locked, loaded and aimed at poor people.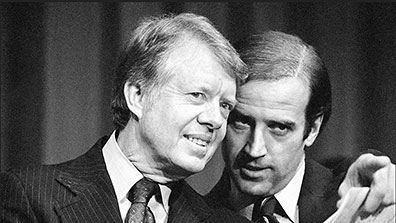 Jimmy Carter with then-Senator Joseph Biden in 1978. Both were instrumental in pushing the racist Hyde Amendment that barred federal funding for abortions, essentially banning poor African American, Latina and working-class women on Medicare from getting abortions.
And it's racist. A quarter of African American women and 17% of Latina women are on Medicaid, so the Hyde Amendment means having to pay hundreds of dollars for this simple medical procedure. Carter was far from the only Democrat who supported the Hyde Amendment. It has been included in every budget passed by every administration since it was first introduced to undermine Roe v. Wade. That includes Joe Biden's administration as late as last year when he quietly claimed he would get rid of it and then backpedaled after a bit of conservative pressure. It is very likely that this will happen again with next year's budget.10
I mention this for two basic reasons. First, it highlights yet again that the Democratic politicians are "faux friends" of women. These bourgeois politicians are our class enemies. And they change their tune on abortion rights when it suits them. The second is that the attacks on abortion, and attempts to curtail women's basic rights, in pursuit of "defending" the family as capitalism rots, have become more intense and more concerted, on a broader societal scale. As time goes on liberals became increasingly conservative about their language as well, starting out saying they defended abortion but then shifting to saying they were for the right to an abortion and then that they are for "choice," which is what we hear most often now from mainstream liberals.
Connected to the role of the Carter presidency was the rise of politicized evangelicalism as a force opposing abortion rights. Today, as anyone who follows U.S. politics is aware, politically mobilized evangelical churches, aligned with right-wing Republicans, are a bulwark of the movement to totally eradicate abortion rights. Mike Pence, the spooky religious zealot from Indiana, helped deliver their votes in 2016 to Trump (who didn't even know how to hold a bible right side up).
But until the mid-1970s, opposition to abortion was considered a "Catholic issue" by most American Protestants. As late as 1971, the Southern Baptist Convention resolved in favor of expanding legal access to abortion. In the immediate aftermath of Roe v. Wade, evangelical stances on abortion were far from unanimous. The Christian right coming together in a so-called "pro-life," anti-abortion movement involved a concerted political effort by Republican strategists such as Paul Weyrich and Richard Viguerie. As we have emphasized, this drive built on racism, and specifically the outrage of Southern "segregation academies" (the evangelical Bob Jones University in South Carolina is one example) facing the threat of losing tax breaks.
The formation of an actual anti-abortion movement with institutional evangelical support didn't happen until about six years after Roe v. Wade, and had much "more to do with politics than with embryos." The "anti-abortion crusade was more palatable than the religious right's real motive: protecting segregated schools."11 The racist maneuvers of cynical operatives like Weyrich in the late '70s laid the basis for the further growth of religious-right coalitions and organizations like Jerry Falwell's Moral Majority in the '80s. This ultra-reactionary group went all-out in linking anti-abortion hysteria with rabid homophobia and anti-communism. Like Focus on the Family, Concerned Women in America and others, Falwell's outfit highlighted "defense" of women's traditional "place" as wife and mother in the home as part of its anti-abortion pitch.
The connection to racism is also highlighted by the trajectory of Phyllis Schlafly. A key figure in campaigns against the Equal Rights Amendment (ERA), Schlafly ranted that the "ERA means abortion funding, means homosexual privileges" (sic) and "whatever else." Having spent the 1950s agitating against communism, she joined the ultra-right John Birch Society; the atomic bomb "was a marvelous gift given to our country by a wise God," she wrote. In 1960, at the Republican Party convention, Schlafly helped lead opposition to a plank against racial discrimination and segregation being included in the party platform. In her 1967 book Safe Not Sorry, she raved that "race riots" were "organized by outside agitators ... various civil rights and New Left groups saturated with communists."
This longtime professional racist and anti-communist became a living link to the anti-abortion movement that coalesced in the late '70s and the '80s. Though she died several years ago, Schlafly's Eagle Forum organization continues today, pledged to "protect the institution of marriage" and traditional parental roles; "honor the full-time homemaker"; oppose the ERA, publicly funded daycare and pre-K, same-sex marriage and "illegal aliens" – and to crusade against abortion. Among its core goals: ensuring that the United States will continue to uphold "respect for the nuclear family ... and private enterprise."
The Meaning of Free Abortion on Demand
In preparation for this discussion [the CUNY Internationalist events where this talk was originally given], one of the things we read is an article titled "Free Healthcare for All, Free Abortion on Demand." It came out fifty years ago in what was a unique publication, published when the Spartacist League was still a revolutionary organization: Women and Revolution (May 1972). The article makes the point that tailoring demands and strategies to an alliance with bourgeois forces [see article on page 7] necessarily means selling out the needs of women of the working class in general – and particularly those of African American, Latina and other triply-oppressed working women. Supposed leftists who sought to ally with sectors of the bourgeoisie divorced themselves from a class-struggle program. After all, such a program would alienate their hoped-for liberal capitalist "sisters" in the movement.
The 1972 article laid out a series of basic demands. Though they would certainly put off the Democrats that reformist groups were trying to court, they were (and are) crucial in the fight against women being relegated to the status of baby factories. These demands included free full-time, quality childcare centers; equal pay for equal work, no job discrimination based on race or sex; end discrimination against gays and lesbians – no laws against any form of sexual activity between consenting individuals; jobs for all, a shorter workweek with no loss in pay ("30 hours work for 40 hours pay"); and workers strikes against the U.S. war on Vietnam. Emphasizing that the workers and oppressed should have "no confidence in bourgeois politicians, male or female," the article called to break with the capitalist parties and build "a political party of the working class." This, the historic Marxist journal stated in '72, is central to the fight for "women's liberation through socialist revolution."
Today, the points outlined in that short article remain highly relevant. During the lifetime of everybody at this event today, the U.S. has been at war in one country after another. The struggle for the defeat of U.S. imperialist war remains a burning issue. And now, the U.S./NATO war drive against Russia and China has provoked the reactionary nationalist war on the "eastern front."12 U.S. imperialism is yet again confronting us with the literal threat of nuclear annihilation in a Third World War; it did it under JFK, under Nixon and Reagan, and today it's doing it under Joe Biden, Nancy Pelosi (backed by Bernie Sanders plus AOC and the "Squad") et al. (See article on page 19.)
The demand for free 24-hour childcare, highlighted in that 1972 program, certainly remains key as well. The connection of abortion rights with fighting against discrimination towards gay, lesbian and trans people is underscored by rightists' push to leverage overturning Roe into reversing court decisions on same-sex marriage and escalating anti-trans bigotry. The fact is that dangers are going to be escalating. Fascist and other racist, misogynist and homophobic groups will be further emboldened to launch attacks and provocations. In the face of such threats, mass action by workers and the oppressed will be essential. In all of these struggles, defending our rights is a question of power. The fight for workers political independence is a crucial and basic principle for unchaining the power of the working class and bringing it to bear against the powerful enemies that confront us.
Sometimes we are asked what "free abortion on demand" actually means. The "free" part is simple: completely cost-free. Access to abortion is refracted through the prism of class and race in this deeply unequal and racist country. Women of the bourgeoisie have always had access to abortion and always will, even after the overturn of Roe v. Wade. In our Marxist study group recently, one of our comrades related how even before abortion was legalized, Saudi princesses were among the women who would come to New York to get the procedure. That wasn't an option for the majority of people seeking abortion then, and it isn't now.
The second part of the slogan is "on demand." This is sometimes used in conjunction with "no questions asked." We don't give a damn what anyone but the pregnant person has to say about it – not parents, husbands, boyfriends, bosses, pastors, priests or politicians. On demand, unrestricted, no questions asked! That's what we mean when we say "Free abortion on demand."
The next part is free quality healthcare for all. This is definitely connected – and despite all the nonsense that anti-abortion reactionaries attach to it, abortion is, and long has been, a simple and safe medical procedure. We are for socialized, free, high-quality medical care for everyone. When faced with major social struggles, the bourgeoisie has sometimes offered crumbs regarding health care, but the only way that high-quality medical care for all, including free abortion on demand, is actually going to be won once and for all in this profit-based society will be against the U.S. ruling class. That means a socialist revolution which establishes a workers government to build a society based on human needs, not profit.
Over a hundred years ago, the Russian Revolution pointed the way for this. In 1920, the young Soviet workers state, led by the Bolshevik Party of V.I. Lenin and Leon Trotsky, established that abortion would be offered free and on demand. (See article on page 2.) They also began to build things like free laundries, childcare centers and dining centers to start doing away with women's domestic servitude. The first workers state's isolation and poverty had effects that were multiplied by the devastation caused by the military intervention of 14 capitalist countries. The U.S. under Woodrow Wilson, Britain, France, Japan, etc. – these countries intervened to back the overthrown capitalists and landlords in the civil war they unleashed against the victorious revolution. All this led to the degeneration of the Soviet workers state with the rise of a conservative nationalist bureaucracy headed by Joseph Stalin, and eventually to capitalist counterrevolution in the early 1990s. But the example and internationalist program of the Bolshevik Revolution remain essential to genuine revolutionary politics today.
Women's oppression is bound up with the whole history of class society, whose oppressive structures increasingly put the very existence of humanity in danger. The emancipation of women requires getting to the roots of that oppression, uprooting it, and providing the material basis to replace the oppressive bourgeois family with voluntary social institutions that are free in all senses of the word. This is inseparable from creating the material basis for a classless, socialist society, which can only be achieved on an international scale. The fight for women's liberation is in the interests of all the workers and oppressed of the world. These are some of the reasons why we say: Women's liberation through socialist revolution! ■
U.S. Capitalism and Its Supreme Court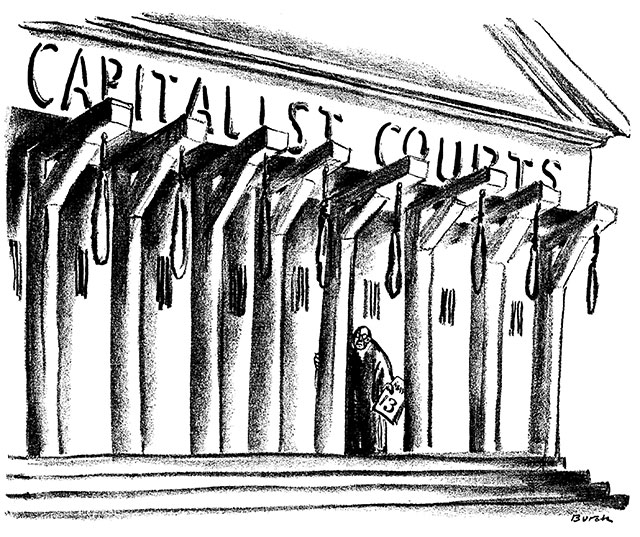 "Pillars of Justice": 1935 cartoon by leftist artist Jacob Burck reflected outrage against frame-up "justice," including execution of immigrant anarchists Sacco and Vanzetti in 1927 and racist drive launched in 1931 to "legally lynch" the Scottsboro black youths on fabricated charges of raping two white women.
As part of her talk on abortion rights, comrade Maeve discussed some aspects of the history of the courts, racism and women's oppression in the U.S.
Part of the "civic religion" in the United States – the patriotic mythology taught and ritualized as part of bourgeois ideology – is the idea that the legal structure, court decisions, etc., result from some evolutionary process of legal thinking itself, abstracted from what's going on in society. And, of course – despite all the ways that the Constitution was flagrantly shaped by slavery13 – generations of kids have been taught that it is virtually a holy document. Liberals and reformists see politics in very large part as focusing on efforts to persuade, enlighten, beg and pressure the bourgeois courts, viewing them as embodiments of "justice."
Marxists understand, on the contrary, that the courts are part of the capitalist state, which – as Lenin details in one of his most essential works, The State and Revolution (1917) – is a machine for enforcing the exploitation of the working class. And as capitalism's history, structure and functioning in the U.S. intertwined it with racial oppression, the capitalist injustice machine is and always has been profoundly racist.
In reality, legal decisions, most definitely including those of the Supreme Court, reflect what is happening in society at the time. Up until the Civil War, the Southern slave owners basically controlled the Supreme Court. In the notorious 1857 Dred Scott decision, the court ruled that African Americans, whether free or enslaved, were not and could never be citizens of the United States. It justified this in part by stating that at the time the Constitution was written, it had already been established, "for more than a century," that black people "had no rights which the white man was bound to respect; and that the negro might justly and lawfully be reduced to slavery for his benefit" (sic).
The Plessy v. Ferguson decision of 1896, which Alito brought up in his opinion overruling Roe, is another clear example. The Civil War's promise of black freedom had been betrayed by the Northern bourgeoisie, which in the late 1870s "sacrificed Reconstruction on the altar of profit and 'national reconciliation'," to quote The Internationalist.14 Partly to ward off the spectre of poor farmers' interracial organizing in parts of the South, Jim Crow segregation was being consolidated in the 1890s. This, not some doctrinal revelation, was the context for the Supreme Court deciding to enshrine racist segregation – separate but supposedly equal (which everyone knew was a lie) – as constitutionally just fine according to the law of the land.
It took almost six decades for that to be in effect overturned by the court in Brown v. Board of Education. So did that happen because in 1954 a light bulb suddenly lit up over their heads? No, formal Jim Crow (which was being undermined by urbanization and industrialization in the South) had become a real liability for the U.S. ruling class in its Cold War drive against Soviet influence in newly independent countries of Africa, Asia, etc. And now? As reported earlier this year, "Nearly 70 years after Brown decision, New York schools still separate and unequal" (Times Union [Albany], 20 February) – in fact this is the state with the highest degree of school segregation in the whole country.
Legal decisions reflect society's material reality, the conditions and the social interests in play. So why did the Supreme Court rule in 1973 that women had a constitutional right to abortion? Reformist leftists tell a story according to which a "mass women's movement" just kept keeping on until it won abortion rights, similar to how, according to them, the Vietnam War was "ended" by the "antiwar movement." In reality it was the heroic Viet Cong (National Liberation Front) that defeated U.S. imperialism. In the context of that looming defeat, the U.S. ruling class was facing major upheavals: rebellions against racist cop terror, strikes, GI revolts inside the imperialist military, together with mass protests. With society in turmoil, the bourgeoisie made a concession on abortion rights. And, as Marxists have always emphasized, like all concessions or reforms so long as the ruling class remains in power, it could be taken away.
We are seeing that now. Our strategy is based on class struggle, on the revolutionary program. But for liberals and reformists, the 1973 concession by the top court informed their whole approach of reliance on the capitalist courts and above all the Democrats to save the day. This has always been a dead-end strategy, and I think it's pretty clear that this is the case today. ■
Sinister Symbiosis:
Homophobic Bigotry and the Anti-Abortion Crusade

In the 1970s, as right-wingers seized on backlash against Roe v. Wade as a key part of their political strategy, this helped spur other reactionary movements. Among these was the vicious anti-gay campaign called "Save Our Children," launched in 1977 by Anita Bryant, a born-again Christian who was the "brand ambassador" for the Florida orange juice industry. Its short-term goal was the attempted overturn of a Miami-area ordinance banning discrimination based on sexual orientation in employment, housing and public accommodations. Whipping up this campaign for bigotry, Bryant ranted that children had to be "saved" from the supposed threat of gays and lesbians teaching in the schools. Like similar movements, it drew on the model of how the politicized Christian right cohered in the 1960s on the basis of racism against black people, to "save" white families from school integration and "save" society from secular education and the separation of church and state.
Today, backlash bigots vow to use the overturning of Roe as a jumping-off point for heightened attacks on gay, lesbian and trans rights. With the Supreme Court's Dobbs v. Jackson decision striking down Roe on June 24, a concurring opinion by arch-reactionary justice Clarence Thomas called for the court to revisit decisions on same-sex marriage and consensual sexual relations, as well as the right to have access to contraceptives. This is yet another way in which current events highlight how discrimination against gay, lesbian and trans people is connected to the oldest form of social oppression: women's oppression.
To understand why these issues are so closely linked, Marxism provides essential insights.15 The roots of women's oppression go back to the rise of class society. The central material basis of this oppression is women's subjugation in an institution – the family – whose functions let society's rulers pass on their property and ensure the raising of a workforce whose labor they can exploit and live off. Reactionary "defense" of this key institution of women's oppression and building block of capitalist society underlies discrimination against gay, lesbian and trans people. In the late 1800s, laws in a series of countries sought to uphold an exclusive so-called "normalcy" of man-on-woman sexuality and family life, targeting as "unnatural" people and practices falling outside those bounds, and criminalizing them as a supposed threat to "decency" and the social order. This is sometimes referred to as the institutionalization of anti-gay bigotry.16
In the U.S., the Cold War red scare was accompanied by a "lavender scare" against homosexuality. It was the civil rights and black freedom movements that broke up the deadening conformity and consensus of Cold War America. Bigots intent on reinforcing all manner of oppression built on the bedrock of U.S. racism and police repression. In 1967 Nina Simone gave voice to this reality in her powerful "Backlash Blues," while the powers that be, and those who followed them, were freaking out as challenges to racial oppression grew more radical and overlapped with increasing opposition to the U.S. war in Vietnam.
These events were part of the background for the emergence of the women's movement that started in the late '60s – and, after the Stonewall rebellion in the summer of '69, of groups like the Gay Liberation Front, whose name was modeled on Vietnam's National Liberation Front ("Viet Cong"). Challenges to segregation, to women's oppression and to traditional authority were opening the way to a push for gay, lesbian and trans rights, in which Stonewall participants like Marsha P. Johnson and Sylvia Rivera were important figures.
In 1977, the politics of backlash was reflected in Anita Bryant's anti-gay campaign, an early example of reactionary "family values" crusades on hot-button social issues that became central to the growth of the religious right. This movement, a major force in U.S. politics today, was already underway at that time, during the first year of the Democratic administration of Jimmy Carter, elected president in 1976. As Carter pushed his post-Vietnam War, new Cold War agenda to rearm U.S. imperialism against the "Soviet threat" abroad, the home front saw a growing "moral rearmament" backlash on social issues. Anita Bryant's witch-hunting crusade was a virulent example of gay, lesbian and trans people being branded and ostracized as dangerous and "deviant," a deviation from and threat to the bourgeois family structure that, as we have emphasized, is fundamental to the oppression of women, upheld as a bulwark of social order, authority and "values."17
Mushrooming under Reagan, the religious right also worked overtime to build support for his escalation of bloody U.S. counterinsurgency against revolutionary struggles in Central America. Within the U.S., the backlash offensive repeatedly recycled rants about "saving" schools and children from supposedly evil teachers (a favorite theme for rightist censorship promoters and union-busters today). In the '80s this led to such horrific phenomena as the hysterical targeting of daycare workers at the McMartin Preschool in Los Angeles County. Beginning in 1983, this crazed witch hunt eventually led to the longest and most expensive criminal trial in U.S. history. The frame-up charges, based on eliciting phony "recovered memories," involved bizarre claims that the school's teachers and staff were Satan-worshippers who had engaged in ritual sexual abuse of hundreds of children.
The defendants in the McMartin case were eventually acquitted on 52 counts, and those remaining resulted in a hung jury. But by that time countless lives and reputations had been destroyed, innumerable copycat prosecutions were carried out, and reactionary fears of women working outside the home had gotten a big boost. This too was part of the backlash politics wielding "defense of traditional family values" as a weapon against anything seen as a threat undermining women's subjugation to hearth, home and husband. Its echoes continue to reverberate today. ■