Cinematographer Killed on New Mexico Set After Union
Camera Operators Walked Out Over Unsafe Conditions
IATSE Members Voted to Strike:
Let's Do It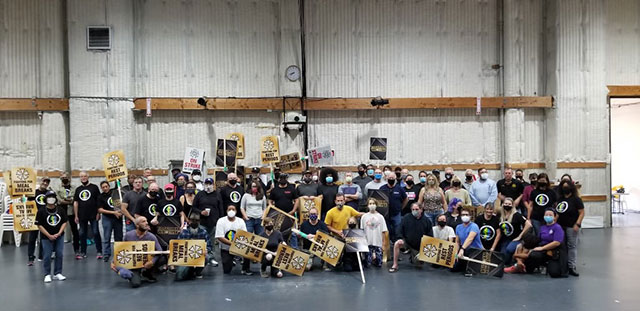 Members of the International Alliance of Theatrical Stage Employees readying for a potential strike against the studio bosses earlier in October.
Vote No to Sweetheart Deal with Motion Pictures Bosses
and Prepare to Walk Out
Sixty thousand film and television workers affiliated with the International Alliance of Theatrical Stage Employees (IATSE) were on the verge of a national strike, which would have been a first in the union's 128-year history. In a vote at the beginning of October in which nine out of ten IATSE members affected cast a ballot, over 98% voted to authorize a strike. But at the last minute, on October 17, the day before the strike deadline, the union tops struck a deal with the studio bosses of the Alliance of Motion Picture and Television Producers (AMPTP). The Tentative Agreement allows for continued 14-hour workdays, short weekends, offers a 3% annual wage "hike" (actually a pay cut, with inflation running over 5%) and leaves the health and pension funds without long-term guaranteed financing from "residuals."
The IATSE ranks should resoundingly vote down this rotten deal which resolves none of the issues at stake, and prepare to carry out the strike they voted enthusiastically and overwhelmingly to authorize. The members ARE the union, and if they walk, even if the union tops balk, the movie industry "magic" will stop.
At the heart of the struggle are the increasingly punishing hours and safety concerns when working under the steaming services contract, which has the membership exhausted and up in arms. Safety on the set is a bottom-line issue for IATSE members. This was highlighted by the October 21 accidental shooting death of Halyna Hutchins, a Local 600 director of photography, during the New Mexico filming of the "low-budget" film Rust. The 42-year-old cinematographer and mother was working on the set when an "antique-era appropriate gun" held by Alec Baldwin, the star and a producer of the project, went off, killing her and injuring director Joe Souza. This deadly accident occurred two days after IATSE camera operators walked off the production complaining of dangerous conditions, and just hours after non-union workers arrived to replace them amid confusion and delays.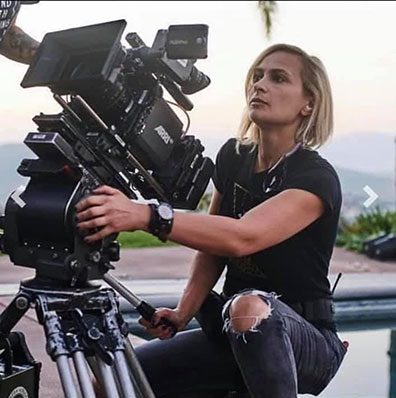 Halyna Hutchins, director of photography for the film project Rust, killed on the set on October 21.
These are the kind of killer conditions that union members have been protesting. The crew on Rust were denied hotel rooms in Santa Fe, near the site, forcing many to drive over an hour each way from homes in Albuquerque, on top of the grueling hours on the set. Others slept in their cars. The IATSE cameramen also pointed to unpaid work and unsafe production conditions, as "Safety protocols standard in the industry, including gun inspections, were not strictly followed" (Los Angeles Times, 23 October). After guns accidentally discharged three times on the set, a crew member texted to the unit production manager, "This is super unsafe." As the money men push to make up for lost time due to the COVID-19 pandemic and managers cut corners, driving workers to the limit, the stage is set for tragic accidents like the killing of Halyna Hutchins.
Accidents on set are fairly frequent, and campaigns about safety concerns have been ongoing for years. In 2014, Sarah Jones, also a member of Local 600, was killed when a train struck the set and several others were injured while filming Midnight Rider. It could have been prevented by attaining the proper permits to film on the train trestle. And accidents due to sleep deprivation don't always happen during filming. Many film workers also risk life and limb on their way home, leading to countless car wrecks. After Gary Joe Tuck, a Teamster coming off an 18-hour day on the New Mexico set of the Longmire TV series fell asleep at the wheel and died, also in 2014, more film industry workers began speaking up about the dangers of overwork. The long hours and speedups have continued, however, and film and television workers pay the price.
Grueling 14-hour days and short weekends would continue under the Tentative Agreement. Vote it down!
While it is notorious that safety problems on set are rampant, the answer to that – a well-organized, solid nationwide strike shutting down the entire industry – has never occurred. On the contrary, IATSE international president Matt Loeb has gushed that the deal is a "Hollywood ending." Yet the actual terms of the agreement, even as described by the bullet points in the International's own statement, don't address the issue of rest and safety that members have been denouncing. Allowing for time in between shifts as little as ten hours (making a 14-hour day completely in-bounds), and weekends of 54 or 36 hours, which even at their longest aren't a full two day's rest, will still leave film workers exhausted. The hated "Fraturday" shifts ending at 3 a.m. Saturday – like the one Gary Joe Tuck was driving home from – would continue.
Meanwhile, movie companies – including the streaming behemoths like Netflix and Amazon – are making megabucks. According to Forbes, Amazon profits soared by 84%, to $21 billion in 2020, while they busted a warehouse union drive in Bessemer, Alabama and worked their employees to the bone at every turn. Film and television workers were no exception in the AMPTP bosses' crazed drive for profits. While the virus raged and people stuck in their homes binge-watched TV films, the workers on set were churning out content for streaming services. As the drive for ever-expanding profit continued unchecked, conditions for workers on set eroded, as the average shift grew from 10 to 12 to sometimes as many as 16 hours, and meal breaks became luxuries for most workers in the industry.
The current showdown in Hollywood is laying bare the backlot's dirty laundry. Low-wage production assistants (some under IATSE contract earning $16.50 an hour) joined in a chorus of workers demanding a decent wage and livable hours. Stories are coming out about Hollywood workers living in their cars and others crashing their cars trying to get home after several weeks or months of sleep deprivation. Though this is not new, the COVID pandemic and economic recession in many industries has exacerbated already deplorable conditions for studio workers. A national strike under these conditions would not only win wide popular support, it could galvanize a labor movement which is already seeing the beginnings of an upsurge. And it could go international, as British film and TV workers have pledged support to an IATSE strike.
Many union members are now saying that, shocked out of resignation by the shooting in New Mexico, they plan to vote against the tentative agreement. So far, the IATSE International has not published actual contract terms, which evidently are only now being written despite the claim that there was a strike-preventing deal, and no date for a vote has been set. Any deal that allows for the punishing hours, sleep deprivation, and speedups that lead to a deadly lack of safety on set must be roundly rejected. Bottom line: with mega-billionaires like Apple, Amazon, and Disney raking in record profits on the backs of their workers, any self-respecting union would demand – and win – for their members wage increases well above inflation, iron-clad safety on the set, the right to a good night's sleep, and a weekend. That requires "IA solidarity" action!
If IATSE backlot workers do walk out, they should call for an elected strike committee, with delegates from all the locals, and fight for a program to put a stop to the abuse. Union militants would call for project workers safety committees, including all the unions on the set, with the power to shut down unsafe production. Contract or no contract, with solid organization they could do that, as well as enforcing existing safety protocols and union rules (bringing in non-union workers is forbidden unless the union signs off on it, so Rust should have been shut down). The union should insist on an immediate end to shifts over 12 hours. A big wage increase, particularly for the lowest-paid workers, should include a cost-of-living adjustment (COLA) – a "sliding scale of wages," as well as real meal breaks, adequate housing and the rest.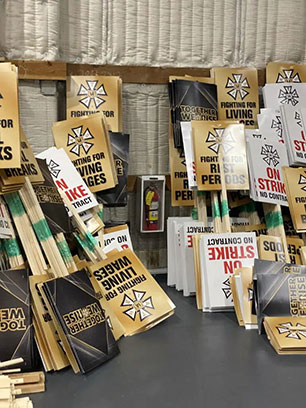 The signs are ready. Now's the time to hit the bricks.
To win such demands will take mass picket lines that nobody crosses. This means going up against the capitalist state – the cops, courts and bourgeois politicians – who will certainly come down with injunctions and the rest of their labor laws used to strangle the unions. Massive defiance can shred these strikebreaking edicts. And with studio bosses looking to the thousands of ununionized PAs in the industry as a potential recruiting pool for scabs, IATSE should offer immediate union membership to any who join the strike picketing, and use the opportunity to launch a drive to sign up all film and television production workers. Ultimately, all this requires a fighting leadership, to oust the bureaucrats, break with the Democrats and build a workers party to lead all the oppressed in a fight for a workers government.
Yes, easier said than done. But without this – a real fight for workers' safety and well-being – the brutal working conditions of the industry will go on. Court cases and new safety protocols will be ignored. The vows of "never again" heard at vigils, require a resounding "no" vote and preparing to walk out Not a "Halyna's Law" but a solid strike. There's no power greater than the workers who make the whole $500 billion entertainment industry function, and there's no time like the present. Rather than the fantasy "magic" on-screen, let a first-ever IA strike inspire workers with some real-life class struggle that can bring about a different kind of "Hollywood ending" to the abuse that has kept the cameras rolling. ■