October 2022

As Racist Courts Again Block Appeal
Portland Painters Call for Workers
Action to Free Mumia Abu-Jamal
On October 26, a judge of the Court of Common Pleas in Philadelphia rejected the request by Mumia Abu-Jamal for a new Post-Conviction Relief Act (PCRA) hearing on his case, based on new evidence of prosecution misconduct and bias from boxes of materials that had been hidden in the District Attorney's office until being discovered in 2018. Mumia is the most prominent class-war prisoner in the United States, imprisoned for over four decades, on death row for almost 30 years, on frame-up charges – of which he is entirely innocent – of killing a police officer in December 1981. He was targeted by the police and capitalist politicians as a former Black Panther and broadcast journalist whose stinging exposés of atrocities by the Philly cops had enraged local authorities, who run the reputed "city of brotherly love" as a racist police state.1
A week before this latest outrage in court, on October 19, the Portland, Oregon, Local 10 of the International Union of Painters and Allied Trades (IUPAT) passed a resolution (see below) highlighting how Mumia Abu-Jamal was railroaded to jail, sentenced to death by a racist "hanging judge" at a rigged trial in 1982, and ever since prevented by the capitalist judicial system from proving his innocence. The Local 10 resolution cites labor actions protesting the persecution of Mumia and demanding his freedom, notably a coordinated action in 1999 by the International Longshore and Warehouse Union (ILWU), which shut down all U.S. West Coast ports, and a statewide work stoppage by teachers in Rio de Janeiro. In a march in San Francisco during that action, ILWU dock workers chanted "An injury to one, is an injury to all – Free Mumia Abu-Jamal!"
The denial by Judge Lucretia Clemons of the request by Mumia's lawyers for a hearing on evidence of exclusion of black jurors, and of prosecution witnesses paid for their testimony with promises of money and dropped charges, is one more proof: There is no justice for the exploited and oppressed in the capitalist courts.
In the face of the stonewalling of the courts, the Portland Painters resolution should be a clarion call to workers and defenders of black and labor rights, and of elementary democratic rights, around the globe to redouble efforts and take action NOW. To liberate Mumia from the monstrous racist injustice system of police, courts and prisons that serves and protects the interests of the bourgeois ruling class while destroying millions of lives of those it exploits and oppresses, what is urgently needed is workers action to free Mumia Abu-Jamal!
Resolution on Freedom for Mumia Abu-Jamal
Local 10, International Union of Painters
and Allied Trades (IUPAT), Portland Oregon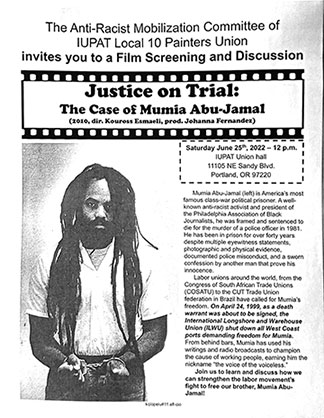 Class-struggle trade unionism: fighting to bring out labor's power in defense of all the oppressed.
Whereas, Mumia Abu-Jamal, the most prominent political prisoner in the United States, has been defended by the trade unions internationally; and
Whereas, Mumia Abu-Jamal, a former Black Panther, writer, and president of the Philadelphia Association of Black Journalists, is renowned around the world for standing in solidarity with workers in struggle while on death row, and for his critique of the ravages of capitalism and worker exploitation, racist repression, and imperialist war; and
Whereas, he is innocent of the charge of killing a police officer, and was framed up and sentenced to death in 1982 by a racist judicial system, without any corroborating physical evidence on false testimony by coerced witnesses who [later] said Mumia Abu-Jamal was not the shooter; and
Whereas, the courts have kept Mumia Abu-Jamal behind bars in spite of the sworn confession of another man, Arnold Beverly, that he, and not Mumia, shot the police officer; and
Whereas, Mumia Abu-Jamal's 1982 trial before a racist Judge Albert Sabo, known for sending more men to death row than any other judge in the United States, who stated during Abu-Jamal's trial that he was going "to help them fry the [N-word]."; and
Whereas, Mumia Abu-Jamal remained on death row for nearly 30 years, saved from execution in 1995 and 1999 by international mass protest supported by trade unions, including the International Longshore and Warehouse Union, with West Coast ports shut down and teachers in Rio de Janeiro, Brazil participating in a statewide work stoppage; therefore
Be it resolved, that IUPAT Local 10 demands immediate freedom for Mumia Abu-Jamal and calls for a policy of working-class struggle through agitation, publicity, protest, and continued coordinated workers action on a national and international scale to free Mumia Abu-Jamal. Painters Local 10 calls on workers of all countries to use their power to free our brother Mumia Abu-Jamal.
Message from Mumia: Workers of the World, Unite!
After being informed by long-time fighter for Mumia's freedom Johanna Fernández of the action of the International Union of Painters and Allied Trades (IUPAT) Local 10 in Portland, Oregon calling for workers action to demand his freedom, Mumia Abu-Jamal responded with a message, which we excerpt here, edited for publication: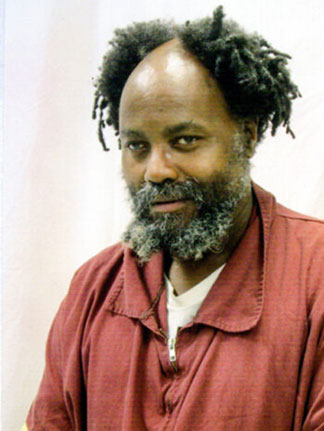 Mumia Abu-Jamal, in 2019.
That is so outstanding and so impressive. I am overjoyed and humbled that this union could make such a noble gesture and resolution. Thank you for sharing that with me, and thank the union for doing their work and calling for other brothers and sisters of the union movement to join with us in the struggle for freedom. I am moved and impressed….
It used to be that unions were among the most progressive sector of the population. And that's because they had what? Fundamentally a working-class consciousness. It is that very consciousness which unites people across boundaries of gender, boundaries of so-called race, boundaries across nationality.
I was talking to a brother the other day and I was telling him that when Marx and Engels got together, they formed the International Workingmen's Association. They were calling for workers of the world to unite, for workers across countries to unite, that labor has no country and that they must unite against capitalism and capitalist wars.
When World War I happened, of course, that shattered because Germans remembered that they were Germans and Frenchmen remembered that they were Frenchmen and they began to sacrifice their lives for the capitalists in these wars. That's always the case because nationalism has its hold. It's because people are conditioned to think as nationalists and not as internationalists, not about their class. So in times of war, in times of crisis, people forget their class and sign on to defend the rulers who during the war and after the war, treat that class like a subjugated class and treat them like shit.
When people get out of the army, they're outraged at what they went through. But that's what the army is there for. The army is not there to defend the nation. It is there to defend the rulers. We see that clearly in "third world" countries where the army only acts against the people. There are always foreign threats, but when the people begin demonstrating and people begin protesting, and the people begin marching for their freedom, the army and the police come out to attack them to defend the rulers, not the people. That's a global reality….
So that [the resolution of the Portland Painters union] is a beautiful thing. Their timing could not be better.
Johanna Fernández: Hooray for reviving this idea of class consciousness the world over!
Mumia: Hooray for the painters!
My friends, I thank you all for your noble gesture and resolution. It warms my heart and I hope it warms yours. There is a saying and we need to repeat it and make it reality: Workers of the world, unite! Thank you all, with love, not fear.
This is Mumia Abu-Jamal.