28 March 2020

Chelmsford, MA UPS Workers:
No Safety, No Work!

Chelmsford, Massachusetts UPS facility where Teamster union officials and workers are protesting unsafe working conditions.
As workers in many locations and industries across the U.S. carry out job actions, walkouts and protests against employers' brutal indifference to elementary health and safety during the coronavirus crisis, we reproduce below a flier by Mike Gath, an activist in Teamsters Local 25 who has worked at the UPS facility in Chelmsford, Massachusetts for over a decade. While management plays company videos boasting about making lots of money during the crisis, the bosses at the round-the clock facility did not inform the 1,500 workers about COVID-19 cases there. Nor did they provide any forms of protection for the workers, or follow the safety guidelines of the Centers for Disease Control and Prevention (CDC). On March 25, Local 25 President Sean O'Brien issued a letter to the company (referred to in Brother Gath's flier below); he followed up with another letter on March 30 noting that "the Company continues in its failure to keep its employees safe." These issues intersect key points in the statement by Class Struggle Workers – Portland, "CSWP Calls For Workers Action in Coronavirus Crisis."

Update: In the face of the inaction by UPS, on April 3, Mike Gath issued a second leaflet:

Is the company waiting til someone dies before it thoroughly cleans & disinfects the Chelmsford UPS hub?
Now there are SIX confirmed cases here.
Like we said a week ago: NO SAFETY, NO WORK!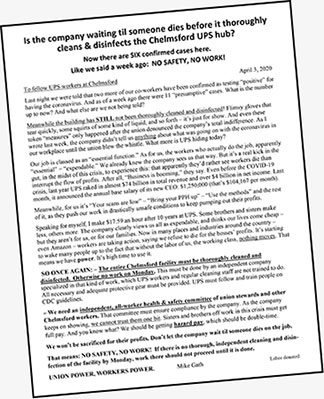 Last night we were told that two more of our co-workers have been confirmed as testing "positive" for having the coronavirus. And as of a week ago there were 11 "presumptive" cases. What is the number up to now? And what else are we not being told?
Meanwhile the building has STILL not been thoroughly cleaned and disinfected! Flimsy gloves that tear quickly, some squirts of some kind of liquid, and so forth – it's just for show. And even these token "measures" only happened after the union denounced the company's total indifference. As I wrote last week, the company didn't tell us anything about what was going on with the coronavirus in our workplace until the union blew the whistle. What more is UPS hiding today?
Our job is classed as an "essential function." As for us, the workers who actually do the job, apparently "essential" = "expendable." We already knew the company sees us that way. But it's a real kick in the gut, in the midst of this crisis, to experience this: that apparently they'd rather see workers die than interrupt the flow of profits. After all, "Business is booming," they say. Even before the COVID-19 crisis, last year UPS raked in almost $74 billion in total revenue and over $4 billion in net income. Last month, it announced the annual base salary of its new CEO: $1,250,000 (that's $104,167 per month).
Meanwhile, for us it's "Your scans are low" – "Bring your PPH up" – "Use the methods" and the rest of it, as they push our work in drastically unsafe conditions to keep pumping out their profits.
Speaking for myself, I make $17.59 an hour after 10 years at UPS. Some brothers and sisters make less, others more. The company clearly views us all as expendable, and thinks our lives come cheap – but they aren't for us, or for our families. Now in many places and industries around the country – even Amazon – workers are taking action, saying we refuse to die for the bosses' profits. It's starting to wake many people up to the fact that without the labor of us, the working class, nothing moves. That means we have power. It's high time to use it.
SO ONCE AGAIN:– The entire Chelmsford facility must be thoroughly cleaned and disinfected. Otherwise no work on Monday. This must be done by an independent company specialized in that kind of work, which UPS workers and regular cleaning staff are not trained to do. All necessary and adequate protective gear must be provided. UPS must follow and train people on CDC guidelines.
– We need an independent, all-worker health & safety committee of union stewards and other Chelmsford workers. That committee must ensure compliance by the company. As the company keeps on showing, we cannot trust them one bit. Sisters and brothers off work in this crisis must get full pay. And you know what? We should be getting hazard pay, which should be double-time.
We won't be sacrificed for their profits. Don't let the company wait til someone dies on the job.

That means: NO SAFETY, NO WORK! If there is no thorough, independent cleaning and disin­fection of the facility by Monday, work there should not proceed until it is done.
UNION POWER, WORKERS POWER
Mike Gath
April 3, 2020
No Safety, No Work!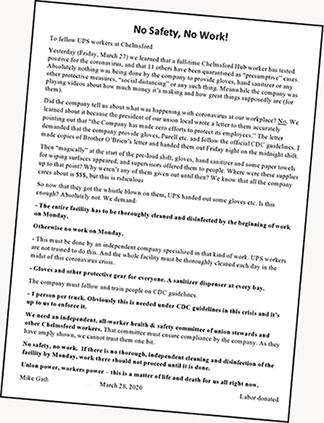 To fellow UPS workers at Chelmsford

Yesterday (Friday, March 27) we learned that a full-time Chelmsford Hub worker has tested positive for the coronavirus, and that 11 others have been quarantined as "presumptive" cases. Absolutely nothing was being done by the company to provide gloves, hand sanitizer or any other protective measures, "social distancing" or any such thing. Meanwhile the company was playing videos about how much money it's making and how great things supposedly are (for them).

Did the company tell us about what was happening with coronavirus at our workplace? No. We learned about it because the president of our union local wrote a letter to them accurately pointing out that "the Company has made zero efforts to protect its employees." The letter demanded that the company provide gloves, Purell etc. and follow the official CDC guidelines. I made copies of Brother O'Brien's letter and handed them out Friday night on the midnight shift.

Then "magically" at the start of the pre-load shift, gloves, hand sanitizer and some paper towels for wiping surfaces appeared, and supervisors offered them to people. Where were these supplies up to that point? Why weren't any of them given out until then? We know that all the company cares about is $$$, but this is ridiculous

So now that they got the whistle blown on them, UPS handed out some gloves etc. Is this enough? Absolutely not. We demand:

- The entire facility has to be thoroughly cleaned and disinfected by the beginning of work on Monday.

Otherwise no work on Monday.

- This must be done by an independent company specialized in that kind of work. UPS workers are not trained to do this. And the whole facility must be thoroughly cleaned each day in the midst of this coronavirus crisis.

- Gloves and other protective gear for everyone. A sanitizer dispenser at every bay.

The company must follow and train people on CDC guidelines.

- 1 person per truck. Obviously this is needed under CDC guidelines in this crisis and it's up to us to enforce it.

We need an independent, all-worker health & safety committee of union stewards and other Chelmsford workers. That committee must ensure compliance by the company. As they have amply shown, we cannot trust them one bit.

No safety, no work. If there is no thorough, independent cleaning and disinfection of the facility by Monday, work there should not proceed until it is done.

Union power, workers power – this is a matter of life and death for us all right now.

Mike Gath
March 28, 2020