WGA Strike Is Taking on a Whole Industry

To Win the Strike, All Out
to Shut Down Hollywood!

PICKET LINES MEAN DON'T CROSS!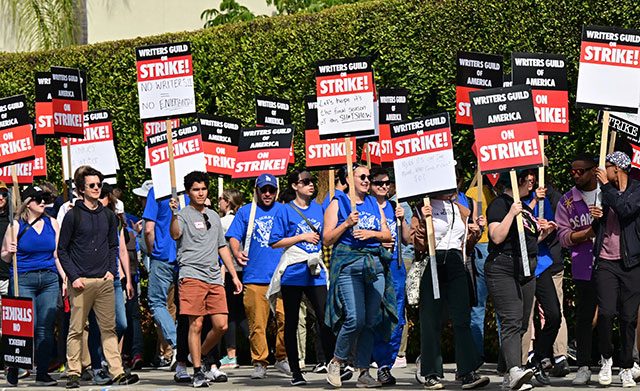 Striking members of Writers Guild of America West picket outside Paramount Studios in Los Angeles, May 3, in the WGA's first strike in 15 years.
MAY 15 – A minute after midnight on May 2, over 11,000 Writers Guild of America (WGA) screen and television writers officially went on strike after attempting negotiations with Hollywood studios since March. Strikers and supporters held witty signs and chanted, "No contract, no content" on packed picket lines in New York and Los Angeles. At some points there have been pickets in 200 different locations in L.A. Strikers in New York have been picketing companies like Silvercup and Steiner Studios, Fox and NBC as well as location shoots, and are joined by other unionists.
The effects of the writers' absence has been felt, with all the popular talk shows – including CBS' The Late Show, NBC's Tonight and Late Night, The Daily Show – and weekly shows like Saturday Night Live canceling their broadcasts. Hulu's series The Handmaid's Tale, a major money-maker, halted production until the strike is over. The writers room for the third season of Abbott Elementary, a popular sitcom about the struggles of teaching in an underfunded, neglected school, never opened as members of the team joined the strike lines. WGA pickets were able to shut down a number of productions, including top-grossing shows. A striker in New York told us she appreciated "the irony of Billions, Severance, Loot, American Horror Story and Evil all being the names of productions that were shut down."
The writers were able to deal these blows to production with support from Teamsters, IATSE (International Alliance of Theatrical Stage Employees) and SAG-AFTRA (Screen Actors Guild-American Federation of Television and Radio Artists) members refusing to work and often joining strikers on the picket lines. In NYC, the CUNY Internationalist Clubs have systematically brought out students to support the strike, and their chant of "Picket lines mean don't cross" has been repeatedly picked up.
On the other hand, the MTV awards went forward with a pre-taped presentation when Drew Barrymore pulled out of hosting it in solidarity with the WGA strike. The experience of the 2007-08 writers strike showed that even if production quality plummets, in many cases the show can go on without the writers. This points to the urgent need for united action across the industry to shut down all the production companies in the AMPTP (Alliance of Motion Picture and Television Producers).
The writers are up against a so-far solid bloc of production companies that are some of the most resourced would-be strikebreakers in the world, including Netflix, Disney, Paramount, ABC and Fox, to name a few of the 350 studios represented. Just six of the richest of these companies together represent a net worth of $217 billion as of 2021. That's about equal to the entire GDP (gross domestic product) of Greece in that year, and it doesn't even include one of the major studios in the negotiations: Amazon. These companies are the employers of all the workers in the industry, from writers and actors to grips to costume designers and set builders. To defeat these billionaire bosses, who continue to grind down workers' pay and working conditions despite record profits, all workers in the industry should be on strike, NOW.
Spokesmen for these companies have dismissed the strike as a minor inconvenience at worst. Netflix co-CEO Ted Sarandos remarked, "we do have a pretty robust slate of releases to take us into a long time." Paramount Pictures' Bob Bakish said the company has "levers to pull" to wait out a long strike (Hollywood Reporter, 18 April; Deadline, 4 May). The hardnosed AMPTP chiefs figure they can wait it out and pick off the unions one by one. Against their common enemy, workers across the industry should refuse to cross WGA strike lines – and help build picket lines so massive that wannabe scabs can't get in. SAG, IATSE and Teamsters shouldn't wait in line to get screwed. SAG's negotiations are set to begin in June: actors should walk out now. One out, all out! United strike action can KO the Hollywood cartel!
Solidarity Must Be Concrete – Rip Up No-Strike Clauses!
CUNY Internationalist Club and Internationalist Group at WGA strike picket in New York City, May 15.
At the start of the strike, other industry unions came out with statements of solidarity, but in several cases including legalistic threats to their own members who stand with the WGA strikers. The leadership of SAG-AFTRA has undercut the strike, telling actors they are "legally obligated" to keep working due to their contract's "no-strike" clause, which reads: "The Union agrees that it will take such affirmative action as may be necessary and lawful in order to require its members to perform their respective obligations." No union should ever agree to such a backstabbing clause! SAG also states that in cases of dual membership in WGA and SAG, its members must cross their own picket line and keep working as an actor!!
SAG bureaucrats like Fran Drescher continue to ostentatiously cozy up to the bosses, saying of upcoming negotiations, "I don't think what's very important to writers ... is the kind of stuff we're going after." On WGA picket lines, SAG members have carried official signs proclaiming, "Unions Stand Together." But look carefully and down at the bottom in small letters you will see: "No dispute with any other employer at this site. SAG-AFTRA is not asking any individual to cease performing any services, or to refuse to pick up, deliver, handle or transport any goods." It reads like a side effects disclaimer on a medication ad. SAG members: you don't have to ask your doctor to know that throwing WGA under the bus isn't right for you.
On the other hand, IATSE president Matt Loeb has stated its members have a "legal right" to refuse to cross picket lines. And while the union has kept it vague and hasn't organized any kind of real support to the walkout, strikers and IATSE members report that production has shut down several times as a result of lead actors and production crews refusing to cross the picket lines. Several IATSE locals have also posted picketing schedules so that members can stand with writers on the strike lines. Many IATSE members are still riled up after their 2021 near-strike resulted in a sellout contract that didn't address any of the real issues at the heart of the struggle, continuing to allow 14-hour workdays and short weekends and "winning" a paltry pay raise that didn't even keep up with inflation. It also left the health and pension funds reliant on vanishing residuals.
Another key union is Hollywood Teamsters Local 399, whose secretary-treasurer and chief negotiator Lindsay Dougherty told a rally of 1,800 WGA West strikers on May 3, "Our Teamster members are going to be with you side-by-side as well…. Teamsters do not cross picket lines." Across the country, Teamsters have turned their trucks around at WGA picket lines. But this is only part of the story. The official IBT Local 399 FAQ sheet issued at the start of the strike says: "Whether you are working or not, our members cannot join the picket line, carry a picket sign or banner, distribute literature for WGA at the picket line, or walk near any picket line." Union bureaucrats have turned their backs on the WGA with this gross statement. In L.A. there are reports of Local 399 members going in before scheduled pickets so they're supposedly not technically "crossing" a picket line. This is dead wrong. No one should enter a struck facility, and certainly not union members. Picket lines mean don't cross, period – no ifs or buts.
The picket lines need to have real, material consequences for the bosses. Nothing should be delivered or picked up, no one should go in, there should be no auditions even at distant locations, just as no scripts should get written, even from home. Several showrunners have shut their production down despite receiving threatening letters by the production companies. These are important demonstrations of solidarity, but not enough to shut the industry down and win this fight.
For the Writers Guild East and West, the strike is in response to an "existential crisis," in part due to changes in the industry as streaming increasingly replaces broadcasting. The WGA is demanding higher pay and a higher up-front payment rate, rather than relying on residuals, which have dwindled to next to nothing for many. The spread of mini-rooms, with a handful of writers being paid lower rates, as production companies produce not just a pilot and an episode or two but as much as a season's worth of shows before getting the green light, is another factor. Over the last ten years, the percentage of writers being paid the minimum rate for their work has jumped from one-third to almost half making minimum.
As Abbot Elementary writer and WGA West strike captain Brittani Nichols pointed out, the studios are trying to transform writing for shows into a "gig economy." AMPTP chief negotiator Carol Lombardini flippantly said writers are "lucky to have" term employment, and insultingly claimed that the companies can't budge on writers' demands because they are "incompatible with the creative nature of the industry"! WGA strikers are putting forward demands around elimination of their jobs by artificial intelligence. This automation of the arts has also been a big issue among SAG actors, who have seen provisions added to their contracts stating that their likenesses and voices can be used by companies forever. A recent Netflix contract included language stating that actors' voices could be used "by all technologies and processes now known or hereafter developed, throughout the universe and in perpetuity" (New York Times, 2 May).
The AMPTP bosses are playing hardball. We remember how in the face of anti-communist witch-hunting by the U.S. House of Representatives Un-American Activities Committee (HUAC) in the late 1940s, the studios blacklisted the Hollywood Ten, many of them screenwriters, on charges of being communists. The entertainment moguls are also tight with the Democratic Party. Recall that when Democratic kingmakers decided to launch the presidential candidacy of Barack Obama, the first thing they did was take him to Hollywood to get the endorsement of studio chiefs. And remember how this past December, Democrats in both houses of Congress (including the "Squad" of "progressives" led by Alexandria Ocasio-Cortez) passed a law to prevent a railroad strike, imposing a contract with no sick days which had been voted down by a majority of the workers. The Democrats, like the Republicans, are a party of capital.
A strike of the film, TV and now internet media industry is a major event politically. Writers alone have limited power. That's why, as we wrote of the 2007-08 writers strike, "Don't Let Writers Stand Alone – All Media Workers Should Join the WGA on Strike!" (The Internationalist, December 2007). We added, "Craft Divisions Endanger Labor: Build a Single Media Union." As we emphasized then, and again in the 2021 near-strike by IATSE workers, it is necessary to fight to oust the pro-capitalist union bureaucrats, who like the studio bosses are closely tied to the Democratic Party. We need to forge a class-struggle union leadership and build a workers party that can lead all the oppressed in a fight for a workers government.
All out to win the WGA strike! ■