May 2018
PROTEST TORTURE ATTACK ON LABOR ACTIVISTS' FAMILY IN MEXICO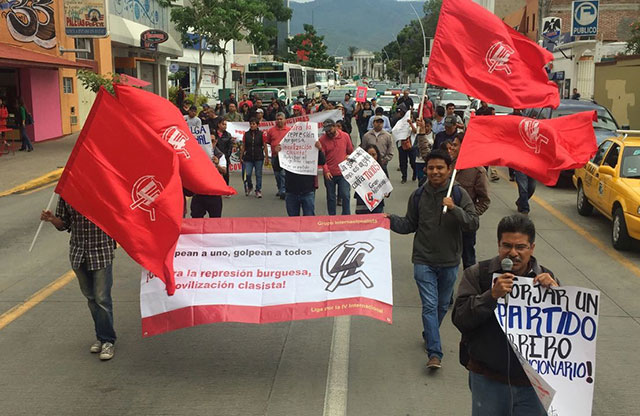 March in the city of Oaxaca, May 10, to denounce the gangster attack on the family of Arturo Villalobos (speaking with microphone) and Patricia Méndez.
Protests are scheduled for:

PORTLAND: Thursday, May 10, 4:00 p.m. outside the Consulate of Mexico, 1305 SW 12th Ave, Portland, OR. Contact: Internationalist Group, (503) 303-8278

LOS ANGELES: Saturday, May 12, 3:00 p.m. at the Pueblo de Los Angeles Monument, Olvera Street at 125 Paseo de la Plaza, Los Angeles, CA. Contact: Internationalist Group, (323) 984-8590

BOSTON: Sunday, May 13, 10:00-11:00 a.m. outside the Consulate General of Mexico, 55 Franklin Street, Boston, MA. Contact: Class Struggle Education League, (603) 943-2591

NEW YORK CITY: Sunday, May 13, 12:00 noon outside the Consulate General of Mexico, 27 East 39th Street, Manhattan. Contact: Internationalist Group, (212) 460-0983

Around midday on Monday, May 7, thugs entered the house of Dr. Arturo Villalobos Ordóñez and his wife, Patricia Méndez Jiménez, in Oaxaca, Mexico. Both are prominent activists in the struggle of medical workers against government "reforms" gutting the public health system, as well as opponents of Mexico's corporatist system of state control of labor. Not finding the parents there, the attackers brutally tortured the couple's adolescent son, Nizván, both physically (dragging him by a rope around the neck and submerging his head in water) and psychologically (threatening to maim him and kill his father). After ransacking the house, they slashed the teenager and beat him unconscious. After being released from the hospital, Nizván is recuperating.
Arturo Villalobos is a well-known spokesman in Oaxaca for the Grupo Internacionalista, Mexican section of the League for the Fourth International. The attackers were looking as well for two other family members who are also members of the GI. Arturo has been a target of repression since courageously leading a medical team that defied a government cordon around the town of Nochixtlán, Oaxaca to treat survivors of a police massacre in June 2016. Soon after, the state government began threatening legal action. Last year Patricia was arrested and an arrest order issued against Arturo on trumped-up charges. Recently Arturo and other GI comrades were prominent in a two-month strike by health workers that defied the corporatist regimenters of labor.
A press conference was held in Oaxaca on May 8 to denounce this torture of a 16-year-old, which was carried out to strike at labor and left activists. The press conference was held by the militant teachers union, Section 22 of the (CNTE) National Coordinating Committee of Education Workers. Articles appeared on the same day on a number of news portals in Oaxaca and Mexico City reporting this vile crime. The attackers were clearly professionals. As a press statement by the Grupo Internacionalista noted, whoever carried out the attack, everything points to one conclusion: fue el estado (it was the state), as protesters chanted about the 2014 disappearance of 43 teachers college students from Ayotzinapa.
THE INTERNATIONALIST GROUP IS CALLING TO PROTEST THIS ATTACK IN FRONT OF MEXICAN CONSULATES IN THE U.S. WE URGE DEFENDERS OF LABOR AND DEMOCRATIC RIGHTS TO JOIN US.
An injury to one is an injury to all!
Denounce this cowardly gangster attack on leftists and labor activists!
The Mexican capitalist state and its imperialist masters in Washington and Wall Street are responsible!
For more information, see the press bulletin from the Grupo Internacionalista and the call for a solidarity campaign by the League for the Fourth International. ■

Press coverage (in Spanish) of torture attack on labor militants' family in Oaxaca:

"Torturan a hijo de activista en Oaxaca, denuncian organizaciones", Newsweek en español (8 de mayo de 2018)

"Denuncia magisterio oaxaqueño tortura en contra de hijo de activista", CDMX Político (8 de mayo de 2018)

"Sección 22 denuncia agresiones a hijo de activista del sector Salud", Oaxaca Hoy (8 de mayo de 2018)

"Denuncian detención y tortura a hijo de activista", Tiempo Digital (8 de mayo de 2018)

"Denuncia S-22 tortura contra el hijo de dirigentes de una organización social", Fotos Noticias (8 de mayo de 2018)